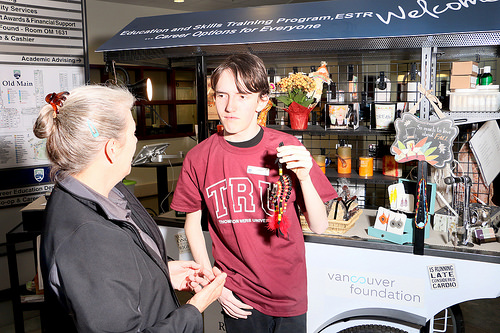 After a few months off for summer holidays, the retail cart operated by the Essential Skills Training (ESTR) program is up and running in Student Street.
For ESTR student James McFarlane, the kiosk means regular opportunities to hone his interpersonal and communications skills. "If it looks like people might need help, I'll ask if I can help. If they don't know what they're looking for, I can make suggestions."
ESTR is for those with cognitive disabilities and offers a combination of classroom learning and learning in working situations. Aside from retail training, ESTR offers automotive assistant and kitchen assistant. A range of Kamloops and area businesses are on board offering practicums to one or more students each year and last year McFarlane spent time at Tim Hortons and Market Fresh Foods.
In its second year, the kiosk is open most Wednesdays and Thursdays through the academic year from 9 a.m. to 2:30 p.m. Among the items for sale: locally-handcrafted pieces on consignment like jewelry, organic chocolate and greeting cards. A portion of sales pays for re-stocking inventory and costs associated with operating the cart. Most of the startup costs were paid for by grants sourced through the TRU Foundation.
Related stories
The gift of hands-on experience
Peters receives award for her commitment to people with disabilities