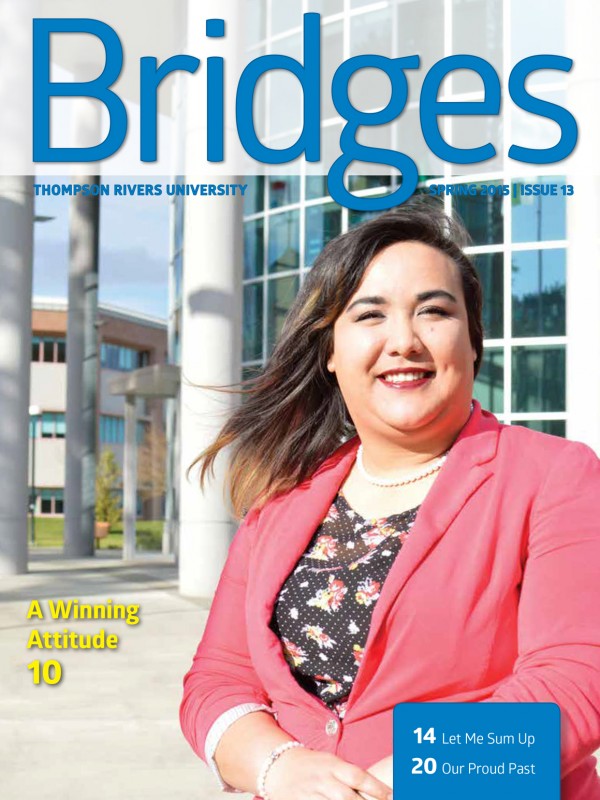 The Spring 2015 issue of Bridges Magazine features campus news, student initiatives, the latest in faculty and student research and community partnerships, and other stories about TRU alumni, students, faculty and staff.
Cover story: Acacia Schmietenknop, president of TRU's Enactus club and a Bachelor of Business Administration student, was recognized with the national HSBC Woman Leader of Tomorrow Award on May 11. She led the Enactus team to three trophies at the Regional Exposition in Calgary—see club member Eric Rankin's Enactus photo essay on page 10.
Other stories in this issue share influential graduate research on urban trees, reveal a Visual Arts faculty member's passions through his workspace, showcase new technology for learning and celebrate TRU's 45th anniversary.
Published each spring and fall, Bridges Magazine is mailed at no charge to all alumni and friends of the university, and is available across campus and around Kamloops.
If you have a TRU story or Class Note to share, contact bridges@tru.ca.
Print issues are on campus now. Take our 2-minute survey to tell us whether you'd like to receive Bridges in print or in a web format in the future.