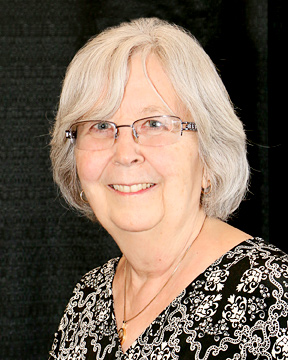 Had it not been a chance conversation many years ago, Lois Peters may not have found her calling or be receiving an award for her efforts from a provincial organization next week.
Lois Peters—an instructor in the Education and Skills Training (ESTR) program for those with cognitive learning disabilities—is being honoured by the organization Disability Resource Network of BC for Post Secondary Education on May 21 during its annual conference in Vancouver. She is receiving the Award of Excellence for Programs for 2015.
The chance conversation those years ago came during her first job at the Vancouver School Board where she assisted in the testing and assessment of students with learning disabilities.
"I met this woman and she asked, 'Why do we put people into institutions like prisoners when all they've done is be born with one little gene that's off or there's an accident at birth? Prisoners get a term and people with disabilities get life.' That really resonated with me, and I have been involved ever since in trying to make our communities accessible for everybody," said Peters, who also has the distinction of being TRU's longest serving employee at 45 years of service.
ESTR is a full-time, nine-month program where students receive job readiness skills and training in three specific areas—kitchen assistant, retail worker, and automotive assistant. Learning takes place in classrooms, labs, and at work placements. As the one tasked to write the funding proposal to government, Peters played a significant role in bringing ESTR to TRU in the early 1990s.
In its early days ESTR was known as the Vocational Skills Training Program and attracted almost 20 students a year. It's grown to where this past fall 42 were enrolled, 36 did practicums this spring, and 35 will participate in Convocation next month. Six to seven students a year are from outside of Kamloops with this year's crop from Merritt, Clearwater, 100 Mile House, Lytton, and Lillooet. Those from outlying communities stay in Kamloops and live either in a shared living situation supported by Kamloops Community Living BC or independently on campus.
After all the years and many students later, what about the job gives her a charge and puts a smile on her face? Students gaining confidence and maturity through their learning is significant, but seeing them working is the bigger payoff.
"What really, really, motivates all of us in our area is when we see our students actually working in the community. When you go to a grocery store and you see them working. When you go to a restaurant and there they are. And as a result, they are contributing members of the community and they are able to live a much more enriched life."
As for the award, what does it mean to Peters?
"The award validates ESTR and the role the program plays not just in Kamloops, but the region and parts of BC. The award is humbling and it feels good, but of course it wouldn't be possible without everyone around me and the support of my colleagues."