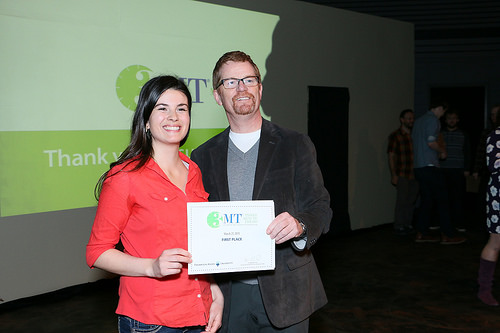 Kristen Marini is the winner of the 2015 TRU Three Minute Thesis (3MT) competition, held in the Black Box Theatre on Friday, March 27.
The Master's of Science in Environmental Science student, who is supervised by Dr. Matthew Reudink, will move on to compete in the Western Canadian 3MT competition, which will be held at TRU on April 30.
Marini's presentation, "Living in the Ghetto: Effects of City Life on Chickadees," drew laughs and applause from the audience, and in return, the audience named her the People's Choice winner as well. The judging panel, which included Kamloops-North Thompson MLA Terry Lake, Interior Health communications officer Susan Duncan and Western Canada Theatre General Manager Lori Marchand, congratulated all five presenters for their courage and skill.
Second place winner was Master of Business Administration student Lesia Romaniuk for her presentation, "Linking Commitment to Diversity and Women: The Top 100 E-Retailing Companies."
The remaining finalists included Tallon Milne, MSc, for "New Drugs for Bad Bugs," Hasan Kettaneh, MEd, for Glocalization in Higher Education, and Amna Farooq, MSc, for "Capillary Electrophoresis and Liquid Chromatography-Mass Spectrometry Analysis of Bisphenol A (BPA) in Environmental Waters.
What is 3MT? 
The 3MT is an internationally recognized research communication competition developed in 2008 by the University of Queensland to challenge thesis-based graduate students to deliver a compelling presentation of their research and its significance in three minutes or less to a non-specialist audience.
In 2014, TRU launched its first ever 3MT competition with our winner, Erika Dufort, going on to win the Western Canadian 3MT competition.
Participation in the regional competition is open to Western Deans Agreement participating universities hosting a local 3MT competition. Eligible participants are the winner of their local competition, and are Masters or PhD candidates in graduate programs eligible for Tri-council funding.
For more information on the history and mission of 3MT, please visit the Canadian Association of Graduate Studies.
Media inquiries
Danna Bach
Communications Officer, Research and Graduate Studies
Thompson Rivers University
Email: dbach@tru.ca
Phone: 250-371-5676