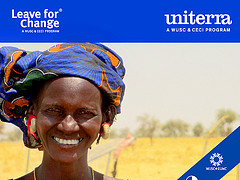 For the first time, TRU will be sponsoring up to 4 faculty and staff members to participate in the Leave for Change program, to volunteer in developing countries, sharing their knowledge and skills with others in an international setting.
---
L4C Quick Facts
Accessible
The Leave for Change Program is open to all full-time TRU employees who have completed their probationary period. To see if there is a mandate that matches your professional skill set, check out the current positions
If there is no mandate on the website corresponding to your expertise, please contact the TRU World Global Engagement Office to discuss what professional skills/ expertise you could contribute through a Leave for Change experience. There still may be able the opportunity to match your expertise to projects that are not listed on the program website.
Free
All you need to contribute is your vacation time. The cost of participating (transportation, accommodation, vaccinations etc.) is covered through an agreement between TRU and the Leave for Change Program.
When
Postings are between 3-4 weeks in length. The date of the mandate depends on your time available and the needs of the organization that you will work with overseas.
Where
Leave for Change offers volunteer experiences in 11 countries located in Africa, Latin America and Asia. Where you go depends on the professional skills you can offer, priority areas, your interest and language skills.
---
More information in person
Visit the Leave for Change booth at Global Village during IDays on March 10 from 11am to 2pm in Student Street.
Attend the Global Engagement at TRU presentation during IDays on March 12 from noon to 1pm in the Brown Family House of Learning, room HOL 204.
Attend the Leave for Change information session on March 18 from noon to 1pm in Old Main, room OM1791.
---
Contact person
Lian Dumouchel
TRU World. Director, Global Engagement
Email: ldumouchel@tru.ca
Phone: 250-828-5220
---