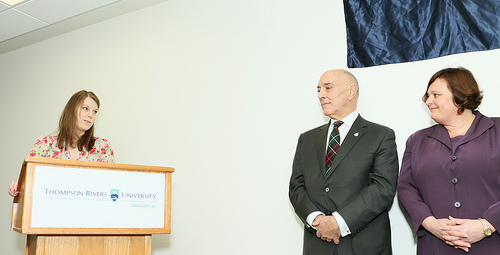 Kamloops—Master Rob McDiarmid and Ms. Sharon Matthews, QC, were recognized by Thompson Rivers University today for their tireless advocacy to bring the law program to TRU and their ongoing support of the Faculty of Law as donors.
"Today we are recognizing two generous supporters of TRU Law and this university," said Alan Shaver, TRU President and Vice-President. "Master McDiarmid and Ms. Matthews have been connected with this university for 20 years, in the capacities of counsel, donor, advocate and champion. We are honoured to pay tribute to their support by dedicating this space to them."
A 14-seat seminar room in the Faculty of Law's new space on the third floor of Old Main will now be known as The McDiarmid Seminar Room.
Continuing their support of TRU's law students, the couple has donated $50,000 to the law program, one of the first major personal donations to the Faculty of Law.
"For the law school to continue to succeed, it needs proper financing, and the cost of a legal education is significant," said McDiarmid, Master of the Supreme Court of British Columbia. "Scholarships and bursaries need to be available to help offset that cost for most law students. Our gift is a small contribution to that."
Master McDiarmid was among the group of local lawyers and others who championed and petitioned the provincial government for the creation of a law program at TRU, arguing that established schools were not training the types of lawyers required for centres outside of the larger cities.
A former president of the BC Law Society, Master McDiarmid received his law degree in 1975 from UBC and practised law in Kamloops for more than 35 years. He was appointed Queen's Counsel in 1996. He was a partner with Kamloops law firm Morelli Chertkow when he was appointed as a Master of the BC Supreme Court in 2011.
Matthews is a former president of the Canadian Bar Association BC Branch, has been appointed Queen's Counsel and currently serves as a Bencher of the British Columbia Law Society. She counts the honour of addressing the first class of TRU law students on the first day of classes as one of her proudest moments as CBABC president. She is a strong supporter of TRU and the law school.
"As an advocate for greater access to justice," said Matthews, "I believe the law school will make a real difference by educating lawyers in the interior of BC where many communities and many First Nations people need greater access to justice."
In supporting TRU's evolution over the years, Master McDiarmid has seen Kamloops evolve with it.
"The growth of TRU from Cariboo College to a full-fledged university has made this city a much better place to live," said Master McDiarmid. "There is now more diversity, more resources, more cultural events in this city, plus the economic stability brought by the university has been a great benefit. The inclusion of a law school as a professional school is another important step forward in that growth."
The Faculty of Law welcomed its first three-year intake in the fall of 2011 and celebrated its first graduating class in spring 2014. The faculty moved into its new space on the third floor of Old Main in 2013, an award-winning renovation and addition that has made the building a campus landmark.
More information
Christopher Seguin
Vice-President, Advancement
Thompson Rivers University
Tel: 250-574-0474
Email: cseguin@tru.ca