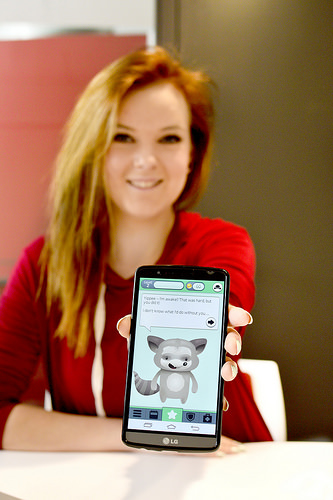 For youth who experience psychosis, anxiety, or depression, it can be a struggle just to get out of bed in the morning.
But like most youth, their smart phones are kept close at hand. With this in mind, a team of youth and health professionals were prompted to create Canada's first "gamified" smart phone app for youth with mental illness.
"Although there are lots of resources available to people with mental illness, there has never been an app that was specifically designed for youth with psychosis," says Sara Gillis, a first year TRU student in Psychology. She is part of a team of 15 who have worked for over a year to develop Booster Buddy, a personalized tool to support and empower youth struggling with psychosis, anxiety, or depression.
Gillis along with nine youth with mental illness, two family members of mentally ill youth, two clinicians and a mobile application developer from Robots and Pencils developed the app with funding from Coast Capital Savings.
On Jan. 17, four months after its initial launch, Gillis presented Booster Buddy at the international E-Mental Health Conference at the Child and Family Research Institute at Children's Hospital in Vancouver. Hoping to introduce Booster Buddy to a wider audience, she spoke to students and mental health professionals from all over the world. Officially launched Sept. 17, 2014, the app was downloaded 3,640 times within its first three months, primarily in Canada and the US but also in Europe, Africa, the Middle East, and Asia. Booster Buddy was beta-tested by 16 youth with mental illness, and reviews showed 95% of users found the app useful.
"We are finding the app also supports youth suffering from mental illness in general by giving a sense of companionship," says Gillis.
Booster Buddy provides youth who are battling mental illness with calendar settings to help track moods, medication and relapses, with the option to set up daily check-ins and reminders. Customizable and personalized, the app also features simple goals to complete daily, a library of coping mechanisms in case of an attack, and a list of phone numbers of family and friends to call for support.
"I am really proud knowing that I have been able to reach youth from across the world and support their road to recovery," says Gillis.
---
Photo and article by Eric Rankin, a second year psychology student and founder of Humans of TRU on Facebook.