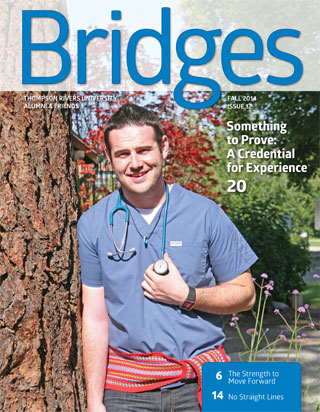 The Fall 2014 edition of Bridges Magazine features campus news, student initiatives, the latest in faculty and student research and community partnerships, and other stories about TRU alumni, students, faculty and staff.
Cover story: Jessy Dame will graduate with two unique credentials on his Bachelor of Science in Nursing transcript—the Global Competency and Leadership in Environmental Sustainability certificates. Find out how TRU is taking experiential learning opportunities to the next level with a formal credential.
Other stories in this issue include a virtual look at the Kamloops campus, research to develop Secwepemctsin language games on mobile apps, a recap of the far-reaching No Straight Lines project, a unique look at the Respiratory Therapy program through the desk of Janine Chan, and Window on the Wild, a new segment that opens with a look at rare BC badgers.
Published each spring and fall, Bridges Magazine is mailed at no charge to all alumni and friends of the university, and is available across campus and around Kamloops.
If you have a TRU story or Class Note to share, contact bridges@tru.ca.
Download the web edition of Bridges here. Print issues are on campus this week.