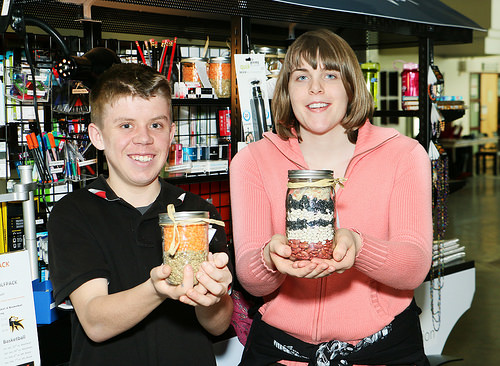 The cheerful cart on Student Street offers more than gift and food items.
Conceived and developed by students in the Education and Skills Training (ESTR) program, the kiosk has been doing a brisk business for the past several months while students gain hands-on experience and confidence to interact with the community.
Run in shifts by ESTR's Retail Worker students two days a week, the kiosk sells giftware from the Bookstore and local businesses, and edible gifts prepared and packaged by ESTR's Kitchen Assistant students.
What is ESTR?
Now in its 18th year, the Education and Skills Training Program offers students with cognitive disabilities a chance to explore entry-level employment options and pursue training in a specific area. During the full-time, nine-month program students take core classes in communications, employability skills, workplace health and safety and job search, and in second year choose one of three streams—Kitchen Assistant, Retail Worker, or Automotive Assistant—which include work experience placements. The kiosk provides an on-campus training site similar to existing placements at the TRU Bookstore, the warehouse, the Urban Kitchen or the School of Trades and Technology, but entirely student-driven.
"We've always integrated experiential and practical learning as much as possible, but we were looking for something for retail that would allow students to gain higher level skills," explains Retail Worker faculty member Leanne Mihalicz. "Off campus in work placements, they might not have a chance to handle cash, interact with customers, learn how to display merchandise, or all the steps involved in operating a small business."
Funding for the kiosk
In partnering with the TRU Foundation to fund a new on-campus retail training site, ESTR came up with the idea for a kiosk in Old Main. A grant from the Robert L. Conconi Foundation in Vancouver covered costs for the cart, an iPad and software for students to operate as a cash register, a printer and other items.
A recent $10,000 grant from the Vancouver Foundation allowed for the purchase of much-needed technology, such as an Apple laptop and printer for marketing. Money also went to upgrading ESTR's kitchen with new food preparation equipment.
[youtube]http://youtu.be/jq-K9w3h-oM[/youtube]
Sense of ownership
"There's a real sense of ownership, says Michalicz. "They've also learned to express who they are and what we're doing." Thirty to 40 per cent of ESTR students are hired by their placement employers after the program, so additional hands-on training opportunities like this are invaluable.
Kitchen Assistant students appreciate the chance to be more creative than in their usual coursework, selecting edible gifts to prepare—from spiced nuts and curry couscous to a variety of soups, including their signature Friendship soup, and fair-trade, organic chocolates. Kitchen Assistant faculty member Saskia Stinson says students want to prepare spice combos for sale, and plan to bring more plants and flowers in from Art Knapp.
"They're involved in everything from choice of product to decoration, presentation and packaging," says Stinson. Working in conjunction with the retail students for the first time, and taking over some of the marketing tasks, adds to her students' breadth of skills.
Second-year Human Service student Jenna Leblanc is doing her practicum with the ESTR students, assisting with the planning and operation of the kiosk.
"I integrate some of the theory I learn in my classes and practice it with them," says Leblanc. "It's been a great experience. We planned it all and came together, and have had some pretty good days so far," says Leblanc.
Student club Enactus has been providing marketing help with the support and guidance of faculty member Debra Sloat.
Support for the business is growing, with some members of the TRU community having items on consignment with the kiosk.
More information
Leanne Mihalicz
Education and Skills Training
Thompson Rivers University
Phone: 250-828-5223
Email: lmihalicz@tru.ca