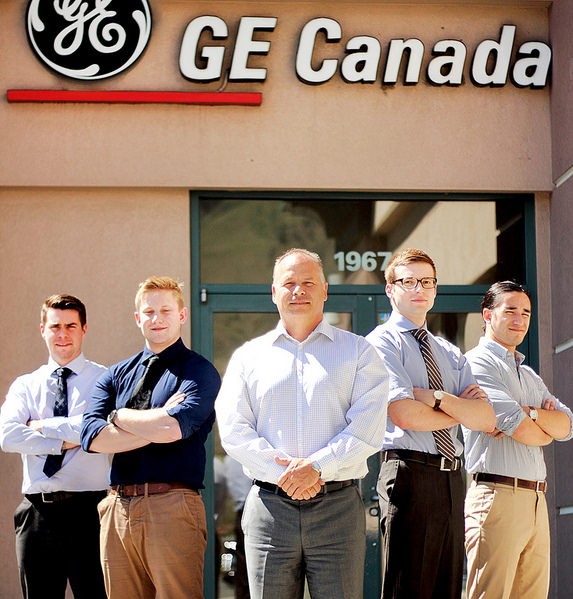 So impressed by the quality of TRU's co-op students over the past few years, GE Capital recently took the plunge and hired one of its former students to a full-time position after his graduation this past spring.
Christian Karl was hired as assistant account manager in May after completing a previous eight-month work term. He attributes his career success to the skills learned at GE.
"It was during my work terms that I felt I fit into the organization," says Karl of the financial services company with a global presence and a branch in Kamloops. "I've gained countless finance skills working at GE."
In the past few years the local branch has hired 10 students from TRU's School of Business and Economics, and BC Interior senior manager Chris Evin has worked with them all.
"The students are very hands-on, and get involved with all day-to-day activities. They become part of our team and provide critical analysis and support to our branch office and customers," said Evin, adding more employers should consider hiring co-op students.
"Companies are missing a fantastic opportunity to hire some great talent that not only benefits their company for the present co-op term, but could also turn out to be a valuable long-term employee."
GE Capital likes to give students hands-on work experience and looks for people with three main traits: academics, personality, and work ethic.
Scott Ganzert embodies all three and believes it was the day-to-day hands-on experience that set him up for his current success.
"Prior to working with GE, I didn't have any experience in the finance industry," Ganzert said. "Through my co-op I learned the context behind financing and all of the legal regulations and issues that need to be overcome."
Among the positives for Liam Roerslev during his time at GE was experiencing the company's supportive environment where if you have a question, all you need to do is ask.
"GE works on an open door policy, so if you ever feel uncomfortable with something there is always someone to point you in the right direction."