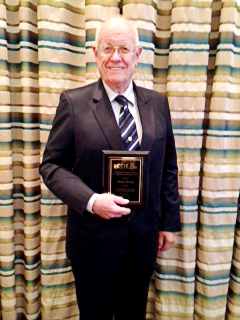 The original architect of Thompson Rivers University's international efforts has been honoured with a lifetime achievement award from the British Columbia Council for International Education (BCCIE).
In the nomination letter for Charles Mossop, his nominators attributed his success to his capacity to work collaboratively with TRU's executive, academic departments, and the registrar's office. He also played a prominent role in establishing guiding principles, a strong financial model, sustainable procedures, and for gaining broad-based support ranging from creating a culturally sensitive environment at TRU to increasing international enrolment.
Mossop's career spanned the early 1970s as a faculty member through to his retirement in 2005 as an administrator in TRU World. His international efforts began in 1975 when he led a three-week field school tour to Southeast Asia. Several years later he became TRU's Coordinator, International Travel Programs and in the fall of 1983, became Coordinator for International Education in the newly-created International Education department.
In the mid-1980s, Mossop worked with the Canadian Bureau for International Education to respond to the unique needs of a group of students from Libya, and in 1987, through the Association of Canadian Community Colleges International Bureau, TRU obtained its first international development contract in the field of forestry in Indonesia. This began a series of projects which proactively engaged faculty in China, Malaysia, Vietnam, Thailand, Slovakia, Latvia, Estonia, and Nigeria.
With international enrolment increasing thanks to proactive recruiting efforts, Mossop was promoted in 1991 to executive director of TRU's international department.
He also helped establish admissions and advising services dedicated solely to serving the needs and qualities of international students. The approach also recognized the importance of investing in specialized, culturally sensitive support through the creation of a first-language International Student Advisor (ISA) team.
Outside of TRU, Mossop served as chair for the BCCIE in the early 1990s as well as serving with many of its committees.
On a personal level, Mossop involves himself with the Canadian National Institute for the Blind, where he participates in projects supporting those in developing countries with vision loss.
Media inquiries
Larry Peatt
Director of Admin & CFO, TRU World
Tel: 250-371-5745
E: lpeatt@tru.ca