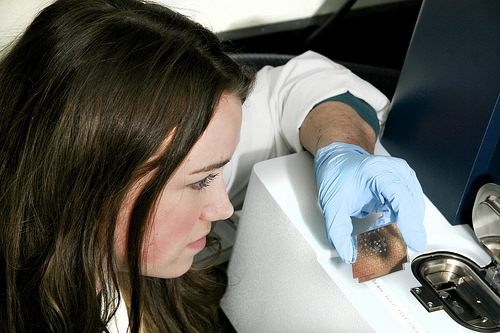 As an undergraduate at TRU, you have a unique opportunity to bring learning to life, by experiencing research.
If you're picturing yourself lugging musty books in the wake of an absent-minded professor, typing a grad student's illegible notes or sanitizing the laboratory floor, think again. Undergraduate research at TRU is about the skills you want to learn, the questions you want to ask, and having a faculty member to mentor you one-on-one along the way.
"I love the mystery behind research," says Katie Sparrow, a third year Chemical Biology major who first got into research by volunteering in Dr. Kingsley Donkor's chemistry lab last summer. The experience using analytical instruments and working with lantibiotics sparked her interest, so she applied to conduct her own independent research project through TRU's Undergraduate Research Experience Award Program (UREAP). Each year the program provides $4,500 scholarships to dozens of students to engage in research.
"I plan to publish the scientific results in an analytical chemistry journal," says Sparrow, who will be guided through the writing process by Donkor, "as well as present the findings at the TRU Undergraduate Research and Innovation Conference, and at the Canadian Society of Chemistry conference in Vancouver, BC in 2014." Check out presentations, posters, artwork and exhibits by Sparrow and over 200 other students at TRU's annual conference March 28 and 29.
Students say the accessiblity of TRU faculty members is a big plus. Whether you're interacting with your professor on a first-name basis in class, working for a faculty member or research group in a volunteer, co-op, or research assistant position, or being mentored one-on-one to conduct your own research, you have the opportunity to learn from faculty who want you to succeed.
Bachelor of Science student Thomas Giroday has been part of Dr. Nelaine Mora-Diez' computational chemistry group since September 2012, when she approached him to do a one-year directed studies project under her supervision. To continue his project he applied for a summer UREAP project and co-op placement, enabling him to afford tuition and still focus on research. This winter, he won a $5,625 Undergraduate Student Research Award (USRA) from the Natural Sciences and Engineering Research Council of Canada (NSERC).
"Working one-on-one with Nelaine has been a good experience", says Giroday. "She has proven to be very knowledgeable about the topic, and very helpful in sorting out the academic and business details of research. It was her suggestion to attend the Molecular Quantum Mechanics 2013 conference in Switzerland, an experience I won't forget. I felt like she cared about me and my research, despite her sizable workload."
After two years of research at TRU, Giroday has gained a respect for the process. "Make sure you make a plan, but be aware that it can change. Things you thought would take a long time will end up being much shorter, and things you thought would be over quickly end up being the most time-consuming." He also finds himself enjoying the hands-on, practical aspects of research and experimentation. The applied focus is key in most undergraduate research at TRU, and students appreciate the chance to contribute to their field or the community.
"Research allows people to ask questions and to expand on knowledge," says Psychology major Stacey Kaufman. Her 2014 UREAP project explores the social interest concept in clinical psychology, the field she hopes to work in after graduate study. The analytical and writing skills she is developing in the process will serve her well in her career goals, but she says it's the chance to contribute her own ideas that drew her to research. "I was attracted to research in psychology because developing our understanding of human behaviour has the potential to help individuals."
Fourth year History major Alanah Seaton presented her research on the use of make-up advertising as an American recruitment tool during WWII at the Philosophy, History and Politics (PHP) conference in January. "You work so hard on these papers, you want to share them, you want to share your ideas," she says about participating in the conference. Seaton was also one of the co-organizers of this year's 7th annual event. "It's such a great opportunity to get other people excited about it."
There are a variety of ways you can experience undergraduate research, whether you are in first year or fourth, whether you are looking for a way to connect what you learn in class to real-world problems and contribute to your community, or want to learn the ins and outs of research long before you begin graduate study. Life-changing research opportunities are waiting for you.
---
Read more Q & A's with student researchers:
Rolena DeBruyn, Ecology and Environmental Biology
Tingting Li, Tourism Management
Ashley Morrison, Animal Biology
Steven Holm, Finance and Economics
Paige Hegadoren, Physics
Tamara Bandet, Microbiology
Timothy Crowe, Microbiology
James Pomfret, Animal Biology
Sara Burchnall, Economics and Accounting
Katie DeGroot, Ecology and Environmental Biology
Katie Sparrow, Chemical Biology
Stacey Kaufman, Psychology
Orri Greaves, Animal Biology
Brandon Samoyloff, ARET
Katie Bennett, Animal Biology
Thomas Giroday, Chemistry
Alison McClean, Microbiology
Natascha Hedrich, Physics and Mathematics
Tara Folk, General Biology
Jessica Robinson, Animal Biology
Kate Strangway, General Biology