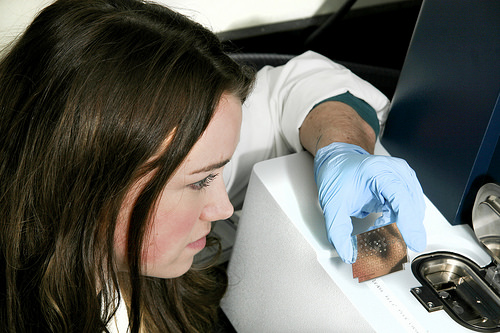 Meet Katie Sparrow, a third-year Bachelor of Science student majoring in Chemical Biology. The Newsroom asked Katie about the ins and outs of conducting her own research project through TRU's Undergraduate Research Experience Award Program (UREAP).
TRU: Your project is titled, "Interaction of Nisin with Enzymes in Beef by Matrix-Assisted Laser Desorption/Ionization Time-of-Flight Mass Spectrometry (MALDI-TOF MS)". Boil it down for us.
KS: Nisin is a lantibiotic widely used in in the food industry as a natural preservative, although it is largely ineffective when used in meat products, such as beef. The rate at which the enzymes in beef deactivate nisin (kinetics) is needed to understand the inhibition of nisin.
For this purpose, a time study of the deactivation of nisin in beef will be conducted, and Matrix Assisted Laser Desorption/Ionization Time of Flight Mass Spectrometry (MALDI-TOF MS) will be used to characterize this reaction. Different types of beef will also be analyzed to see if the kinetics will vary, and if so, how they vary.
---
"I love the mystery behind research." — Katie Sparrow
---
TRU: What attracted you to doing this research?
KS: In the summer I began volunteering in the lab, and instantly fell in love. My initial work involved analyzing polymers on the MALDI, which peaked my interest in using analytical instruments. From there, I actually began analyzing nisin, and it stirred me in the direction of formally wanting to do a project with it.
TRU: How has your UREAP grant helped you get into doing research?
KS: My UREAP has helped by giving me the opportunity itself, as well as the opportunity financially, as research is not cheap!
TRU: Will your project lead to a presentation or publishing opportunity?
KS: It is always a researcher's hope that a project will work out, leading to a presentation and publication. If meaningful results are obtained, I plan to publish the scientific results in an analytical chemistry journal, as well as present the findings at the TRU Undergraduate Research Conference, and at the Canadian Society of Chemistry conference in Vancouver, BC in 2014.
TRU: What do you love about research?
KS: I love the mystery behind research. It is so intriguing. You can simply start to analyze something, find an unexpected result, and the next thing you know you are investigating something completely different, that you didn't even think of investigating to begin with.
TRU: Who in your field do you admire and why?
Call it cliché, but I really admire my supervisor, Dr. Kingsley Donkor. He's so caring and knowledgeable, if you don't know him, I strongly recommend that you should.
TRU: What impact do you hope your research will have?
If successful, my research could greatly aid the food industry, especially the cattle industry. Using the known kinetics, a more successful application of nisin in beef would allow for the shelf life and handling of the meat to be dealt with more accurately, saving time, money, and preventing potential illness.