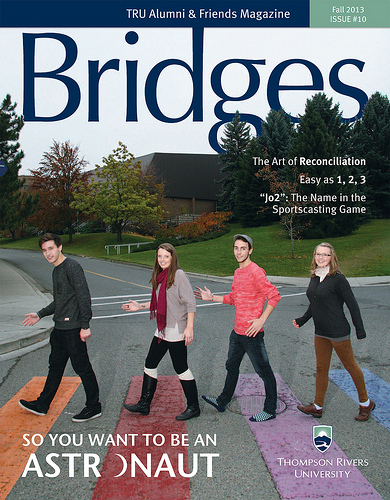 This time of year as the light dwindles and the quiet of winter approaches, many of us find an opportunity for introspection. It is the season to look within, expand our minds, learn a new skill, or give something of ourselves to others. The activities, initiatives and research projects we highlight in the new Fall 2013 issue of Bridges Magazine shows TRU's alumni, students, staff and faculty at their most creative, compassionate, determined, and inspired.
Researchers at TRU are exploring the nature of creativity with a look back at history and across the boundaries of art and science. Canada Research Chair Ashok Mathur coordinates a national artistic inquiry into Reconciliation with the help of modern technology.
Astronaut Chris Hadfield delivered the President's Lecture to a rapt audience on October 4. Bridges shares his question period with students earlier in the day, and this issue includes many other stories that reveal how a little travel—or a lot—can broaden our understanding of society and culture or give us a new perspective on life. Bridges also showcases the diverse ways that the TRU community is making the world a better place at home and abroad.
As in past issues, we turn our introspection on TRU itself: our photographic feature, Interior Settings, introduces the unique world of Natural Resource Science, and Inside TRU gives you the big picture on the three-year process of creating the new and improved tru.ca.
And finally, don't miss our Alma Matters feature on Journalism and Performing Arts alumnus Joseph Otoo, putting all his passion into a chance at his dream job on reality TV show Drafted. Go online with all our WebExtras to watch how this budding sportscaster fares, see the work of artists as they reconsider reconciliation, and read more of Hadfield's Q & A.
Look for the print issue on campus now, or read the Fall 2013 Issue of Bridges Magazine in PDF.
The days will lengthen again soon and we'll begin thinking about growth, renewal and reconnecting. If you have a story or idea you'd like to share in Bridges, contact us at bridges@tru.ca.