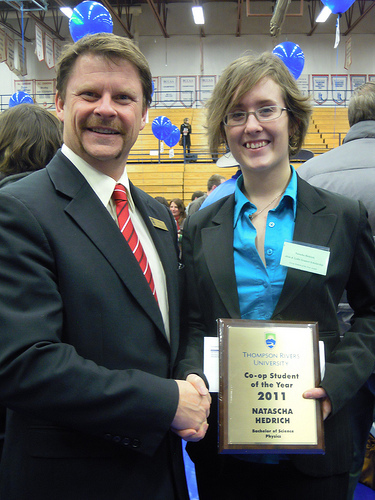 Thompson Rivers University is pleased to announce the recipient of the 2011 Co-op Student of the Year Award – Natascha Hedrich, Bachelor of Science in Physics. This award recognizes outstanding achievements in co-op job performance, academic performance, contributions to co-op employers, and to co-operative Education.
Academically, Natascha has achieved a 4.28 GPA in her third year of a B.Sc. Physics major, achieving A+ in a range of courses including physics, math and computing science. She is currently a lab assistant for a lower level Physics course at TRU.
Natascha has completed two work terms for Co-op. The first was with TRU Department of Environment and Sustainability, the second was as a research student at TRIUMF in Vancouver. Going forward, on the recommendation of her TRIUMF supervisor, she is applying for an NSERC summer research position in Germany in 2012.
As a Co-op student, she has presented to other students about the program. Natascha is active in the TRU campus community as a member of the TRU ECO Club as well as being a Supplemental Learning Leader in past years. She has also been active as a community volunteer including work with the World Masters Tournament and Kamloops Sustainability Plan Forum.
The TRU Career Education Department would also like to formally recognize Jeff Hicks (Bachelor of Arts), who received an honourable mention for this award, and who also demonstrated outstanding achievement in co-operative education.
The TRU Co-op Student of the Year Award criteria and adjudication process has been recently transformed to align with provincial (Association for Co-operative Education, BC/Yukon) and national (Canadian Association for Co-operative Education) award criteria. Natascha Hedrich will be nominated by Thompson Rivers University for each of these upcoming awards.
Natascha Hedrich – Quick Facts
Age – 20
Program – Bachelor of Science: Major in Physics and Honors Math
Year of Study – 3
Co-op Jobs
Summer 2010: TRU Department of Environment and Sustainability, Co-op Summer Student
Summer 2011: TRIUMF Particle Physics Research Facility, Summer Research Student
[youtube]http://www.youtube.com/watch?v=1kyXLu0zwEY[/youtube]
Natascha Hedrich Highlights
– Dean's List – Fall & Winter 2009, 2010
– Alvin and Lydia Grunert Scholarship Recipient – June 2010, 2011
– General's Bronze Academic Medal – June 2009
– Supplemental Learning Leader for Chemistry 1500 for one semester
– Co-op Student of the Year nomination in 2010
– goBEYOND coordinator for TRU (Volunteer)
– TRU Eco club member