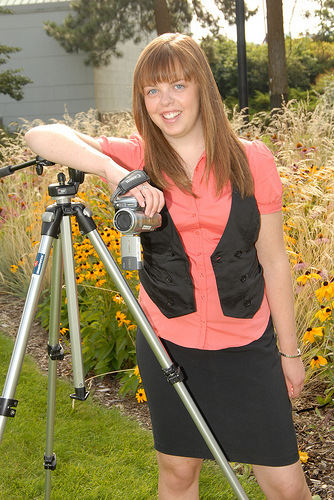 Amy Berard, a third-year Bachelor of Business Administration student at TRU, has been selected for Canada's first-ever Next 36 entrepreneurship program.
"It was an unbelievably exciting and challenging experience in just three short days. I had six interviews, fifteen minutes each, within the first three hours I arrived – all with Canadian business leaders who have millions of dollars to their name, Berard said in an email. "After that it was many discussion groups and lectures with constant surprises including Marc and Craig Kielburger of Free the Children and Me to We literally just "stopped by" to say how "humbled" they were by us. I felt like I was in Disneyland where anything is possible."
Berard has already been placed in a team and given mentors. Next week they begin create the mobile app, working remotely over the next semester with the $50,000 seed money.  From May 4 – August 18 she moves to Toronto to attend classes taught by top academics from places like the Harvard school of business. "This weekend has been a blur and there are just too many amazing benefits to name – Rogers gave us each a brand new phone with a long distance plan to use this semester!" Berard added in her email.
Berard  entered the competition earlier this fall with an online application and was chosen from more than 300 undergrad students from across Canada. She traveled to Toronto for the National Selection Weekend, Dec. 3-5, and participated in a series of lectures, one-on-one interviews, and discussions with the hope of becoming one of the Next 36.
The goal of The Next 36 is to help launch the careers of 36 of Canada's most promising and innovative undergraduates. The program runs from December 5, 2010, to August 18, 2011, at the University of Toronto and is comprised of two major components.
The Entrepreneurship Institute consists of roughly 144 hours of in-class instruction taught by internationally-acclaimed faculty and Canadian business leaders. The New Venture Challenge gathers students into cross-disciplinary teams and provides them with capital, resources and mentorship, helping them to invent, launch and sell a product or service focused on the mobile environment.
The Next 36 gives students the academic foundation, practical skills, role models and networks to become Canada's next generation of entrepreneurial leaders.
Majoring in marketing and minoring in public relations, Amy was also recently named TRU's Co-op student of the year by TRU's Career Education. She has completed two Co-op work terms and this award recognizes her most recent term at the Thompson Nicola Cariboo United Way.
Active in TRU's Students in Free Enterprise (SIFE) team, Amy is well known to the School of Business and Economics. In the community she held the Communications & Promotions Coordinator title with CIBC Run for the Cure. While at United Way she was recruited for the part-time position as the Research Assistant with the Kamloops Homelessness Action Plan. She continues to support United Way as a volunteer on the TRU United Way campaign committee and has taken an active role in educating staff, faculty, and students about the great works the United Way does.
Amy is proud of her campus and credits her achievement to "the supportive and encouraging staff and faculty of the TRU Career Education Department, and to the inspiring colleagues I spent my summer with at United Way."
The Co-op Student of the Year Award recognizes a wide variety of achievements — job performance, academic performance and responsibility, and particular contributions to their co-op employer, to Co-operative Education.
The other students nominated for this year's TRU Co-op award:
Natascha Hendrich — Sciences
Stephanie Gale — Arts
Shannon Blakely— Tourism
In winning, TRU's Career Education Department will nominate Amy for both the upcoming provincial (Association for Co-operative Education) and national (Canadian Association for Co-operative Education) awards.

Amy Berard Highlights
• Communications & Promotions Coordinator for CIBC Run for the Cure (Volunteer)
• Vice-President of Programming, SIFE
• Participated in the team that won Regional competition for SIFE in Calgary (Feb)
• Competed in the National SIFE business competitions (May)
• Completed more than 10 informational networking interviews in a two-week period in the Spring
• Worked part-time as an auxiliary temp at TRU
• Created an e-portfolio as her work term learning assignment submission
Amy Berard's Co-op jobs:
Summer 2009 – TRU Career Education Department (Marketing and Web Assistant)
Summer 2010 – United Way (Community Development Assistant)