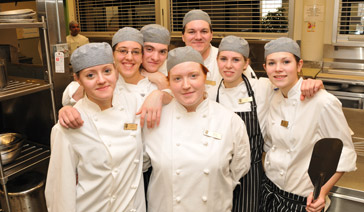 Thompson Rivers University will take its Culinary Arts program, complete with labs, course work, students and an instructor to Whistler during the 2010 Vancouver Olympic Games.
A team of eight, Cook level 1, Culinary Arts students will learn their cooking lessons in the kitchens of the Fairmont Chateau Whistler from February 6 to March 2 during the height of the Olympic Games.
"Being involved in culinary activities right in the heart of the 2010 Winter Olympics is an amazing opportunity for our students from the School of Tourism at TRU," said Dr. Harold Richins, TRU Dean of Tourism. " We are also very excited that this is taking place in partnership with one of the top hotels in BC – the Fairmont Chateau Whistler."
Students Katrina Kloppenburg, Karen Nichols-Wandler, Joe St-Jean, Deanna Risley, Shane Marriott, Mark Allen, Rayne Scott and Erica Tippe will be under the tutelage of Derrick Moffat, Culinary Arts faculty.
Already learning their trade in the 200-meal a day cafeteria at TRU, the students, will see first hand the inner workings of a major hotel with six kitchens during one of the world's biggest events. The Whistler experience will offer students a rotation through different stations that include the Wildflower and Portobello restaurants, a 750-seat banquet facility plus the logistics of feeding hundreds of hotel employees.
"This is more than just an incredible field trip," said Jeff Jordan, Chair of TRU's Culinary Arts Program. "These students will be graded on the different stations they work at just as they would be on campus." The hotel fully embraces the notion that the students will rotate during their stage.
Jordan, who was a chef with the Fairmont Hotels before beginning his career at TRU in 1999, says the students will stay in the Fairmont's staff dormitories located at the base of the Olympic bobsled run. Each student has been sent a strict code of conduct and has the same expectations as regular hotel employees.
For instructor Derrick Moffat it's these professional expectations, as well as the pace and venue that make this 24 day placement such an amazing opportunity. "They will learn first hand that the standards we set in our classroom kitchen are the same standards set by the industry.
"But more that the practical aspects, these students will make invaluable contacts that will be critical when they go looking for jobs or practicum opportunities," he added, noting that several TRU Culinary students have had successful practicum placements and careers at the Chateau Whistler.
The experience may be all of that, but for Erica Tippe, a high school transition student completing her Dogwood diploma as she earns her Cook 1 certificate, it's much more. The 18-year-old has never been to Whistler, never mind an Olympic games. As her class-mate Deanna Risley so aptly said, "I am not really nervous about anything–except screwing up."
Contact
Dr. Harold Richins
Dean, TRU School of Tourism
250-852-7138
hrichins@tru.ca
Jeff Jordan
Chair, Culinary Arts
250.828.5353
jjordan@tru.ca