Posted on: October 27, 2017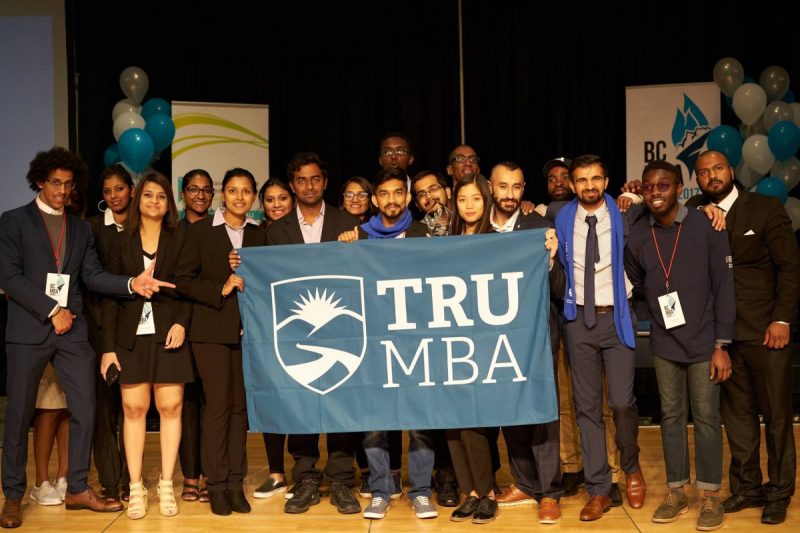 TRU hosted more than a hundred students from the University of British Columbia, University of Victoria, Vancouver Island University and Simon Fraser University during the 2017 BC MBA Games this past weekend.
Graduate students competed in case study competitions, fundraising initiatives, spirit events, presentations and sports for the golden cup.
TRU won first in dodge ball, was runner-up in the fundraising amount for Canadian Mental Health Association and third in the Pecha Kucha competition.
After months of preparation as hosts and for the games themselves, dozens of TRU students were celebrating the culmination of so much hard work and readying for a successful games, both as the host campus and as fierce competitors.
TRU had won the BC Games last year and brought a lot of spirit to the events; however, UBC won the overall Games and will be the host university next year.
"Our team was proud to represent UBC at the BC MBA Games and we're thrilled with the outcome and the opportunity to host next year's games. TRU was an incredible host and all students, faculty and organizers came together to make it an amazing weekend," said Stuart Karol, co-captain of the UBC MBA team.
"The BC MBA games was a fantastic experience. TRU was an amazing host and the UBC team is absolutely buzzing with the win. We can't wait to host the games next year," added Rahil Fernandes, co-captain of the UBC MBA team.
All students were thankful for a fun and challenging weekend of sportsmanship and networking on campus and in Kamloops.

"It was a weekend of sleepless nights, intense handwork and lots of fun. I can be proud of our TRU team, for the amount of hard work and dedication shown by the whole team during the preparation phase of the event. I hope these events become a part of the TRU MBA culture and the goal should be to win National MBA Games and be the best business school across Canada," said Nishant Shilu, co-captain of the TRU MBA team.
2017 BC MBA Games Results
Overall finish

1ST UBC
2nd VIU
3rd SFU
Social enterprise case
1st  UBC
2nd SFU
3rd VIU
Pecha Kucha
1st UBC
2nd VIU
3rd TRU
Small business case
1st UBC
2nd VIU
3rd SFU
Fundraising event

1st UBC
2nd VIU
3rd TRU
Highest fundraising total
(Combined, all schools raised $8,437)
1st VIU
2nd UBC
3rd TRU
Spirit competition
1st UBC
2nd TRU
3rd VIU
Dodgeball
1st TRU
2nd UBC
3rd VIU
Wheelchair basketball
1st UBC
2nd SFU
3rd VIU