Posted on: January 31, 2017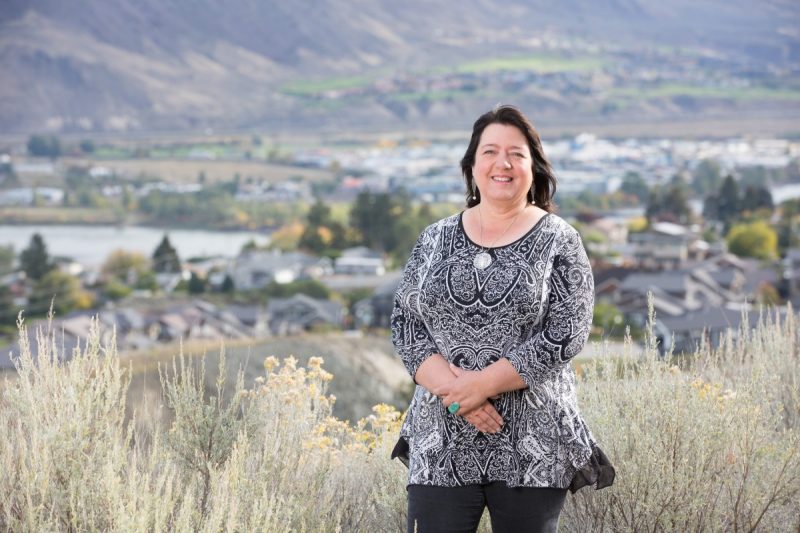 ­In December, TRU announced Dr. Shelly Johnson (Mukwa Musayett), Saulteaux from Saskatchewan's Keeseekoose First Nation, as the country's first Canada Research Chair in Indigenizing higher education.
Stepping into this role is an honour that Johnson said she didn't anticipate. "It is the dream job that I have been waiting for my entire academic life."
The development of a CRC position in this field was driven by the results of the Truth and Reconciliation Commission, and by TRU's commitment to increasing intercultural understanding, one of its five Strategic Priorities. The institution's Strategic Research Plan emphasizes Aboriginal understanding as one of its five key themes.
Read: Canada Research Chairs mark milestone for TRU, Dec. 6, 2016
The timing of Johnson's appointment could not be more appropriate, said Dr. Airini, Dean of the faculty of Education and Social Work, who worked with a team of faculty to develop the appointment and bring Johnson to campus.
"There are 400 million Indigenous people worldwide, spanning 90 countries. These are the people who have been the first knowledge makers, the first scientists, the first philosophers, the first wayfinders, the first educators and the first entrepreneurs," said Airini. "They are also the people who, in many parts of the world, have experienced the greatest consequences of colonization."
"Canada is one of the places in the world that can put this right in ways that will make a difference and be meaningful for Indigenous people around the world."
TRU has one of the largest Aboriginal student populations in BC post-secondary institutions. Approximately 10 percent of TRU students are Aboriginal, including Métis, Inuit and many First Nations from BC—such as Secwepemc, Carrier, Okanagan, Nuxalk and Nlaka'pamux—and across Canada.
While there is a growing body of Indigenous research led by TRU scholars, in higher education research generally, Aboriginal people continue to be underrepresented as research students and faculty.
The honour of being the country's first research chair tasked with Indigenous advancement in higher education is not lost on Johnson.
"The way Indigenous people approach research is like a ceremony and within that are many protocols of respect, honour and reciprocity. This is an opportunity to research and teach about our ways of knowing, being and doing. As Indigenous peoples we have a lot to share that can strengthen institutions for us all."
Johnson is a recognized leader in Indigenous research methods and leadership. She arrived to take on her new role as CRC in January after spending more than four years as an assistant professor in the School of Social Work at UBC. She received her Master of Social Work from the University of Northern British Columbia in 2001, and her EdD in Educational Studies: Leadership and Policy from UBC, in 2011. She has worked within the child protection field in varying capacities since 1984, and spent seven years as the CEO of Surrounded By Cedar Child and Family Services, working with urban Aboriginal youth to restore and enhance strength and resiliency within the Coast Salish Territory.
Johnson currently holds $3 million in research grants as a primary investigator and a co-primary investigator on projects that aim to develop capacity in urban Aboriginal communities with a focus on culture and language revitalization, child welfare and justice issues. Broadly, her research interests are in the area of international Indigenous research methodologies, restorative child welfare practices, and transformative healing through Indigenous cultural practices.
"I want to do meaningful research. I'm not interested in dead research that sits on a shelf. It must be forward-thinking and inclusive, and be an extension of the practice that I've had in the province for 25 years," she said.
Her first year at TRU will be spent wrapping up many of those ongoing research projects, while at the same time establishing an advisory council made up of various members of area Nations who will help to guide her research program.
Johnson acknowledges that she's a visitor to the Secwepemc territory, and as such, seeks support for her research.
"I plan to visit the Nations, meet with leadership and grassroots people and learn about research that could be meaningful to them. It is important for me to be inclusive and to ask people to guide our research in a good way."
"The creation of this role makes a critical academic statement to Indigenous peoples," she said. "It's a privilege and a responsibility to carry it forward in a respectful way."
More information
Dr. Shelly Johnson, Canada Research Chair
Indigenizing Higher Education
sjohnson@tru.ca
250-828-5125