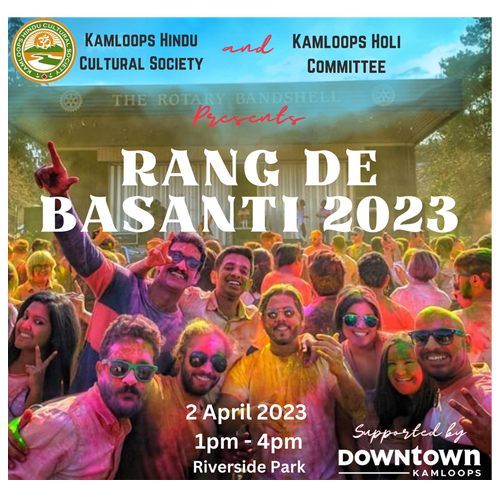 Kamloops Holi Committee, Kamloops Hindu Cultural Society and Downtown Kamloops are excited to bring you Kamloops Holi: Rang De Basanti 2023.
Come dance and celebrate the Festival of Colours with DJ Aftershock at Riverside Park on Sunday, April 2 from 1 – 4 p.m.
This is a FREE event open for all, made possible by our sponsors and supporters. Street-style Indian vegetarian food will be available for purchase separately. Come experience an immersive cultural workshop; this is an annual event returning to Kamloops post-COVID and we are delighted to celebrate it with our community.
Thank you to our corporate and individual sponsors: Verma Mortgages, World Financial Group – Legacy Builders, Amit Goel Personal Real Estate Corporation, Arjun Kadaleevanam – Insurance Advisor, S.K. Gusani Arts, Maurya's Craft Bar and Kitchen, Columbia Dental, Woitas McLeod and Associates, Mandeep Chahal Personal Real Estate Corporation, Arjun Singh, TELUS, McDonalds, The Home Depot, Ritz Production, FraserCart Indian Store, Secureye Protection Services Ltd., St. John Ambulance Volunteer Medical First Responders, Aim Canada Mentorship Society, DJ Aftershock.