An initiative co-founded by TRU faculty to support conversations with youth and young adults about consent, communication and sexualized violence prevention leads to a pilot project in SD73 Grade 8 classrooms.   
Recently in a Kamloops high school, Grade 8 students gathered at tables outfitted with fidgets and colouring sheets. At each table was a mentor to facilitate conversation, and a journal, which each student could take home and use to reflect on the lesson and their own experiences.
The session, part of a six-hour curriculum developed at TRU, begins by speaking about emotional regulation (an important starting point for conversations with teenagers about sexual violence prevention) and turns to consent and communication, and what that means and looks like in everyday life.
It's the result of a long-time collaboration between Chelsea Corsi, TRU's senior wellness co-ordinator, and Tanya Pawliuk, associate teaching professor in the School of Social Work and Human Service. In 2020, they co-founded the Consent Café, inspired by the annual TRU Consent Tea that invites university students to talk about consent over tea — an idea born from this viral video that explains consent in simple terms.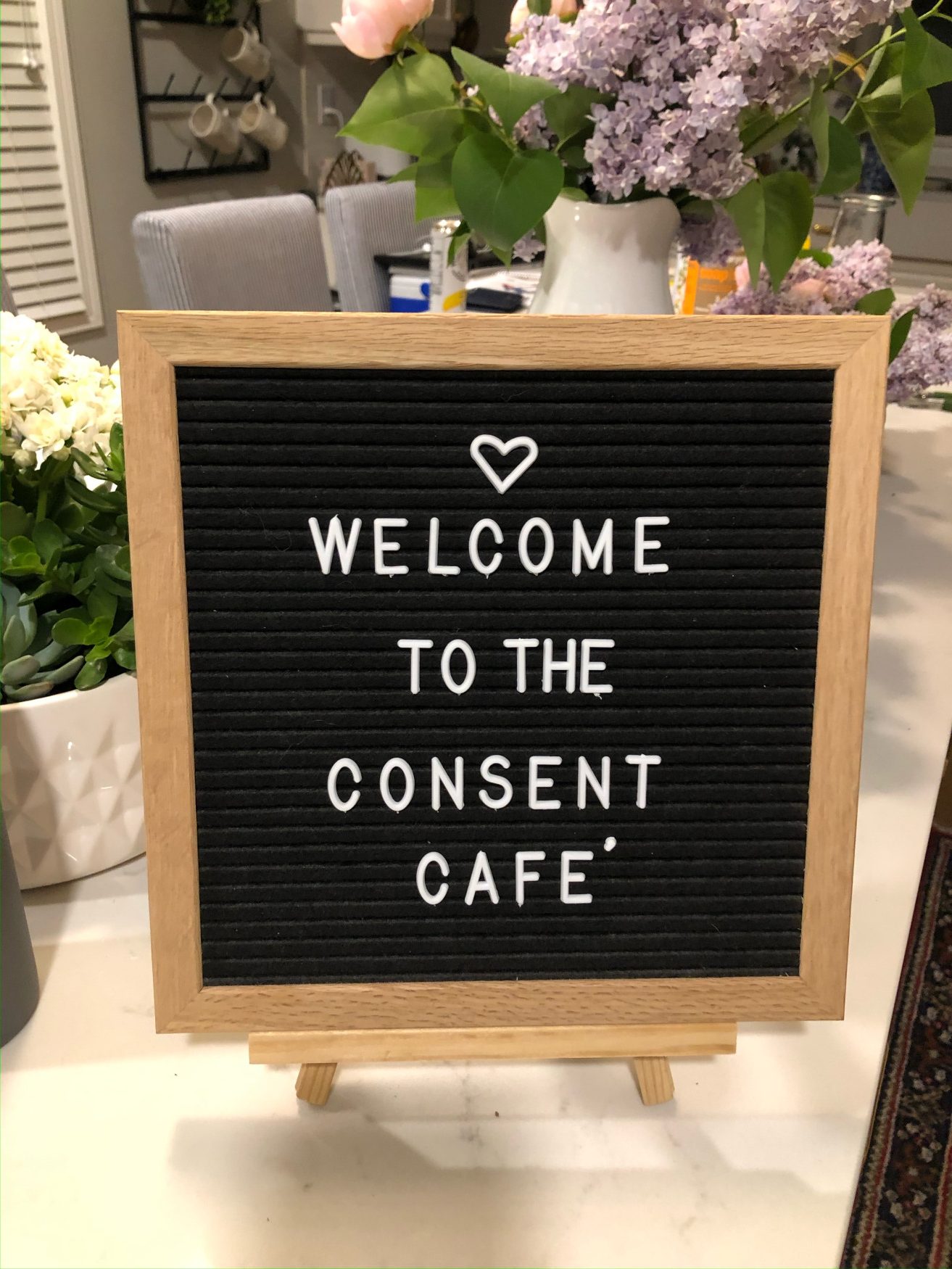 "I was finding that students in their early 20s didn't understand how to navigate consent," Corsi says. "I was wondering how to help people understand, and I found this video that I thought was a good starting point."
Sexual violence at university is a serious issue: Statistics Canada reports that one in 10 students who identify as women were sexually assaulted in a post-secondary environment in 2019, and young women ages 15-24 experience the highest rates of sexual violence, almost double the rate experienced by women aged 25-34.
Creating a culture of consent
Many students arrive at university having already experienced their consent being violated and without a clear understanding of their rights. Corsi and Pawliuk wanted to reach people before they arrived on campus.
"We want to create a language and a culture of consent, and that doesn't work if only one person or group is having these conversations," Corsi says.
Pawliuk, who specializes in working with children and youth, had experience collaborating with SD73 on the K-16 Mind the Gap Project, which was designed to teach kids in Grade 2 about human rights and their own rights as children. With the connections to teachers and schools and her experience with curriculum established, Pawliuk and Corsi turned their attention to developing the Consent Café concept into consent curriculum for secondary schools.
"We had three practicum students working with us to look at how we could make this more appropriate for the youth at this stage. It was almost a year in the making before we offered our first session at Kamloops School of the Arts to Grade 8 and 9 students," Pawliuk says.
Their trauma-informed practice included incorporating peer support in the form of mentors, who are at the tables to support engagement, answer questions and listen for questions that students may be too nervous to ask that can be addressed later.
Corsi and Pawliuk have received grants from SD73, TRU and the City of Kamloops to expand the program to include parent information nights and a My Consenting Self art exhibit. They've received requests from several other school districts for copies of the journal. In January, they presented the curriculum to the Minister of Education and Child Care and her staff, and have been invited by the ministry to present their work as a promising practice at the BC Confederation of Parent Advisory Councils Parent Education Conference in May .
Going forward, Corsi and Pawliuk would like to conduct a research project on the effectiveness of the curriculum and the journal, incorporating feedback from teachers, administrators and students. Based on interest and readiness from school districts across BC, they would like to develop a train-the-trainer curriculum so that this work can be more broadly shared with youth and young adults across the province.
"We're so lucky to live in a city that is willing to fund this, and to a school district that will commit to this as well," Pawliuk says. "We were able to do this because we happened to be on sabbatical and have had the support of our deans, and now that this is curriculum, we're hoping the government and school districts will be interested in picking it up."