The statistics are shocking. At least they should be. 
One woman in 17 will be raped in her lifetime. Forced sexual assaults occur every 17 minutes in Canada, according to the Justice Institute of British Columbia. 
How do we make these stats the exception instead of the expectation? By offering proper education surrounding consent and sexual rights and violence prevention early in life, which is exactly what Thompson Rivers University (TRU)'s Consent Café is doing.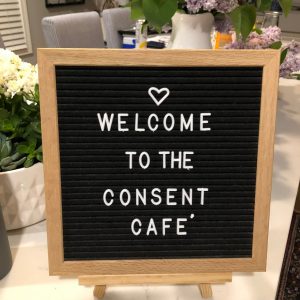 Co-founded in 2015 by Chelsea Corsi, a senior wellness co-ordinator at TRU, and Tanya Pawliuk, associate teaching professor in TRU's School of Social Work and Human Service, the Consent Café is an activity-based consent education, communication and sexualized violence prevention and response program for youth and young adults.
"The Consent Café curriculum was designed to address the current gaps in youth's knowledge about these topics early," Pawliuk says. "So, when they transition to post-secondary, they will have well-developed literacy about consent, communication, healthy relationships, their basic sexual rights and sexualized violence prevention and response."
Formed in collaboration with TRU faculty, the TRU Wellness Centre, TRU Student Wellness Ambassadors, School District 73 (SD73) educational partners and community partners such as the Kamloops Sexual Assault Counselling Centre, ASK Wellness and Safe Spaces, along with Elders and Knowledge Keepers in the area, the program's goal is to address and enhance the learning objectives identified in the BC Government's Physical Health and Education provincial curriculum.
Students entering university who have gone through the Consent Café should be better positioned to develop healthy, informed relationships and sexual decision making as the curriculum uses youth-specific strategies that meet participants where they are at, where they learn and where they are navigating consent every day.
With full funding from School District 73, the Consent Café-SD73 pilot program ensures that the six-hour consent education curriculum is offered to every Grade 8 student, urban and rural, within the district's region. 
On January 19, the initiative received more funding from a $12,000 City of Kamloops 2023 Social and Community Development grant awarded to TRU's Faculty of Student Development.
"We hope that the city grant will help us work toward achieving our longer-term related goals," Pawliuk says. "Our team, which includes 13 students and alumni, have been working non-stop to make this happen."
Long-term goals
Designing a Consent Café curriculum and a multi-day café train-the-trainer session with the longer-term goal of preparing and facilitating a multi-day train-the-trainer session with invested stakeholders.
Designing and publishing a Consent Café Accompaniment Guide as a resource for parents, caregivers and other invested adults.
Continuing to offer Consent Cafés for youth during the 2022-23 year.
Providing opportunities for Kamloops community stakeholders, SD73 and TRU to participate in and deliver, consent education collaboratively with the Consent Café.
Developing youth awareness of local resources that provide sexualized violence prevention and response services and supports.
Providing unique and meaningful volunteer opportunities for the Kamloops community.
Assessing the effectiveness of the Consent Café through research study.
"As you can imagine, we are extremely proud of our program and the manner in which it has been received by our education and community partners," Pawliuk says. 
The outcomes Corsi and Pawliuk are working toward with the financial support from the city grant focus on developing lifelong literacy and skills for local youth, families and community.
Outcomes – local youth, families and community gain:
The skills to communicate about healthy sexual decision-making, sources of health information, healthy relationships, and strategies to protect themselves and others from potential exploitation, abuse and harm.
Increased literacy and skills in identifying sexualized violence prevention and response resources and supports.
Increased literacy and skills in accessing sexualized violence prevention and response resources and supports when needed.
Literacy and skills about how to respond to disclosures of harm, violence and sexualized violence.
If you have questions about the Consent Café or want to get involved, please email consentcafe@tru.ca.