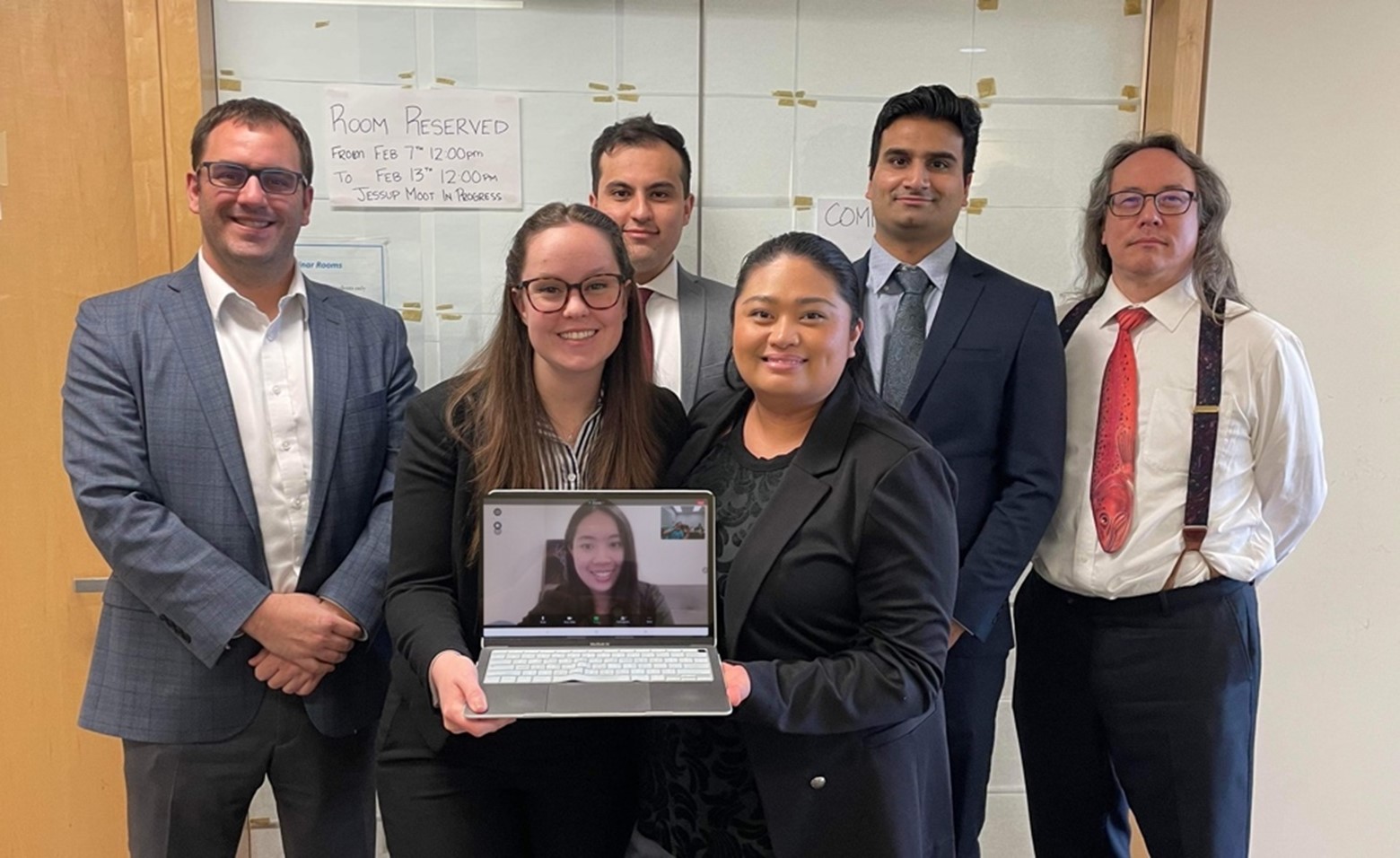 TRU Law students competed in moot court and negotiation competitions against other Canadian law schools this past winter. Due to the pandemic, many of these competitions were held online, although some have returned to in person. Below are the highlights from this year's mooting competitions.
TRU Law teams win awards for written and oral advocacy
The MacIntyre Cup, a trial advocacy moot, took place on February 11–12. This year's team consisted of third-year students Kelly Fortune and Lauren Shenkar. They were coached by Kelly Melnyk, a staff lawyer with the TRU Law legal clinic, with assistance from former coach and current Member of Parliament for Kamloops/Thompson/Cariboo, Frank Caputo. Team members had worked with last year's MacIntyre team, and the experience showed, as Kelly was awarded Top Opening Statement.
The Jessup International Law Moot took place from February 8–11. This year's problem included the arrest of a diplomat, the muzzling of a scientist and cybersecurity. The team consisted of Pardeep Birak (2L), Ahmad Sohil Heydari (3L), Madeline Keating (2L), Becca Liu (2L) and Anyssa Plan (2L). The coaches were Greg Pun, QC, Laryssa Borowyk, Carina Olsthoorn, and Ryan Gauthier. The team performed well in written advocacy, as they were awarded the Top Applicant Memorial prize for their written submissions, and fifth place overall for memorials.
First year at Immigration Law Moot

This year marked the first year that TRU Law students competed at the Immigration, Refugee and Citizenship Law Moot. Many students entering TRU Law express a desire to practice in immigration law. The case centered on whether two minors, who entered Canada as refugees, misrepresented their claims. The team consisted of Cem Bicer (2L), Danielle Blanchard (2L), Harsh Kang (2L), Prabhdeep Nahal (3L) and Siobhán Rempel (3L). The team was coached by David Knapp, a lawyer with the Department of Justice.
In-person moot competitions
With pandemic restrictions easing, two moot competitions took place in person this year. The BC Law Schools Moot saw TRU Law students travel to Victoria for hearings on February 5. The team consisted of Yasamin Abhari (3L), Nicholas Blanchette (3L), Brett Book (3L), Jack Hayhurst (3L) and Jensen Manners (3L). The team was coached by Des MacMillan of MacMillan Knight LLP and TRU alum Danielle Ching McNamee of Smith Law Group.
Students also travelled to Montréal for the Kawaskimhon Moot on March 18–19. The Kawaskimhon is a non-adversarial, consensus-based negotiation moot with this year's problem addressing the construction of a high-voltage power line, which would cross Eeyou Istchee (traditional Cree Nation lands). This year's team members were Andrew Hanna (3L), Krystal McKay (2L), Julia Turner (2L) and Darnel Tailfeathers (3L) and they were coached by TRU Law alumni and Kamloops lawyer Chrystie Stewart.
TRU Law would like to acknowledge the support of the Sherman Jen Fund for its assistance in helping students travel to the mooting competitions.
Online moot competitions
Students competed in four online moot competitions. The Bowman Tax Moot took place on March 4–5. This year's problem involves an examination of whether or not a services agreement was a sham under the Income Tax Act. The team consisted of Jesse Avery (2L), Thomas Deneka (2L), Ashwin Gupta (3L), Michael Hanuman (2L) and Aaron Walchuk (3L). They were coached by Derrick Osborne and Abbey Kind, and were assisted by Monica Cheng, all of whom practice law at Blakes in Calgary.
Students also competed at the Family Law Negotiation competition March 3–5. This year's problem focused on the divorce between two members of different Indigenous communities and included issues such as spousal support, property division and parenting schedules. The team consisted of Auska Adhikari (2L), Eva Siu (2L), Manpreet Khabra (3L) and Jasjeet Boparai (3L). The team was coached by Amanda Winters from Farris.
The Hockey Arbitration Competition of Canada team returned. This year's teams were Maximilian Cadillac-Molson (3L), Matt Carabetta (2L), Bryce Gardner (3L) and Greg Scott (2L). They were coached by TRU Law alumni Michael Geib, Tiana Reid and Dylan Taylor – all of whom have had their own success at the competition in the past.
Last, and certainly not least, students took part in the Wilson Moot on February 25–26. The problem involved a homeless person challenging a bylaw that banned shelter in city parks and authorized the immediate evictions of those living in homeless encampments in parks. The team members were Abbey Fortin (2L), Harjote Sumbal (3L), Saheena Tegally (2L), Ben Turner (2L) and Jill Wiberg (3L). The team was coached by Emily MacKinnon, Sergio Ortega and Brodie Noga of Osler, with assistance from Grace McDonell of Fasken.
Student reflections
Overall, students found mooting to be challenging but rewarding. Manpreet Khabra found that the Family Law Negotiation moot "helped students to problem solve collaboratively while still looking out for their client's best interests." Harsh Kang found that the immigration moot was a highlight of her second year of law school. She found it to be a practical exercise "different than anything else compared to the rest of law school."
Even online, Khabra found the social benefits of mooting still created a great opportunity to meet other students all across Canada. Ben Turner from the Wilson Moot said the "Wilson team was supportive, committed and a lot of fun." TRU Law would like to congratulate the moot team members on representing the faculty well, and persevering through one of the crowning achievements of a law school student's career.