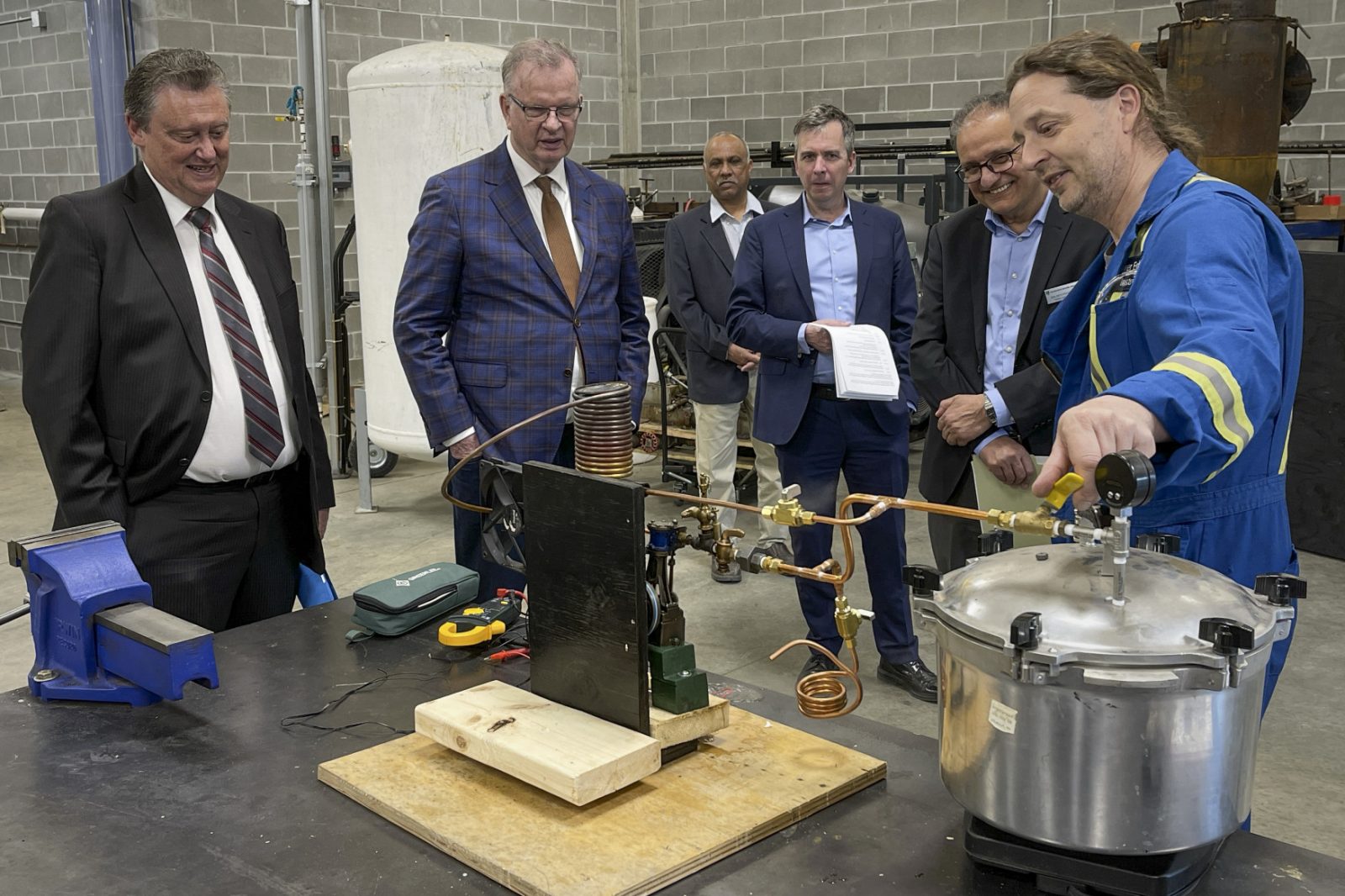 Thompson Rivers University (TRU) is well placed to serve the future needs of the province's workforce and the economy as it strives to blend practical trades training with academic learning, BC's Minister of Energy, Mines and Low Carbon Innovation heard Tuesday, April 12.
Minister Bruce Ralston visited TRU for a tour of the School of Trades and Technology as well as the Industrial Trades and Technology Centre, which opened in 2018. The minister met with senior TRU administrators and trades students, as he sought to learn more about programs focused on green technologies.
Ralston's tour took him through several areas to meet instructors and students teaching and learning in programs related to electric vehicles, heat pump technology, solar development and cutting-edge boiler technology. The minister also met with students in TRU's Women in Trades program, which offers students a sampling of introductory courses across a broad range of trades.
Dean of Trades and Technology Baldev Pooni told Ralston that TRU's unique ability to blend academic-based science courses with hands-on technology programs offers students a compelling career path that opens many job opportunities.
"Our practical training coupled with a degree is a valuable resource," Pooni noted to Ralston during the tour.
Interim Vice-President Research Will Garrett-Pets told the minister TRU's growing emphasis on research will yield the province significant dividends. There are extraordinary opportunities for partnership development with governments, he said. One excellent example is the BC Research Chair in Predictive Services, Emergency Management and Fire Science at TRU.
Dr. Michael Flannigan is working directly with BC Wildfire Service staff to address challenges related to predicting wildfire activity and behaviour, which enhances their ability to prepare for and respond to wildfires in the province. Ralston said the past two fire seasons were exceptionally costly for B.C., and research to find new methods to combat wildfire risks is critically important.
TRU officials also outlined for the minister plans to build a new Science, Technology, Engineering and Mathematics (STEM) building on campus and a low-carbon district energy system. The energy project will provide low-carbon energy for approximately 56,600 sq. m of development at TRU, serving most of the university's existing academic buildings and campus development in the future. It will also provide energy for the City of Kamloops' neighbouring Canada Games Pool and Tournament Capital Centre.
The project supports TRU's commitment to achieve carbon neutrality by 2030, as defined in the 2020 Strategic Sustainability Plan, by reducing more than 90 percent of emissions on campus.