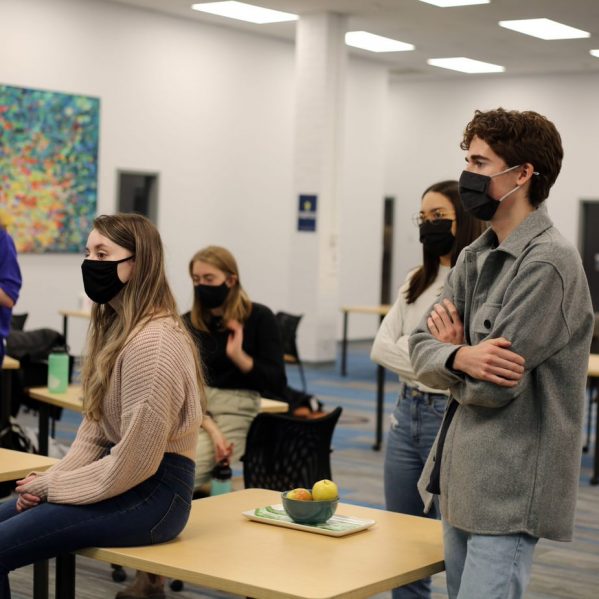 Research can be daunting, especially at the undergraduate level. Whether it's the idea of white lab coats and handling beakers and test tubes, or the belief it's not relevant to them, students are often intimidated and wait until their third and fourth years to finally engage in research.
At TRU, students can be involved in research in their earlier years of study. From arts to sciences, there are opportunities for research in a variety of areas. And instead of being in a traditional classroom setting, students gain valuable hands-on field experience, working alongside their peers and faculty while learning to enjoy themselves.
Research has shown that undergraduate students achieve greater success when provided with pathways into research, making it more accessible, approachable and attainable. The Canadian Undergraduate Research Network (CURN), the first of its kind in Canada and created by students—for students, does just that.
Laying the groundwork
"The idea first percolated while a group of us from TRU were attending a conference a few years ago," says Sukh Heer Matonovich, director, Student Research and Public Engagement. "Through conversations with other colleagues, we realized how beneficial it would be to have some sort of resource for universities across Canada that wanted to be involved in undergraduate research. We were inspired by what the Council on Undergraduate Research (CUR) looks like in the US but with a Canadian focus."
For Heer Matonovich and her colleagues, reaching out to undergraduate students at TRU was the next logical step.
"The idea was quite clear that students wanted to drive some sort of online presence that helped them navigate the complexities of undergraduate research, early on," she says. "And so, through dialogue and working with students as partners and co-creators, there was this need around how to navigate research at a post-secondary institution — because those who know, know exactly where to go; but those who never thought of it, or are often thinking it's not for them, need support."
To find out how to create an agile online site that would enable undergraduates to have control over what, where and when they learned about research, students partnered with TRU's Open Learning division.
"One of TRU's many strengths is the Open Learning division and the online expertise they provide," says Heer Matonovich. "And so, reaching out to our colleagues, in particular Open Learning Faculty Member Dr. Michelle Harrison, who loved the idea of open access being available to all students from anywhere in the world, was important. So that journey began in partnership with Open Learning and then putting the students in the centre of it. It's been fascinating watching the students embrace their own expertise as student researchers and building the content with their own knowledge and expertise in the context of research." 
Discover, connect, engage, become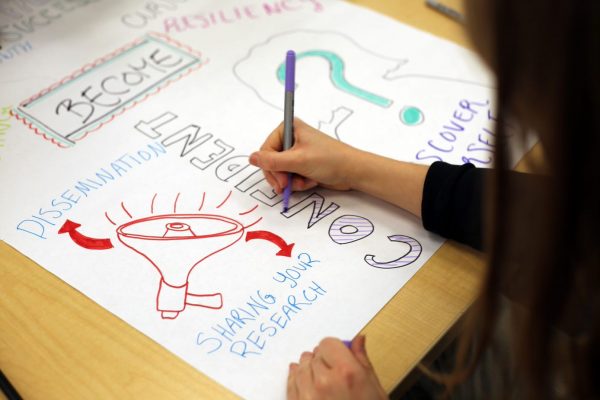 Created by TRU students more than a decade ago, the framework "discover, connect, engage, become" forms the stepping stones throughout the CURN site, guiding students along their research journey.
"That framework came as a pathway model to student engagement, and we've carried that momentum and applied it to pathways to research, and how students can get involved," says Heer Matonovich. "So, this site has adopted that and has really been the driving force for the students in terms of how they see their journeys here on campus. Discover opportunities, connect with people and faculty, engage in the research, and then mobilize that knowledge around becoming lifelong learners."
With over 100 students involved in the project over the past three years, she is optimistic about the future of student research.
"For students, the site is one of many important tools in helping to embed the value and importance of student research at TRU. It also showcases TRU as a leader in undergraduate research training."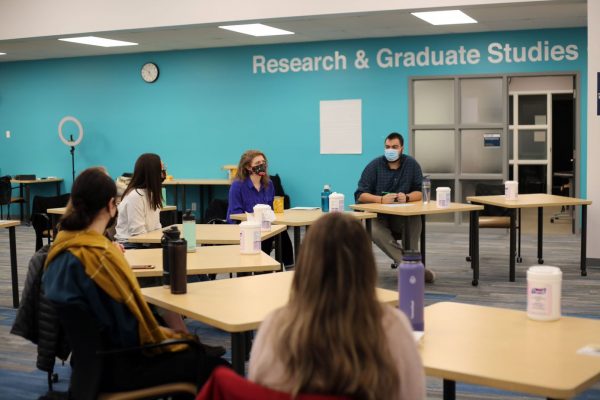 Student quotes:
Stefano Stamato, CURN project lead
"Working on CURN has been a wonderful experience for me. I had a ton of fun creating resources that could help other students through their own research journeys, and I'm grateful I had the opportunity to grow into a leadership role within the project over time. The CURN launch marks a shift in perspective from viewing research as a privilege granted to a select subset of universities' most remarkable students, to an all-encompassing embracement of curiosity, representativity and empowerment as core pieces within students' learning journeys."
Dakota Cooney, research ambassador and CURN graphic designer
"The minute I joined CURN, I realized this would be one of the most valuable things I could do with my time at TRU. The best part about this experience was that I was able to work in an environment that echoed a professional setting, while still receiving the support and constructive feedback that comes with being a student. I'm excited for the launch of the website. I've seen the amount of work and collaboration that has gone into making this project, and it's really beautiful to see it come to fruition."
Brii Brennan, CURN content manager
"As CURN's content manager, I'm weaving together students' voices to curate an engaging story of past, present and future. This project has been a labour of love and a privilege to co-create. I want to do justice to all that contributed to the site, which is a daunting task. I appreciate collaborating with these talented humans and the trusting, encouraging environment I was allowed to play in over the years. Working on this project has been a research journey within itself. CURN is a constantly growing and evolving entity, and I'm thrilled to see where the next group will take it."
Jeneen Herns-Jensen and Regan Bishop, CURN Indigenous content creators
"The pages we're working on within the CURN website are part of a larger project adjacent to CURN. We're creating a stand-alone website that's designed to assist in meaningful engagement with Indigenous research and methodologies for both students and faculty that will be delivered in four modules in the form of a course, which will be launched after CURN. Hopefully this is the beginning of a conversation about, and a commitment to, Indigenous knowledge in research so that it is no longer seen as an optional topic, but rather a foundational knowledge coming from the lands which we are on. We're committed to moving beyond performative inclusion and towards reciprocal relationship building, and that is what our website will be focused on. The pages on CURN are just a taste of what's to come."