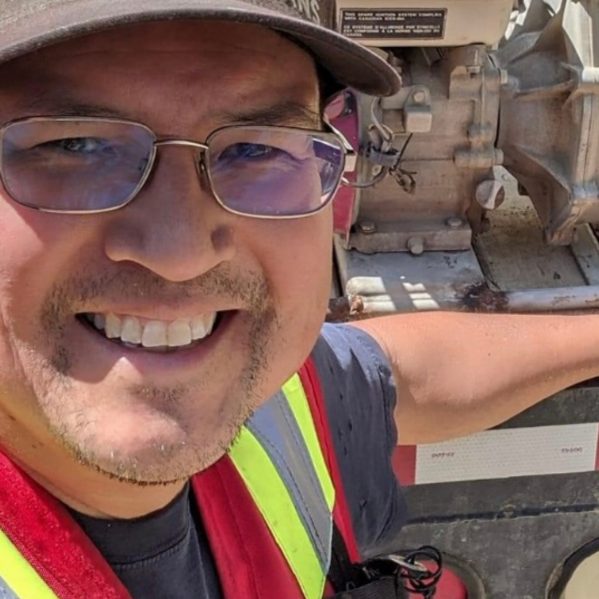 By Brynn Roach
When opportunities are presented to TRU alum Warren Brown, he takes hold of them—a habit that landed him a successful career in operations, despite being on an entirely different career path.
In 2002, Brown was pursuing a career in social work and had been accepted into a first-year program at TRU. When an opening for a water operator with the Lytton First Nation was thrown his way, he applied, filled the role and quickly switched gears.
Brown received his diploma in water treatment technology at TRU in 2011. Now, he is recognized across the country for his advocacy and leadership in the water industry.
In the fall of 2021, Brown received the title of Best Water/Wastewater Operator through the Water's Next Awards, and he was named Water Steward of the Year by Water Canada.
"Even being nominated for the awards is mind-blowing in itself. It makes me realize I have a lot more friends out there and they seem to see something that I'm doing right," Brown says.
"I'm just doing a job to the best of my ability—something we're all capable of doing."
Advocacy through education
Although Brown remains humble, his impact across the industry is measurable. With a passion for education, one of his favourite aspects of the job is meeting new people and sharing his experiences from the field.
Whether he's talking with engineers about road construction or inspiring youth to learn about water systems, Brown has a knack for breaking down processes and helping others understand the ins and outs of water management.
Through conversation and connection, Brown hopes to influence a new generation of water advocates that move on to solve issues in their own communities and ensure access to safe and healthy water systems.
Brown's advice for students pursuing a career as a water operator is to pay attention to supervisors, especially those who have been in the industry the longest.
"It's essential to know your systems inside and out. In the event of an emergency, that's going to be valued knowledge to fall back on," he says.
Last July, Brown and his team were faced with an emergency when they were notified of the wildfire that devastated the neighbouring town of Lytton. Mobilizing quickly, they provided two additional water trucks to support the front lines.
"It didn't matter if we were First Nations operators working for a band—there are no borders in that situation," Brown says.
The importance of communication
Responding to crisis scenarios is not new to Brown, who worked as a paramedic for more than 15 years. It was in this job that Brown developed strong communication skills which have carried over to his work as an operations manager for the Lytton First Nation.
Every morning, Brown meets with his team to discuss what needs to be done in the world of buildings, roads and water systems. Then, they make a plan.
Through listening to new ideas and encouraging discussion, Brown has developed strong relationships within his department.
"There's always a better version of my idea out there," Brown says. "When I talk with people, I throw in my two cents and add their ideas with my own."
After talking with Brown, it's clear that the root of his success lies in his ability to communicate and connect with people.
Whether he's in close conversation with his crew, or talking broadly to communities across the country, Brown is a natural mentor and his leadership will continue to influence the way Canadians, both Indigenous and non-Indigenous, operate their water systems.
We want to hear your story. Connect with TRU Alumni at alumni@tru.ca.