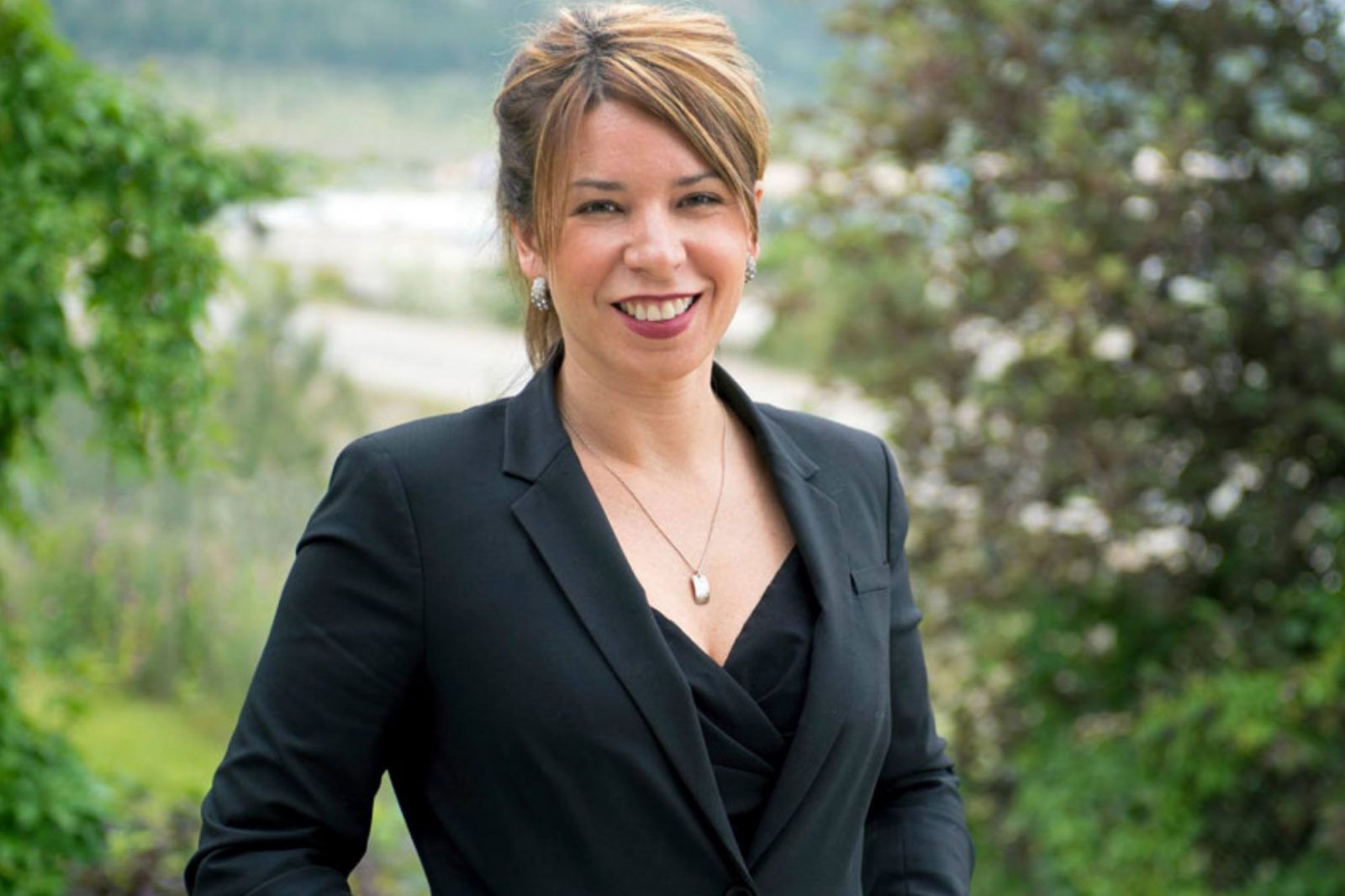 Chrystie Stewart (BA '12; JD '14) appeared in the Federal Court, British Columbia Supreme Court, Provincial Court, BC Human Rights Tribunal, and the Civil Resolution Tribunal. She was part of the inaugural class of TRU Law in 2011 and continues to serve as the Faculty of Law Indigenous Student Liaison, Dispute Resolution II instructor, and coach of the Kawaskimhon National Indigenous Moot competition. Stewart completed a Bachelor of Arts and Juris Doctorate from Thompson Rivers University. She has also completed a Certificate of Negotiations + Leadership, Harvard Law School. In 2019, Stewart became a named partner at Stewart & Springford LLP, where she continues to practice law. We sat down with Chrystie to get an insight on what has been the key to her success.
How would you define success with so many remarkable achievements in your career?

I'm always curious as to how success is defined and have yet to land on a definition for me or my career. I get great joy from helping my clients. I've taken on a few giant files that have been deadlocked for years, and I have been able to help untwist the problem into something that resembles a resolution. In this respect, I have worked on three significant estate disputes that have spanned decades and often seen beneficiaries pass away before realizing their benefit from the estate. I am very proud of that kind of work.
It is important to me to be an accessible lawyer, which does not mean that I can easily take your calls or meet with clients if they stop in the office, but rather that I expect to convey practicality to using a lawyer to help you resolve a dispute that you were not able to fix yourself.
I view myself as a member of my client's team, and I feel successful when they regard me the same. I also take particular joy in seeing women become successful businesspeople. As the years grow in numbers behind me, I am continually grateful for the opportunity, mentorship and knowledge shared with me and firmly give thanks to those who chose to take the time to show me things I didn't know.

As a mentor for so many, what advice would you give to someone looking to improve their odds of success?
My advice is to not let your roots define you. I come from a good family, but a family that generally needed lawyers, not a family that made lawyers. Even if you come from a family that makes lawyers, this trip is up to you to define yourself. This profession can often feel like a different planet, especially when you are first starting out, and it's easy to feel like you are being left out of the circle. I can assure you that you are not. So get to it. Start meeting as many people in this industry as you can. Don't stop with lawyers, make a point to meet judges (who are usually shy), the court clerks, the legal assistants, the law professors—whoever you can to give you the most excellent scope possible to inform the way that you will participate in law in the future.
Be nice every chance you can. There are many jerks in this profession and you may find yourself acting like one from time to time, but always come back to being nice. Promise—people will remember.

Looking so far at what you have achieved in your career, what do you think is your next challenge?
For whatever influence I may have, I would like to change how we practice law and resolve disputes.
I am continually struck by the theatre of the courtroom. It very much feels like a play. Our main character, the judge, enters from a secret passage door and comes to rest on a perch far above the rest of us. The lawyers cross a knee-height bar blocking all others from entry. The court reporter stares at the lawyers and the witnesses, most often expecting more drama, and is often disappointed by the silence of their footsteps as they make their way across the carpet to the stand. It all seems like a very strange way to organize a dispute resolution process.
The piece of law most likely in front of the judge is very small, very nuanced, and isn't generally determined by a yes or no. Instead, we create duly complicated decisions that are not accessible in a language our clients can understand. The clients leave not knowing for which they even paid us. The lawyers are burned out, sleep-deprived and cranky.
We can do better.

Is there something exciting/notable that you are working on right now that you can share with us?
I have started a new organization named the Indigenous Mediation and Negotiation Centre (IMNC). The IMNC is focused on Indigenous issues but is not limited to Indigenous people. Further to my above comments, the IMNC puts the clients in charge of their own process. It gives the flexibility to kick the wordy lawyers to the side, not out—just in case you need them later—and really get into some practical solutions supported by the law. It also allows our clients to retain a negotiator instead of a lawyer. We all know that lawyers negotiate, but not all are specially trained to do so or often lack the experience of someone dedicated to negotiation. The client may elect to use a lawyer, but the option is open.
I'm very excited to see where this is headed.

For someone not as familiar with Indigenous law, what would you want them to know about the issues you are fighting for?
In a word, reconciliation. There is so much misunderstanding, under-education, and fear regarding Indigenous law. This anxiety stems from the unfamiliar federal jurisdiction and the fear of saying something that might offend. Those are real fears but can be overcome with some respectful curiosity.

What was one of your most challenging cases and how did you tackle it?
My most complicated cases involve multiple parties, millions of dollars of wasted opportunity and fighting families. Whoa! There were a lot of spinning plates. You simply must jump on one spinning plate at a time and hammer it into a story that can be told with various endings.

What was the biggest takeaway from your education at TRU Law?
In my early thirties, I set a plan to go to law school and the very next week, Canada's newest law school in over 30 years was announced in Kamloops. It was more than a sign. I mulled briefly about whether I should accept my seat at UVic; my ultimate loyalty to this territory prevailed and I'm so glad it did. As the first class, we had the opportunity—whether we knew it or not at the time—to set the tone for future TRU law students. Our tone was friendly. Yes, we disagreed, debated and often drank too much, but we are a family. Our competitors did not sit in our classes, they were in a class at Dalhousie or the University of Toronto, or McGill, but as for us, we looked after each other and celebrated each other's successes the same as if they were our own. I feel that same spirit each time I visit the law school.

As part of the inaugural class of TRU Law and as a current Faculty of Law Indigenous student liaison at TRU and coach of the Kawaskimhon National Indigenous Moot competition, how would you encourage your fellow alumni to give back to their alma mater?
I would really like to see all of my fellow alumni at the reunion we are planning for 2024, including the faculty and the law school band and the dodgeball teams.

As you know, TRU Law completed its 10th anniversary. This is indeed a big year for the school of law; what would you like to see being achieved in the next ten years from your experience studying and now as Student Liaison for the Faculty of Law Indigenous?
I would really like to have seen a benchmark study done to compare and contrast our experience with that of the Class of 2024.
To learn more: https://stewartspringford.ca/chrystie-stewart/
We want to hear your story. Get in touch at lawevents@tru.ca.