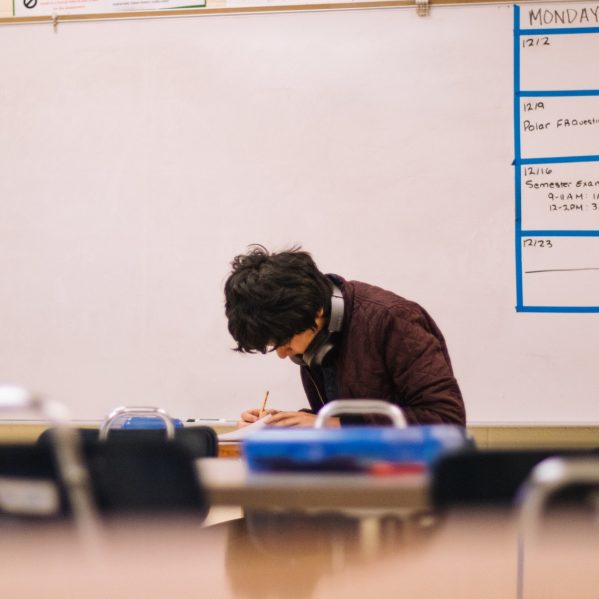 Finding the right time to do something can be difficult. Still, as this fourth-year nursing and psychology student believes, it's important to be grateful for the journey, no matter what obstacles arose along the way. Having begun his post-secondary experience under the shadow of sub-par high-school grades, this student (he has asked that we don't identify him, so for this article, we'll call him Tom) soon realized academia was not going to stop challenging him. After completing a Bachelor of Science degree in biology, Tom felt he had not yet found his passion, and he took some time away from the ivory tower to figure out his next steps.
Pathway to success
While Tom doesn't regret how his story unfolded, he understands the impact of timing. "I wish I had taken some time to myself before starting at TRU the first time. I just wasn't sure what I wanted to do yet."
Much of Tom's schooling has been met with a sense of failure and disappointment because of the impacts from difficulty with attention and obstacles during testing.
"I was always the last person in the room during tests. It was frustrating because when I'd be studying before the test, I would often be the most confident in my knowledge of the material compared to my friends. But when we went in to take the test, they would all finish before me."
Just when Tom was ready to throw in the towel, he felt a rush of determination to get back into the game. "I was so sick of being the last person in the room, so I started looking for solutions. I didn't know what kinds of services were out there, but I knew that I needed to keep trying."
Tom's determination led him to booking in with a learning strategist, who referred him to Counselling Services and then finally to Accessibility Services (AS). This was the first step toward the real game-changer in Tom's university experience.
Now that he can access a distraction-free testing environment and extended time to finish his exams at the AS Test Centre, Tom's hard work is paying off. His grades have jumped from Cs and Bs to straight As and his confidence has skyrocketed. In his pre-accommodation life, school was his biggest stressor.
"Accessing accommodations has made a huge difference in my life. Just by having so much of my stress reduced, it has opened up many other opportunities for me."
This time around, he is immersing himself in the TRU community through his work as a Wellness Centre ambassador and supplemental learning leader. He also has more time to participate in activities he enjoys, including downhill skiing and playing the piano, since he is not constantly worrying about an upcoming test.
Stigma and disclosure
He admits it was difficult at first to tell others about accessing services. "Stigma is an ugly thing for sure. I felt it when I first started accessing accommodations because I didn't really want to tell my friends. I didn't want them to see it as unfair and that I was getting special treatment."
In hindsight, Tom says there was no need for his apprehension in sharing his story with his peers. As he visited the AS Test Centre more often, he began seeing some familiar faces. That made him feel safe and it ultimately normalized the idea of accessing accommodations. He says Erin McCarthy, an accommodations co-ordinator in the AS Test Centre, has always been accepting and a real joy to interact with.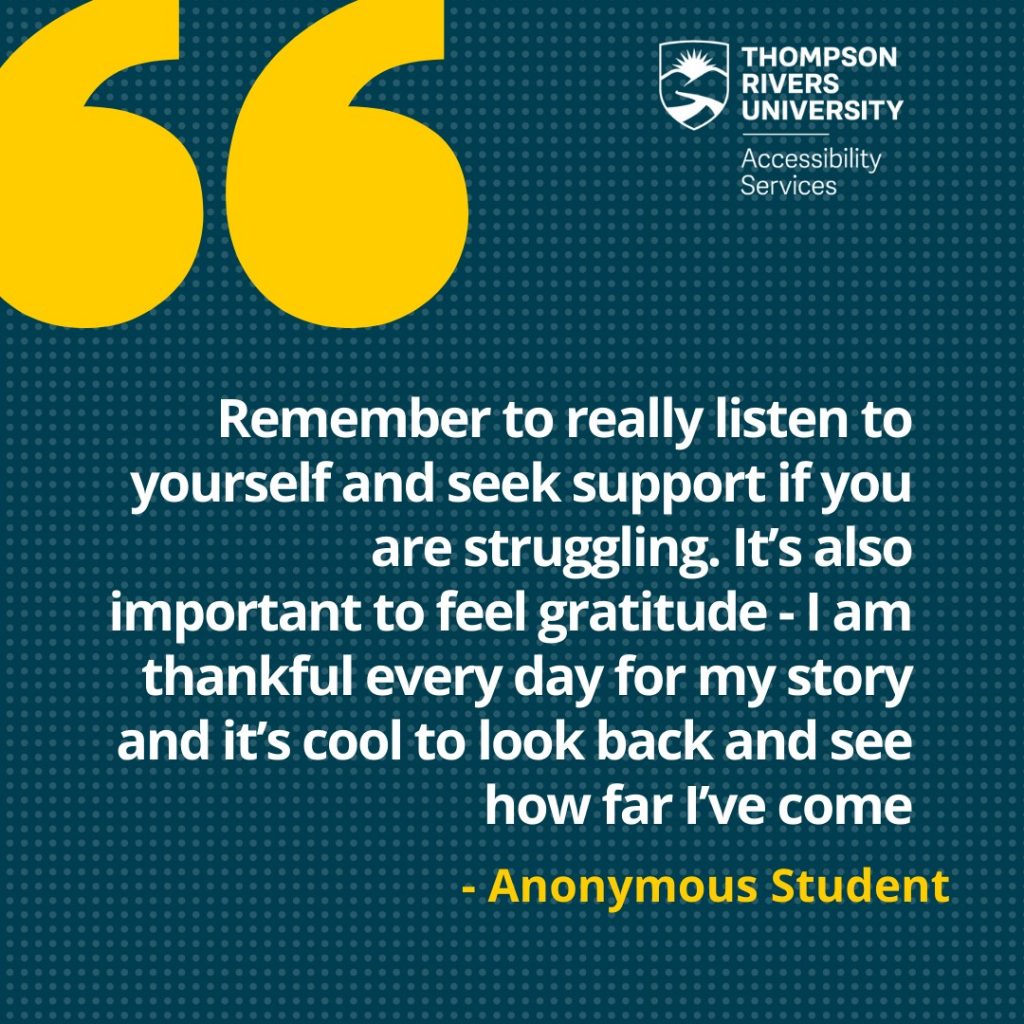 Having his own feelings of stigma behind him, Tom wants people to know that using Accessibility Services is nothing to feel judgement over. He wishes he had known about it sooner and would like to see awareness of AS become more widespread. He offers some tidbits of wisdom he's gathered along his journey.
"Remember to really listen to yourself and seek support if you are struggling. It's also important to feel gratitude. I am thankful every day for my story and it's cool to look back and see how far I've come."
Learn more about Accessibility Services, and the supports available for students here.