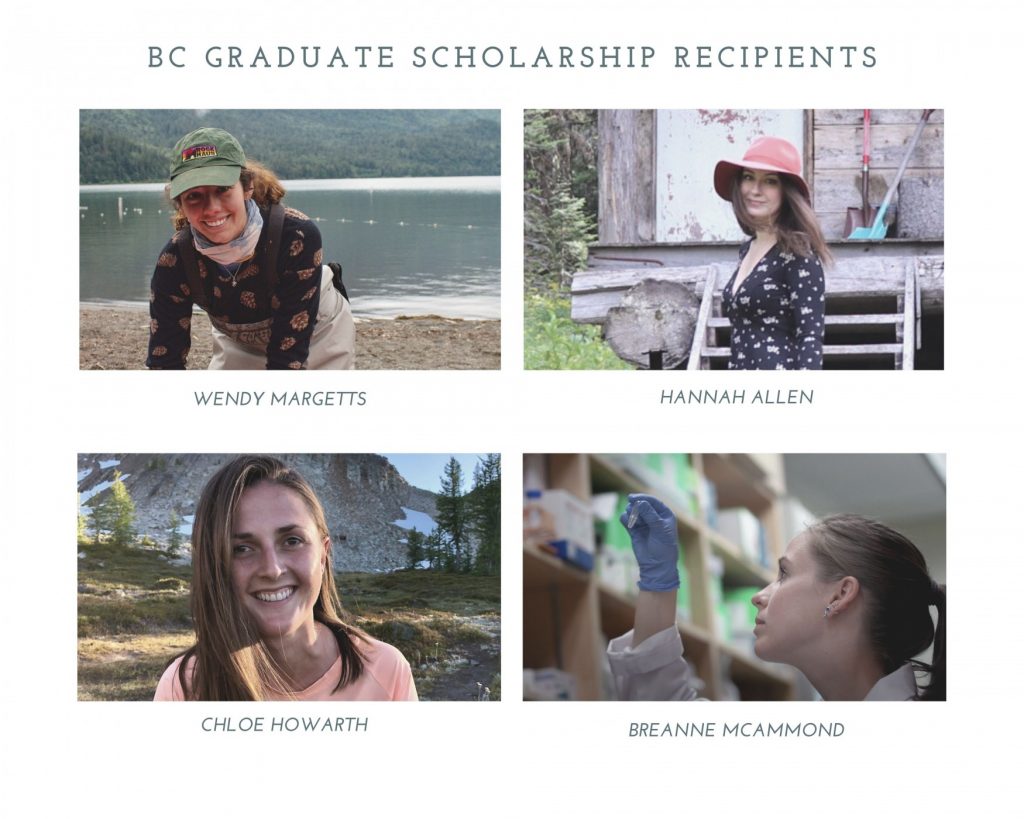 Thompson Rivers University has awarded four graduate students with entrance scholarships valued at $15,000 each, marking a $60,000 investment by the Province of BC through the BC Graduate Scholarship Fund.
This year's recipients are all engaged in research that explores the environment and issues of sustainability.
Through her research, scholarship recipient Wendy Margett, who is completing her Master of Science in Environmental Science (MScES), hopes to find ways to suppress the population of invasive smallmouth bass in British Columbia's Cultus Lake. Her research is vital to support Cultus' endangered sockeye salmon and pygmy sculpin.
Chloe Howarth, also completing her MScES, is working with the Osoyoos Indian Band to better understand the migration tactics of the Western rattlesnake, and the roles of landscape and habitat in shaping migratory patterns.
Hannah Allen, a Master of Education student, is working with instructors of two online sustainability courses to determine how experiential learning impacts student's values and behaviours around issues of sustainability.
Finally, Breanne McAmmond, MScES, is employing genomic sequencing tools to find out if microbes will break down harmful chemicals in the environment. It is hoped that her insights will inform future bioremediation strategies.
"Provincial support for our graduate students is essential. The recipients of these scholarships will no doubt go on to enrich our understanding of the world around us, and we offer our sincerest congratulations," says Troy Fuller, director of Research and Graduate Studies.
These merit-based awards are granted to students in research-focused professional programs and have a significant impact on the lives of the students receiving them. They allow students to concentrate on their research and relieves some of the financial pressure that comes with being a graduate student.
What the students say
"The BC Graduate Scholarship is huge in terms of covering my expenses this upcoming year. I feel like I can focus completely on my project, including my summer fieldwork at Cultus Lake. As we all know, grad school in itself can be stressful, so relieving any financial pressure makes a big impact."
– Wendy Margetts, MScES
"I'm extremely grateful to receive this award; it's an honour to have my research recognized in this way, and it motivates me to learn and grow even more during this exciting time in my life."
– Breanne McAmmond, MScES
"I am thrilled to have been selected as a recipient for this prestigious award! The last year has presented a number of unique and difficult challenges for me as a student, and I feel so grateful for the support this award will provide as I continue my research on sustainability education."
– Hannah Allen, MEd
"It's a huge honour to be receiving the BC Graduate Scholarship this year and to have my research recognized as being worthwhile and important. I feel extremely grateful to be selected as a recipient. This award is providing me with financial relief that will allow me to continue putting all of my time and focus into my project."
– Chloe Howarth, MScES