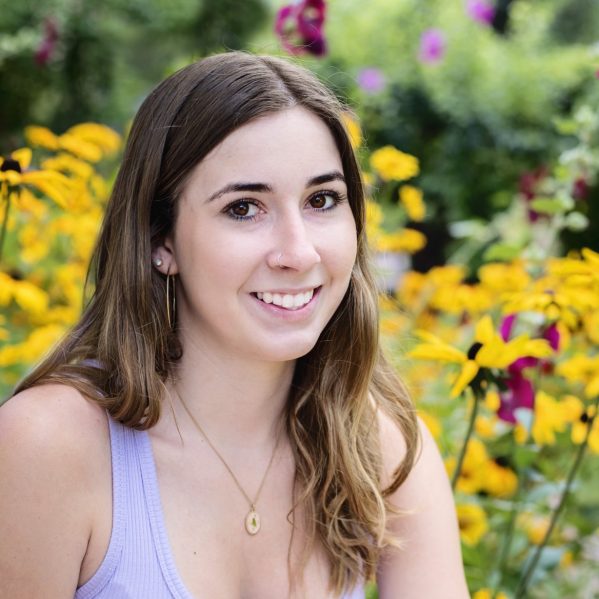 To the unknowing stranger or untrained eye, Justine Chave's demeanor doesn't indicate that she grapples with a medical condition on a daily basis. Chave was diagnosed with three types of autoimmune diseases during her high school years, changing her life and academic experience forever.
Although she navigated through her health challenges throughout high school, there was a whole new set of difficulties in her first year of university. The social work major discovered one of the biggest barriers in that first year was grappling with her own discomfort in disclosing her condition out of fear that others would automatically expect less from her.
"When people pity your illness, they can disempower you."
In her second year, Chave reached out to Accessibility Services, after finding out her closest friend, a nursing student, was accessing accommodations at another university.
Safety in accessing accommodations
At first, she was concerned that exposing her condition would impact her ability to reach her goals. She was worried that stigma would result in people perceiving her as being less capable than her counterparts. "When I made the first step toward accessing accommodations, I thought to myself 'What have I gotten myself into?'" However, Chave was quickly reassured that her decision was the right one.
"No one saw me differently and I immediately felt my apprehension ease when I was met by kindness and compassion at Accessibility Services."
Because her health is so unpredictable, having accommodations gives her a sense of consistency and confidence. "It's better to make arrangements in advance, so that in case I suddenly need support, I'm not at a loss of what to do."
For Chave, Accessibility Services has provided a safety net; she has more flexibility in attendance, extended exam times and the opportunity for extensions on assignments if she misses deadlines due to her health.
With the right supports in place, Chave can truly thrive as the ambitious go-getter that she is.
"I have always been an over-achiever, but without accommodations during my first year, I felt that I wasn't able to live up to my true potential."
Accomplishments and advice
An avid volunteer, Chave has worked with the Kamloops Therapeutic Riding Association and Big Brothers Big Sisters of Canada, as well as some local elementary schools and nursing homes. She was recently awarded a scholarship for her service work. She graduated high school with honours and spent her last year doing TRU Start, an academic transition opportunity for high school students nearing graduation. One of her biggest accomplishments was being accepted into the social work program and finally working toward her true passion.
Despite her health challenges, Chave has never thought of herself as being any less capable of accomplishing any of the goals she set for herself.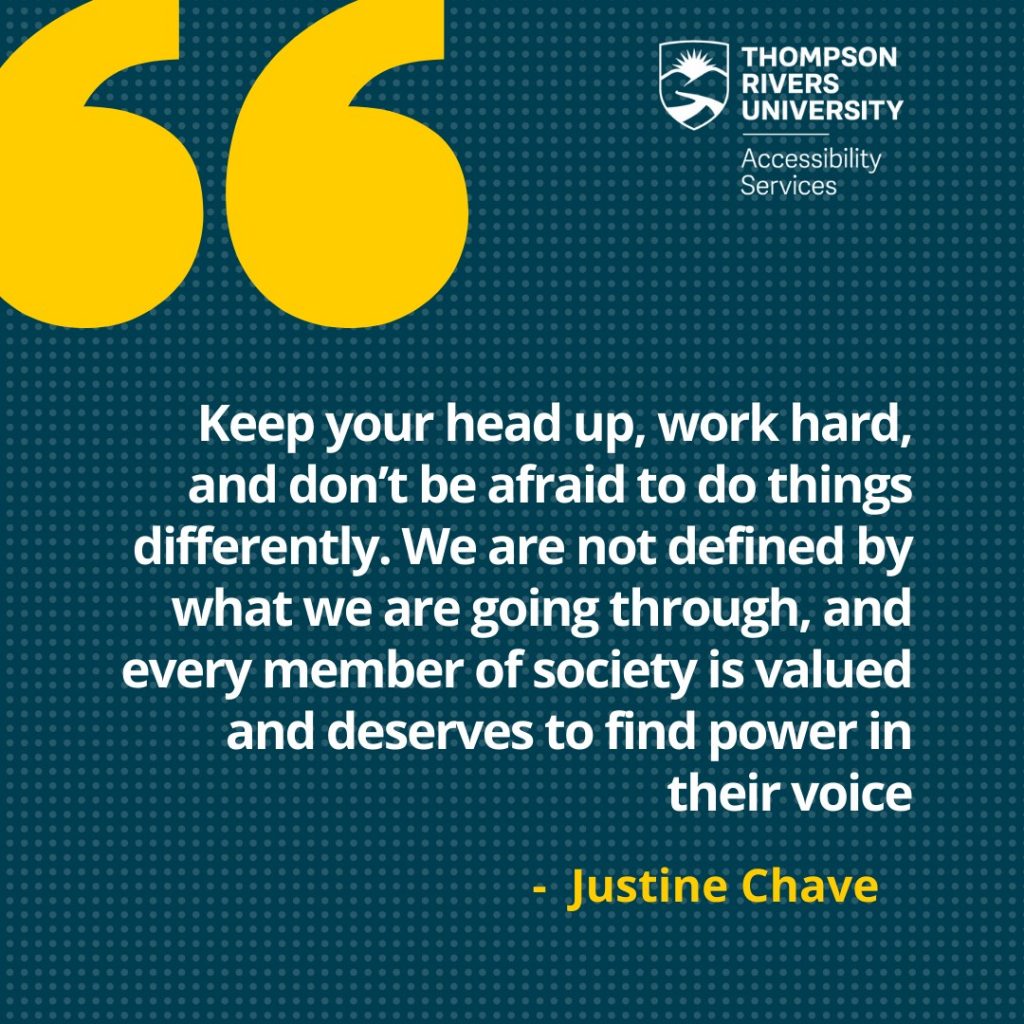 "I am not my health condition; my health condition is part of me, but I am more than that. I want people to see accommodations as a type of learning tool rather than a source of stigma or shame."
For students facing challenges and obstacles, Chave has some advice:
"Keep your head up, work hard, and don't be afraid to do things differently. We are not defined by what we are going through, and every member of society is valued and deserves to find power in their voice."
Learn more about Accessibility Services and supports available for students here.