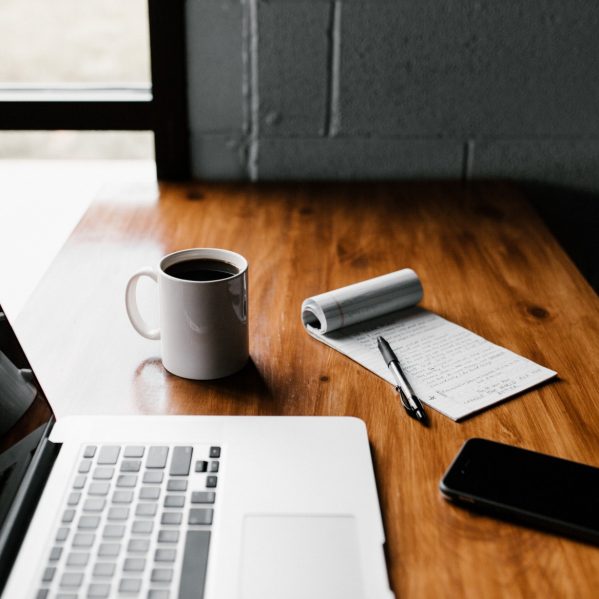 Assistive Technology Specialist Nadia Karim uses a task management app called Microsoft To Do to help her plan and organize her day.
There are many benefits of making lists: they keep our days organized, help keep us accountable, and ensure we don't forget important tasks. While I've always been a huge proponent of list-making, I would often find myself jotting down tasks on random sticky notes or notebooks, only to forget later where I wrote them down. That is until I found Microsoft To Do, a task management app that allows me to keep all of my tasks in one place. It's simple, visually pleasing, customizable, and is available on all platforms.
To Do allows you to create endless lists for all aspects of your everyday life, whether that be work, school, or even your shopping list. Within your lists, you can add reminders and due dates to your tasks to keep track of deadlines. You can also personalize your lists with colorful themes and access your lists from any of your devices, as they sync directly to your Microsoft account.
Using the lists within Microsoft To Do
The To Do app has built-in lists to help you keep your tasks organized and easily accessible. Having different list options really helps me triage my priorities. Below are some examples of built-in lists you can choose from:
"My Day" List:

Add tasks that need to be done by the end of the day
Starts as a clean slate every morning but offers intelligent suggestions based on tasks that were not completed the previous day

"Important" List:

Starred tasks are stored here
Star important tasks to easily keep track of high priority items

"Planned" List:

Tasks that have been assigned a due date are automatically added to this list

Personalized Lists:

Create your own personal lists to keep track of tasks relevant to your life
Some ideas include work, school, home improvement projects, and groceries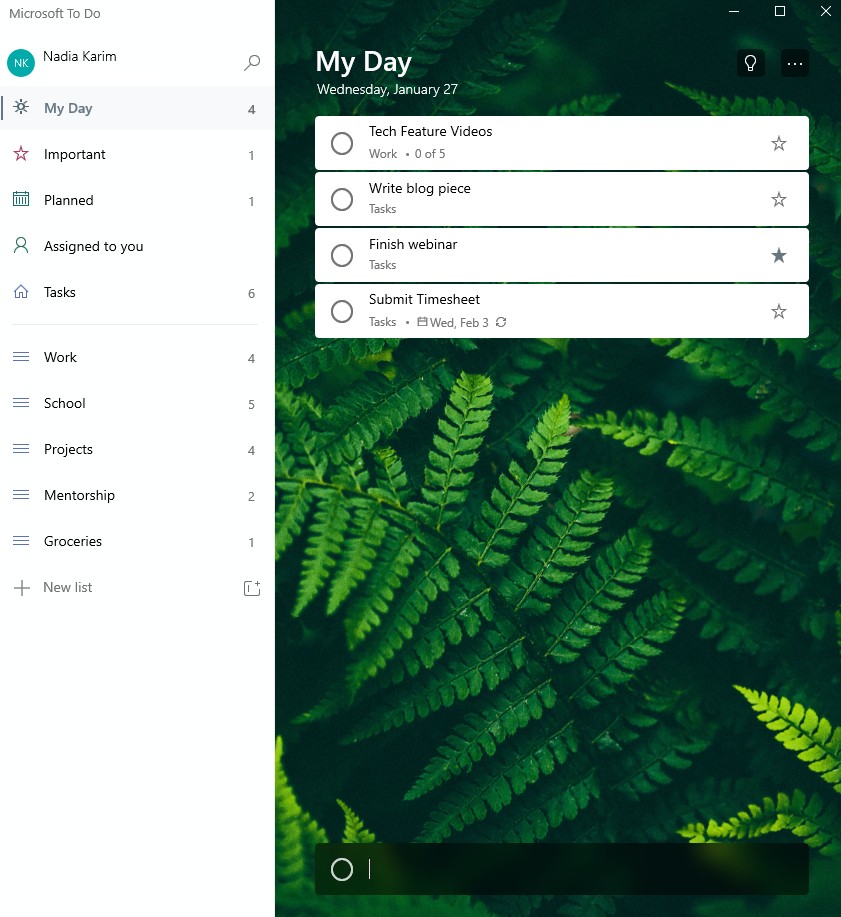 Creating Tasks within Microsoft To Do
The To Do app provides you with various options to structure your tasks and add critical information. Below are some of the task options and how to use them:
Steps:

Add steps to tasks that have multiple components

Remind Me:

Pick a day and time to receive a reminder to complete a task

Add Due Date:

Add a due date to your task to easily keep track of when it needs to be completed (this feature helps to ensure you won't miss a deadline)

Repeat:

Easily create customizable, recurring tasks

Assign to:

Assign tasks to others (classmates, roommates, family members, etc.)

Add Files and Notes:

Attach files or add notes relevant to your task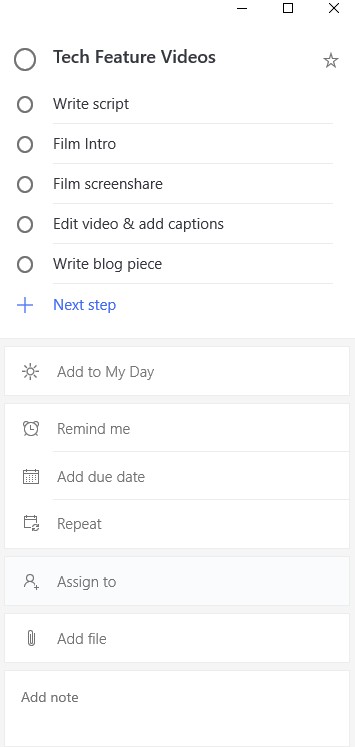 After trying out dozens of different apps and systems over the years, I'm so happy I've finally found a product that works for me. Microsoft To Do is intuitive, visually pleasing, and does an excellent job organizing my daily tasks. To discover more apps to help with productivity, check out the Remote Learning Tools Webpage.