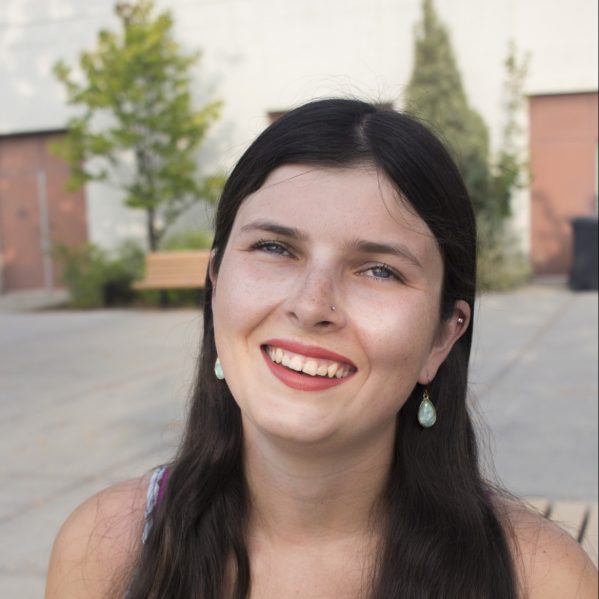 As most of us know it, the world is a visual feast. For Keisha Anderson, a tourism management major and theatre minor, living in a sight-centric world with a visual impairment has her navigating places, spaces and situations with a strong sense of determination and a will to succeed.
The former Study Abroad ambassador has an appetite for adventure and experience that fortifies her. That hunger took her to Australia, where she learned to surf. "I wasn't afraid of drowning or getting attacked by a shark. What scared me was that the surf instructor would focus on my impairment first," she says.
"When it comes to being a person with exceptionalities, there are always unexpected obstacles. Sometimes you end up writing the book on how to do some things because no one else has done it before. It can be exhilarating and empowering, but at other times it's like — can someone give me the manual already? When you're the first person to attempt something, you can't just Google the answer to your questions. That's why I want to share my story; to show people that it's OK to be the first."
Academic barriers and creative support
As a person with a visual impairment, Anderson finds the average task always includes additional steps or considerations. When she accesses supports needed to thrive in a post-secondary environment, even buying a textbook requires multiple steps.
"I contact my instructors well in advance to confirm what textbooks will be assigned. Sometimes they don't even know what textbook they will be using yet. I then need to go through the Centre for Accessible Post-Secondary Education Resources (CAPER-BC) to order the textbooks in an alternate format."
The pandemic and remote delivery have further augmented the difficulties in acquiring textbooks. "Visual lessons are always a challenge as I need support to visualize things or someone to describe visual information to me. I still want to learn visual aspects, so as not to limit my employment opportunities."
Before choosing tourism management, Anderson dabbled in the sciences. She found that there were complexities in learning numerical and visual sciences, but chemistry professor Eric Villeneuve was supportive during those studies.
"Eric would help me to visualize things. During office hours, we would brainstorm alternative ways for me to learn the content. Because chemistry lessons are often supplemented with diagrams and visual aids, we would have to get creative in figuring out how I was going to acquire the same understanding as my peers."
Aside from the obstacles that Anderson navigates, university life has been fulfilling. She's had many opportunities to feel challenged and motivated, and credits her family's support in helping her gain the confidence to approach new challenges with curiosity.
The role of self advocacy
Anderson's self advocacy efforts are driven by collaboration, determination, curiosity and forethought. She previously connected with students at other universities who have visual impairments to discuss obstacles and accommodations.
"I usually try to predict issues and solutions before others even notice a problem. Discovering a new obstacle can be nerve-wracking, and sometimes I second guess my capabilities, but I often realize that I know what to do more than I think I do. I am always striving to gain expertise and suggestions from others."
The most important aspect of accommodation access is assistive technology, as well as grants and other funding opportunities that ensure she gets the services and materials she needs to be successful.
It is her passion for self-advocacy that has led to one of Anderson's biggest accomplishments: being cast in some significant roles in TRU's Actors Workshop Theatre productions of A Midsummer Night's Dream, Concord Floral and Drinking in America.
Social life and stigma
When it comes to a social life, Anderson prioritizes spending time with close friends. Those in her circle know her capabilities, but strangers or acquaintances often make incorrect assumptions.
"Bias usually shows itself in two ways. People either think I am so amazing for doing everyday things, or they assume I'm incapable of doing simple, everyday things. These interactions happen every day and it can be really exhausting," she says.
"It can wear on people too. It might make them want to prove themselves more and overcompensate all the time, or it might make them start to believe the narrative of otherness or a mixture of the two. It can lead to some pretty unhealthy feelings of victimization."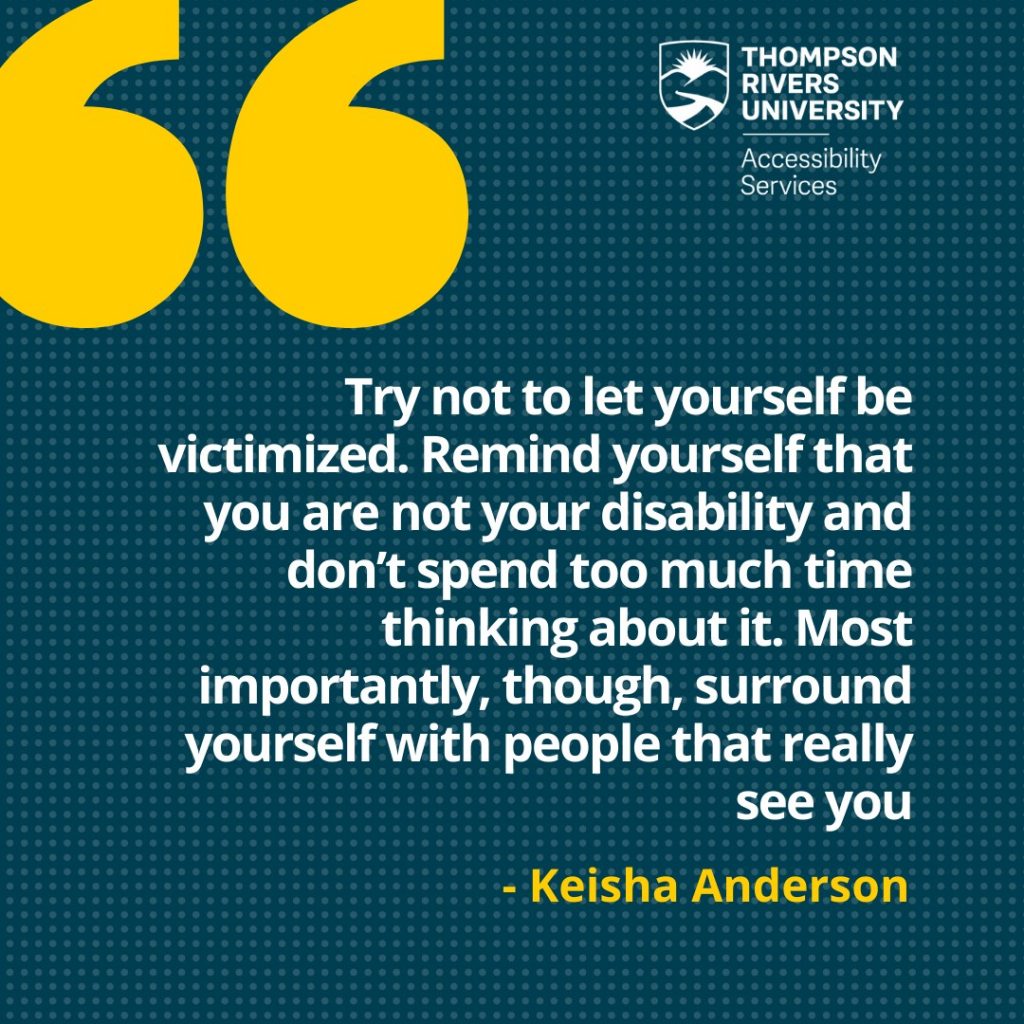 Anderson would like to see more empowering images of people with disabilities and health conditions. She said it is as simple as believing in people and not expecting more or less of individuals with exceptionalities. She also shared some advice for others with barriers to their learning.
"Try not to let yourself be victimized. Remind yourself that you are not your disability and don't spend too much time thinking about it. Most importantly, though, surround yourself with people who really see you."
Learn more about Accessibility Services, and the supports available for students here.