Through his work as a speaker, trainer, and author, life-long learner Wai Ma, also considers himself a "positive disruptor" of any space he enters — including in the classroom. "I never shut up," he often says about his enthusiastic and engaged participation in discussions and seminars. This energy is emblematic of Ma's tremendous drive to overcome adversity and carve out an educational pathway made further possible by a solid support system and the ability to access accommodations.
Post-secondary pathway and the role of support
When Ma first set out on his educational journey in the 1980s, he was met with disappointment due to the lack of accessibility, diversity and acceptance within institutional landscapes. "It was what it was at the time," he says of that era.
Despite a bumpy start, Ma wanted to return to university, and he reasserts his resilience by stating: "I am focused on the future; the past is the past. I am happy with where things are at now."
When Ma decided to give studying another shot in the early 2000s, he chose Thompson Rivers University, where he received endless encouragement and support of two professors who fostered Ma's capabilities and intelligence so that he was able to truly thrive in a post-secondary environment.
"I have come to know and value Wai, not only as an engaged philosophy student but also as an inspiring public speaker, an activist, a role model, and a contributing member of the larger TRU community, and most importantly, as a friend," says TRU Philosophy Professor Jenna Woodrow.
Ma's support system extends further as his self-advocacy lead him to connect with Accessibility Services. Ma now accesses accommodations such as having a note taker and tutor as well as extended time to write exams. As a self-advocate, he knew exactly the kind of support he required when he accessed accommodations and was pleased that the services available could provide that support. He explains that because his disability is quite visible, he did not find disclosure about his needs and accessing accommodations difficult.
When he first began studying at TRU, he dabbled in fine arts before moving into philosophy, which helps him see the world more clearly and invigorated his innate passion for learning.
"It was great to have him in my class. He motivated other students simply because they saw he was someone that was in no way impaired creatively by his physical challenges. He was in fact very interested in forward thinking – progressive ideas that would move their work forward as well as his own," says visual art Professor Alan Brandoli
Accomplishments and inspiration
Aside from studying, Ma has also authored multiple books and launched a professional speaking career. Thanks to Corey Sigvaldason, his mentor and business coach of 20 years, Ma has not been alone in his journey.
The two have known each other since the early '90s when the university was called University College of the Cariboo. Years later, they began working together. Their partnership began when Sigvaldason asked Ma what he would do if he could do anything in the world. "He told me he wanted to be a professional speaker like me, so I asked the questions and we figured out a way. Wai has become an extended part of our family over the years. He's become not just a colleague but a close friend."
Sigvaldason states that Wai's story has a capacity to motivate others, as it has for himself.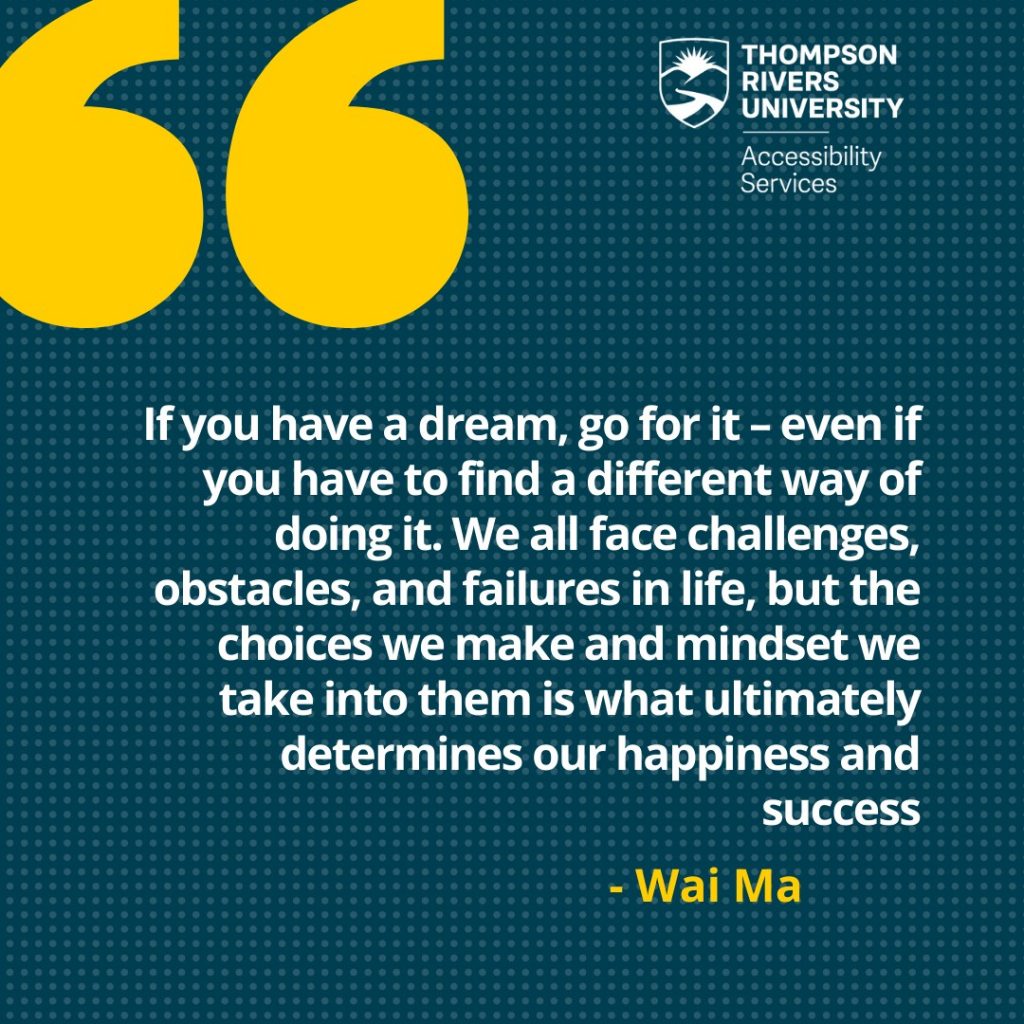 "He has inspired me in so many ways. Anything he puts his mind to; he can do. He has taught me so much about embracing courage and having difficult conversations," says business coach and mentor Corey Sigvaldason
Ma wants to tell his story "to inspire people to overcome obstacles, keep thinking and be inventive." He goes on by saying this: "If you have a dream, go for it – even if you have to find a different way of doing it. We all face challenges, obstacles, and failures in life, but the choices we make and mindset we take into them is what ultimately determines our happiness and success."
Learn more about Accessibility Services and supports available for students here.