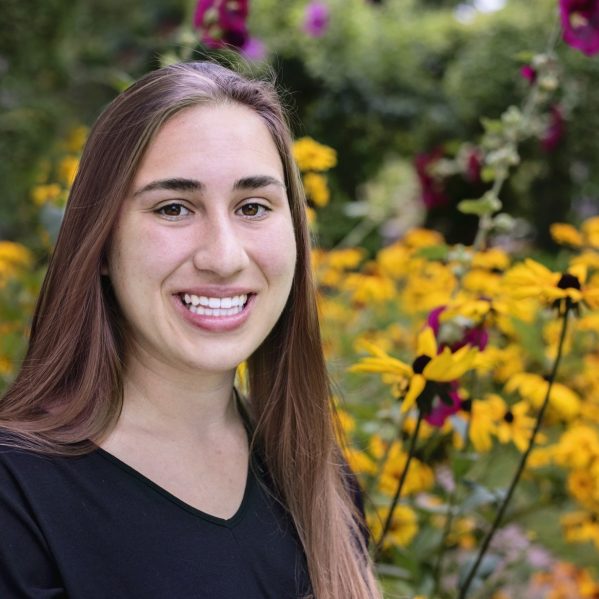 Diagnosed with hearing loss in elementary school, Gabrielle Dagasso has lived in an interior world of muted tones. In asking the world to speak up so that she may hear more clearly, she has gravitated to a place of self-advocacy. Through Accessibility Services, Dagasso has accessed tools and accommodations that ensure she can get down to business as a student-athlete.
As former captain of her varsity swim team, the math major and computer science minor, as well as primary author of two published research papers, Dagasso was keen to be the kind of role model she would have wanted.
"I would have appreciated the chance to hear about people like me when I first started at TRU, and I am so grateful that I can be that opportunity for others going forward."
Transitioning to post-secondary
The transition from high school to university was not without its obstacles. Where there was a safety net in the support of her parents and her teachers, university offered a test in self-advocacy. "The first two weeks were daunting because I had to meet all of my instructors and ask them to wear an FM system. I had to explain that it's not a recording device, merely a tool to amplify their voice."
Although intimidating at first, Dagasso's experience became much easier over time and she assures that instructors are very understanding and happy to help. As for her experience with Accessibility Services, not only have they offered ongoing support, they helped her secure grants that allowed her to get a brand-new FM system; a sleek pen as opposed to the old clunky apparatus she had been using previously.
AS helped anticipate her needs by suggesting she use a note taker to aid in her learning experience. Although she doesn't use one regularly, she did find it helpful for certain classes and was grateful for the suggestion.
Dagasso's Accessibility Services advisor Katie Thomson has been particularly helpful in her transition to online and remote learning. "Katie is very on top of things, especially with moving to online learning, and has helped me fill in the gaps and know what previously felt unknowable many times."
Social life and self disclosure
Aside from academics, having a hearing impairment has influenced Dagasso's social life as well. "Every time I meet someone, I have to explain that I am half deaf. I'll do my best to avoid areas that are noisy and when spending time with my friends, I have to keep in mind which side of me they are on and sometimes do a little dance around to make sure they are on my right side."
Disclosing her disability with others is not unfamiliar to Dagasso, and it is something she always has to do, whether it be to instructors, classmates, friends, or strangers. Dagasso reflects on the hurdles she often must navigate when self-disclosing.
"When I tell someone that I am hard of hearing, there can be a tendency to shout or change the way they speak to me. I wish people knew that I'm not stupid and there is no need to holler. Simple things like facing me when speaking to me and avoid covering your mouth will do fine to ensure that I hear you and can lipread if necessary."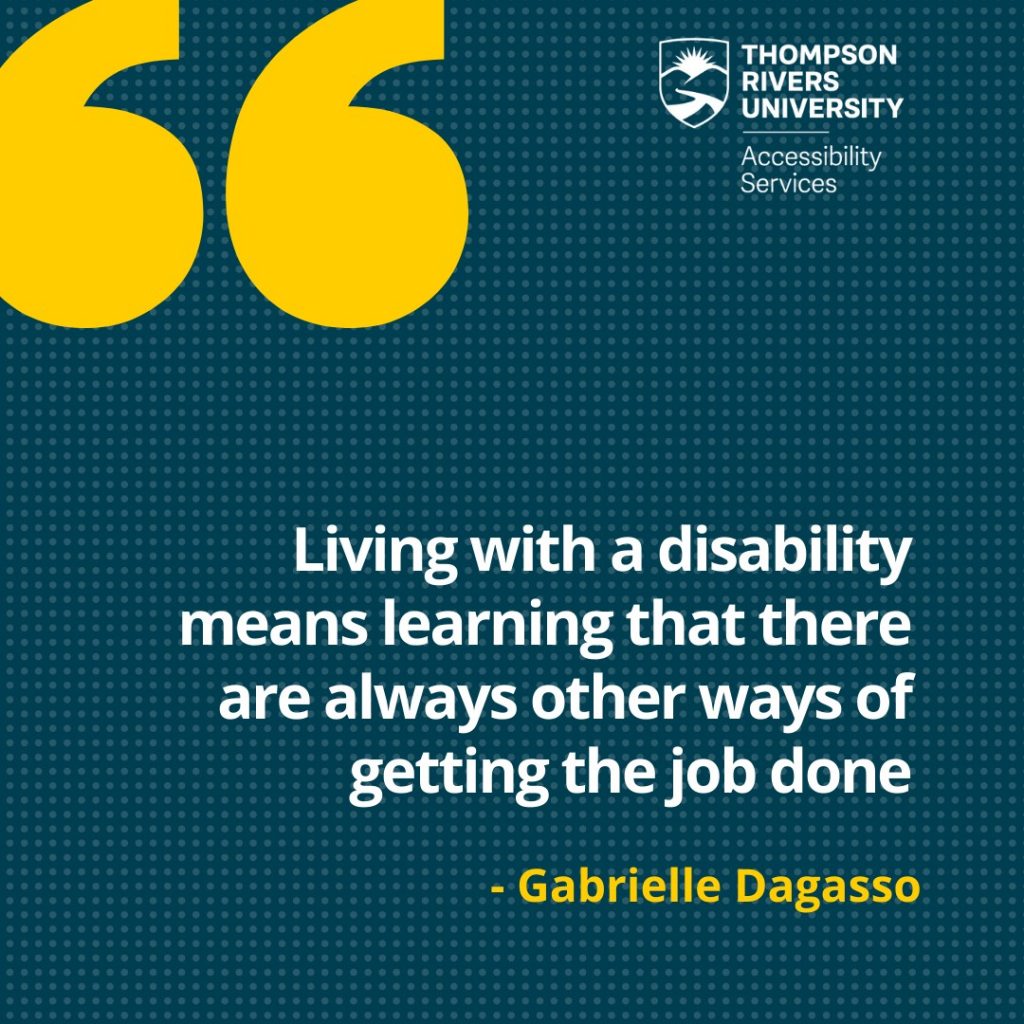 Occasionally Dagasso is faced with an oblivious stranger who jokingly remarks: "What are you? Deaf?" While Dagasso is generous with her empathy toward those unaware of her condition, she explains that these moments tend to be uncomfortable for both parties. She takes these moments as opportunities to become more conscious of common language usage.
Overcoming barriers
When it comes to overcoming barriers to learning, Dagasso believes there isn't one clear cut way. "Living with a disability means learning that there are always other ways of getting the job done." As a student, she stresses the importance of "not being afraid to reach out to instructors and never letting one disapprover stop you".
Learn more about Accessibility Services and supports available for students here.