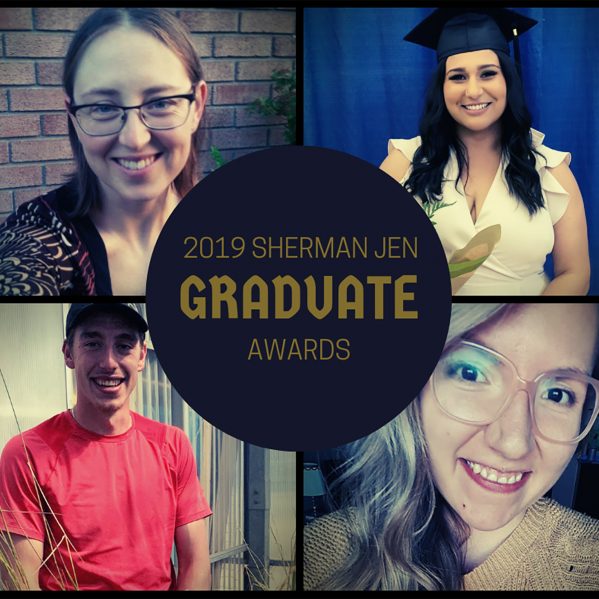 Four exceptional students have been recognized for their outstanding academic achievement, receiving the 2019 Dr. Sherman Jen Graduate Awards.
The awards are available to graduate students in their first year of a full-time, on campus program, and were awarded based on academic achievement in course work and research, taking leadership activities into consideration. The awards are valued at $6,000 each.
2019 Dr. Sherman Jen Graduate Award Recipients
Fauve Garson, Master of Science in Environmental Science

Kristi Gordon, Master of Science in Environmental Science

Lorraine Weaver, Master of Education

Brandon Williams, Master of Science in Environmental Science
"I feel so fortunate to have received the award," said Kristi Gordon, a Master of Science in Environmental Science (MScES) student. "I can now focus fully on my research without the added pressures of tuition and fees. It's really a dream come true!"
"This sort of funding makes an incredible difference in my ability to pursue graduate studies," said recipient Fauve Garson, also an MScES student. "As a child of an only parent, tuition support means the world. Now I can move forward in my education with substantially less stress."
"We are so grateful to our donors, as these awards enable TRU to provide invaluable supports to our graduate students, and build strong graduate programs," said Troy Fuller, Director of Research and Graduate Studies.
In 2017, Dr. Sherman Jen of Maple Leaf Educational Systems gave TRU a personal donation of $5 million, making it the largest individual private donation in the university's history. These awards were created as part of that donation, which supported scholarships in Science, Trades and Technology, Law, Education and Social Work.