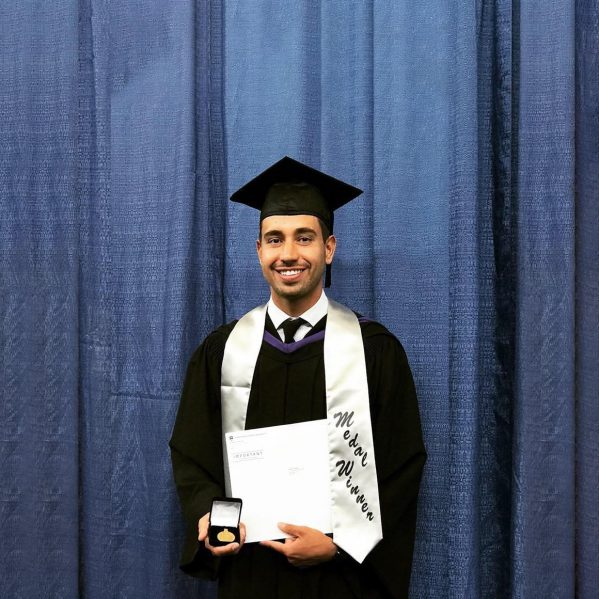 This year's winner of the Law Society of BC Gold Medal is heading to the BC Court of Appeal to be a clerk before moving on to the province's largest law firm.
Oliver Verenca was born in Toronto, but grew up in Kamloops, where he attended primary and secondary school and was involved in the community. He left Kamloops to get his bachelor's degree from Queen's University and then went on to complete graduate studies at UBC Okanagan. He finally returned home to earn his law degree from TRU.
He found the program to be challenging, but rewarding.
"My journey at TRU was dynamic, to say the least. I–like every other student in the program – had to quickly become comfortable with being uncomfortable. There was no other option, given the volume of coursework and the kind of environment that law school naturally incites," said Verenca.
"But in sharing this unique experience with my colleagues, I built lasting relationships with now lifelong friends. I will always look back and cherish my time at TRU."
Verenca felt the law faculty shaped his intellect and character in ways he can't describe. He was inspired by their charisma, knowledge and unconditional mentorship. The faculty, in turn, were committed to their students.
Receiving the gold medal was a highlight for Verenca.
"I am incredibly honoured to be the recipient of the Law Society of BC Gold Medal. While this achievement is a testament to the choices and sacrifices I made over the last three years, it is an undeniable fact that other students did not have the same opportunity as I did to put studying ahead of all else, time and time again. So, although I feel privileged and thankful to be the medalist, I remain cognizant that my shoes could be filled by many of my astute colleagues."
In September, he begins his clerkship with the British Columbia Court of Appeal. When that is done, he returns to complete his articling at Fasken in Vancouver.
His advice to law students? "Stay humble and be kind to your colleagues and instructors. They are some of the most important people you will meet in your career."