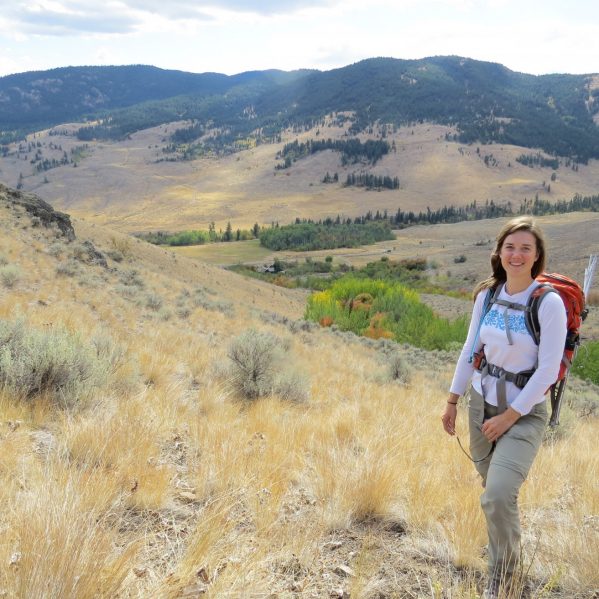 When Stephanie Winton arrived at TRU to pursue her Master of Science in Environmental Science, she had no idea that the work she would undertake would have such an immediate impact.
Winton, the recipient of the 2019 Governor General's Academic Gold Medal, arrived at TRU in 2015, and immediately began investigating the impact of road mortality on populations of the Northern Pacific Rattlesnake in the South Okanagan. Winton found that road mortality is one of the greatest threats faced by most reptiles and amphibians. Her research was supported in large part by grants from the National Research Council of Canada, and Environment Canada.
As a result of her research and the media attention that it received, the Ministry of Transportation installed five new eco-passages under the road within her study area. Additional provincial funding has also been secured to allow further monitoring of the mitigation attempt.
"This is a really nice validation of my research," Winton said of the award.  "I have been so lucky to see actual on-the-ground application of my research results. My analysis went toward informing policy, and I don't think a lot of graduate students get to see their work have that kind of impact."
Winton's guidance on campus and in the lab has also been significant.
"Working with Stephanie has been a highlight of my 'supervisory' career. She has made a significant impact on her fellow graduate students, my lab, and my own research success," wrote her supervisor, Dr. Karl Larsen, whose thoughts were echoed by others who worked with Winton during her time at TRU.
"The quality of Stephanie's research has facilitated a path forward with the provincial ministries and the federal government funding partners to continue to research the impact of mitigation techniques that she helped design," wrote Dr. Christine Bishop, Research Scientist with Environment and Climate Change Canada, who added that this research has global conservation potential.
While at TRU, Winton, who hails from Calgary, received the Ken Lepin Graduate Studies Award, the TRU Environmental Science and Natural Resource Science Fellowship, and a Natural Science and Engineering Research Council (NSERC) Industrial Postgraduate Scholarship.
She intends to continue her career in conservation and research.
For more than 140 years, Governor General's Academic Medals have recognized the outstanding scholastic achievements of Canadian students. This is the fifth time the medal has been awarded at TRU.