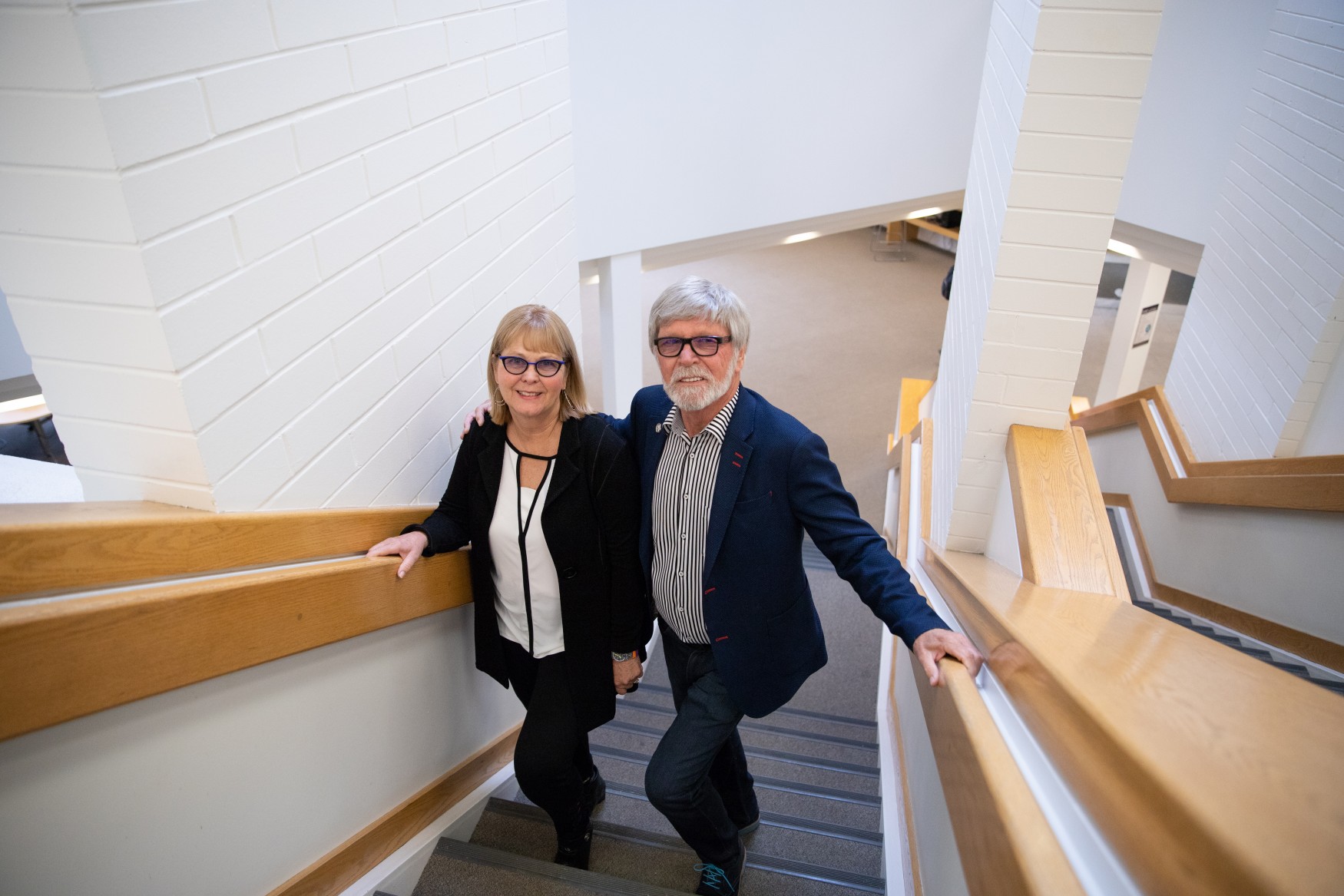 This story first appeared in the spring 2019 edition of Bridges Magazine: The Sustainability Issue. Bridges is the official publication of TRU alumni and friends, and can be read online in its entirety at tru.ca/bridges.
With TRU's new Nursing and Population Health Building taking shape in Kamloops, supporters of the university see it as an opportunity to aid BC's overworked health-care providers.
That's one driver for donors who have pledged more than $3.5 million toward the project, as well as those who have long-supported nursing and respiratory therapy programs at TRU.
A $550,000 contribution from the Edmonton-based Stollery Charitable Foundation represents that organization's largest single philanthropic gift in Kamloops.
"We're familiar with the challenges of accessing health care in Kamloops," said Executive Director Jeff Bryson, whose grandparents founded the charity and whose parents live in Kamloops.

"Obviously part of that is a doctor shortage, but it's bigger than just doctors in terms of some of the systemic challenges and greater challenges anticipated with an aging population. These challenges are expected to grow."
Learn more about nursing at TRU
Access to health care and to education are two pillars that guide Stollery's work—and TRU represents both. Locally-based directors Spencer and Janet Bryson spent a combined 70 years as educators and say it's crucial to them that hands-on learning happens.
"The university is doing so much for this town," Spencer Bryson said. "It's moving the town more and more to a knowledge-based economy and bringing talented people and good-paying jobs to the city."
With the expansion of the nursing program, TRU is directly answering the call for better, more sustainable health care in the province and in rural areas that face a shortage of qualified health-care providers.
The Nursing and Population Health Building, scheduled for completion in 2020, will be a hub for health-care teaching and learning with state-of-the-art patient simulation labs. It will support collaborative learning for interdisciplinary teams and bring together students in respiratory therapy and nursing.
Unlike the Bachelor of Science in Nursing and Master of Nursing programs, TRU's Respiratory Therapy program is the only one of its kind in British Columbia. The TB Vets Charitable Foundation has supported the program and its students with private funding since 1988.
"Respiratory therapists, they are the unsung heroes of the medical field," said TB Vets Executive Director Kandys Merola.

"When we decide where the money's going to go, there's never been a question about giving to Thompson Rivers University. We're committed. It's really important to us that we continue to support the university in that way."
Private contributions to the Nursing and Population Health Building include $1.5 million from an anonymous donor and $1.5 million from Dr. Sherman Jen for a high-fidelity simulation centre, which will use high-fidelity mannequins to engage students and faculty in innovative health teaching and research methods.
Story written by Jessica Klymchuk.