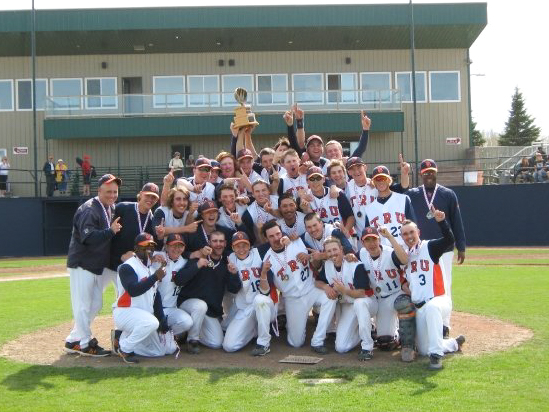 Matt Walker's only home run of the 2009 Canadian Collegiate Baseball Conference (CCBC) campaign remains not only the biggest in TRU WolfPack history, it's the biggest blast in the league's history as well.
Ten years later, the WolfPack are attempting to rekindle some of that playoff magic as they look to win their first CCBC title since Walker's walkoff home run landed among the pallets of cement bricks beyond the left field wall at Lloyd Nolan Yard in Lethbridge.
"That was a long time ago," Walker joked. "Much of the details from that weekend are blurry now, but I still remember that final inning, that final at bat, the pitch, the swing and the hit as if it was yesterday."
Tied 8-8, Walker was standing in left field for the top of the ninth. He was mentally preparing for his upcoming plate appearance. WolfPack starting pitcher Jordan Broatch worked a clean frame, setting the stage for Walker.
After two quick outs in the bottom half, Walker stepped into the box.
A dead-red hitter, sliders were Walker's shortcoming. The closer for the host and visiting Prairie Baseball Academy Dawgs, Katlin Nunweiler, just happened to have one of the better hooks in the league.
First pitch: a knee-buckling bender, strike one.
Second pitch: chin music, ball one.
Standing 90 feet away with a little premonition was WolfPack Head Coach Ray Chadwick, who has spent a lifetime in baseball including several years in the minors and other professional leagues, highlighted by one tour of duty with the California Angels.
"Walker was always a strong kid. I remember thinking if the pitcher left something over the plate—with the way balls were flying out of the yard—that he might put one out," said Chadwick.
With the count 1-1, Nunweiler spun another slider. Except this one didn't curve as much. It simply floated into the heart of the plate.
Walker's eyes grew wide. He gripped it and ripped it. 
"I remember the sound it made. I thought, 'oh shoot, he actually hit it out," Chadwick laughed.
Walker's missile didn't take long to leave the park.
"It was a no-doubter. I remember running the bases and loving it, but by far, the highlight of the whole thing was touching third, turning for home and seeing my teammates going nuts around home plate," said Walker.
Starters, reserves and coaches crowded around the dish, anxiously waiting to celebrate a championship with their hero.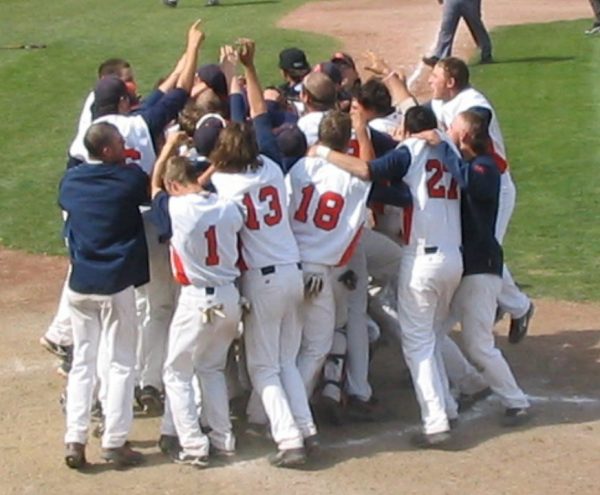 "That's what it's all about. Celebrating with my teammates," said Walker. "The two-a-days, off-season, spring training—all that work went into that one swing and we all worked so hard for it. I just happened to be the lucky guy to come up with the hit."
The only problem with Walker's walkoff is that TRU hasn't won the championship since. For a perennial contender in a seven-team league, 10 years is a considerable drought.
That history is not lost on this current iteration of the WolfPack, many of whom were in grade school when Walker won it.
Four times since Walker's Joe Carter impression have the WolfPack reached the CCBC finals, only to come up short.
"They know. Trust me, they know how long it's been and how we won it last time," said Chadwick. "I think we have a really strong team this year and they are ready to bring it home."
The double knock-out tournament gets underway on Thursday, with TRU playing their first game on May 9 at 7 p.m., with the best-of-three championship beginning on May 11 at 7 p.m. First pitch of Game 2 is slated for May 12 at 11 a.m. The 'Pack finished the regular season as the No. 1 seed and are looking to win the tournament on home turf for the first time since 2003.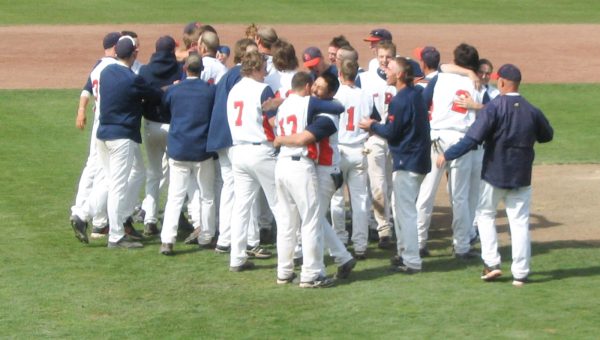 After three years of professional baseball in the States, Walker returned home to Bowen Island where he still keeps tabs on the WolfPack come championship time. This year he plans on dusting off his home run ball and rubbing it up for some good luck.
"It was a surreal weekend. That's a moment I'll never forget," said Walker. "I sure hope this year's team gets to enjoy the same success.
"There's no better feeling than sharing a moment like that with your teammates."