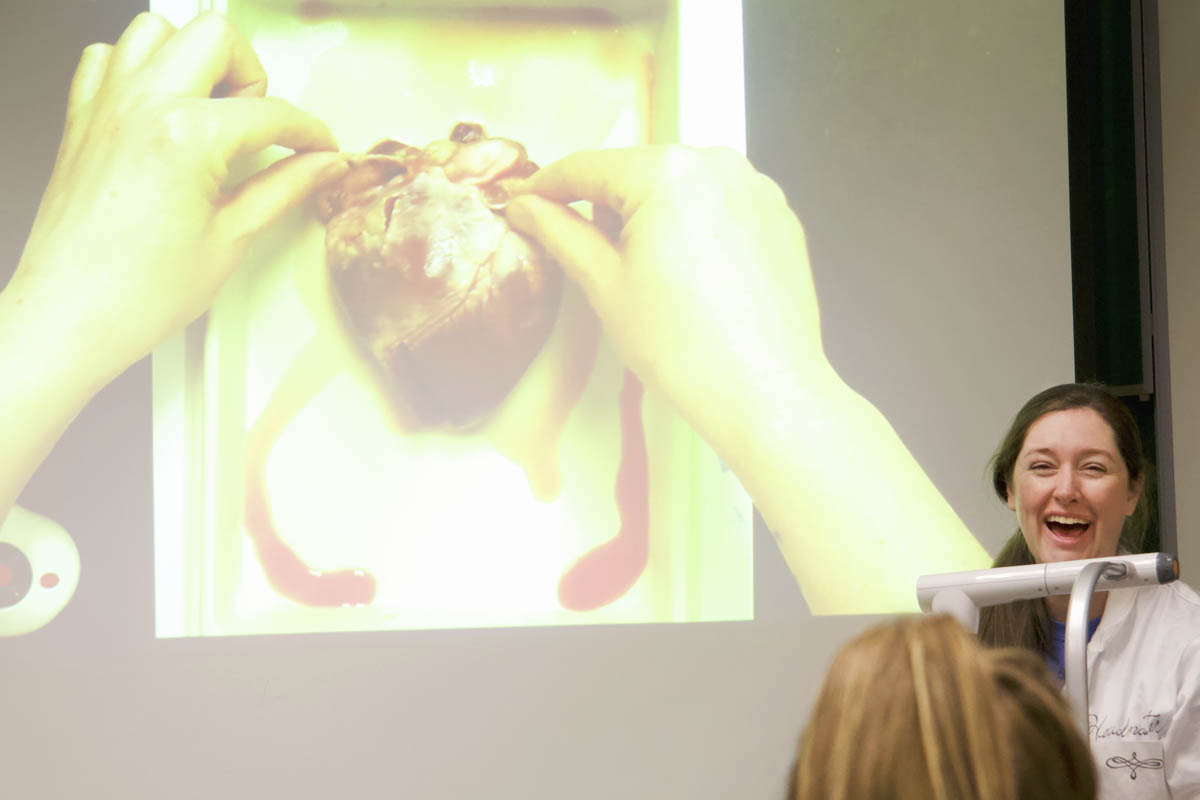 Humour can go a long way in the classroom, even during a serious exercise like dissecting a pig's heart in a biology lab.
"Mirror left ventricle is the Arnold Schwarzenegger of the heart," said Christine Miller, the university preparation faculty member, to the nearly 20 high school students on campus for a day of hands-on science. "He is the toughest and that's because he has to pump the blood to the whole body, instead of just the lungs, which is actually a short trip."
Students were from Sun Peaks, School District 73's Kamloops Open Online Learning (KOOL) and from Insight Support Services.
Learning through humour
Miller routinely sprinkles her material with jokes, gestures and dramatic voice. She explained the approach as: "Happy students are learning students. You have to feel comfortable before you can start learning. Humour is a good tool to make students feel comfortable, and humour makes my job more fun."
Science can lead to hundreds of jobs
The day was an opportunity as well for TRU's University and Employment Preparation department to remind high school students that science is fun and doesn't need to be as difficult as you may think it is. There are also a lot of interesting jobs.
If your high school marks aren't quite what they should be, UPrep is a great way to polish what you know before enrolling in first-year courses.
In many cases, UPrep courses are free tuition, with students paying for books and materials. Learn more
Biology can lead to jobs in:
nursing
respiratory therapy
medicine
imaging careers in medicine, land science, natural resources, urban planning
physiotherapy
veterinary
the environment
Chemistry can lead to jobs in:
soil quality and analysis
agriculture and food science
law enforcement forensics
toxicology, e.g., detecting poison, toxins, banned substances
chemical engineering like health care, design and construction, manufacturing
land chemistry like analyzing ground stability, water flow, what minerals are present
the environment
Students explored the pig hearts with metal probes and scissors according to Miller's instruction and a handout sheet. While they did so, words related to the heart came to life, words like aorta, pulmonary arteries, pulmonary veins, atria and the main cavity. If they were lucky, their heart revealed a jelly-like substance that was a blood clot.
During the afternoon chemistry exercise, detective work involved beakers, math, formulas and a high-tech measuring machine.
Everyone left with a smile and a better idea of what science could do for them.
Schwarzenegger could use some updating
Reflecting on her Schwarzenegger reference, Miller said it could probably use some updating.
"I'm starting to find a generational gap because some of the students are saying, 'Arnold, who?' I'll have to come with a contemporary example of a super-tough guy. Maybe I'll switch to John Cena to keep up with the times. My kids like him."
Also helping out

Miller wasn't flying solo during both labs, as instruction and assistance also came from:

Tory Anchikoski, UEPrep science faculty member, who organized the day and the chemistry lab activity
Francis Ogunyemi, fourth-year chemical-biology student
Magdalena Maslowski, accepted into the one-year Bachelor of Education (Secondary) STEM program, which starts July 1