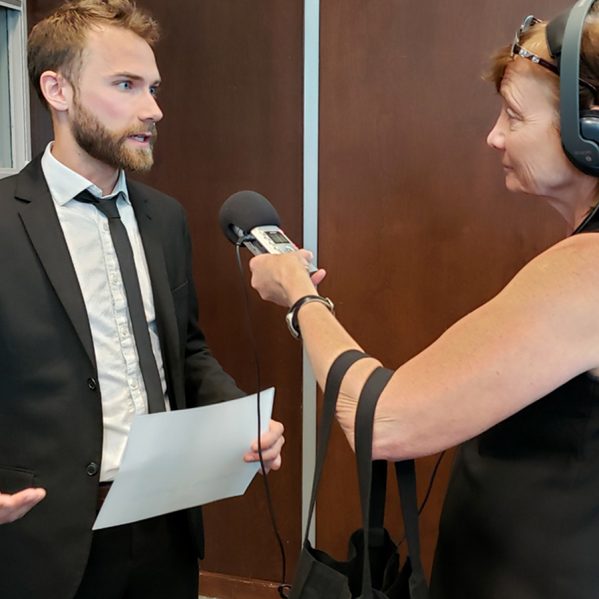 Adam Zelmer summed it up perfectly: Even if you've never been rock climbing, or to Banff National Park, you know that our natural spaces are vital, and you understand why designing legislation to protect these spaces should be an urgent priority.
His ability to connect with the audience and make his research into the creation of sustainable rock climbing in Banff National Park relevant was the reason the Master of Science in Environmental Science student took first place and people's choice in the 2019 Three Minute Thesis competition.
Missed the 3MT? Watch the livestream
"What do people value in the natural world? The answer might be different for everyone," he said. Natural spaces bring people together and Zelmer's presentation was designed to do that and to inspire people to consider conservation as pressure mounts on our national parks.
Up next: Undergraduate Research and Innovation Conference set to begin
Zelmer, one of eight graduate students to take part in the annual competition, is now $1,000 richer, and will represent TRU at the Western Canadian 3MT Finals next month at the University of Northern BC.
"This was a really fun opportunity," said Zelmer, who said his career as a lawyer has given him plenty of practice in public speaking.
Judges Shelley Joyce of CBC Kamloops, Alison Sidow, superintendent of the Kamloops-Thompson School District, and Mel Rothenburger, TNRD area director and Armchair Mayor, were impressed by the presentations, which saw Marcus Atkins take second place for his presentation, "Detecting declines in a species that is hard to find."
What is the 3MT?  
The first 3MT was held at the University of Queensland, Australia, in 2008. Since 2011, the competition's popularity has increased and 3MT competitions are held in at least 170 universities across more than 18 countries worldwide. There are 32 universities in Canada competing in the event.
---
Undergrads shine In a Nutshell
Nine students stepped up to the mic for the second annual undergraduate research communication competition, with Will Primrose taking top spot (and an iPad Mini), for his presentation, "Matrix and pH effects on the degradation kinetics of xanthates in mining waters." Pia Pennekamp took second place for her presentation, "Emotion control beliefs and emotion regulation strategies in response to daily negative events," while John Gray was awarded people's choice for his presentation, "The effects of hatch-order, gender and clutch sex-ratios on the behavior of burrowing owls (Athene cunicularia)." The event, which is organized by the undergraduate research ambassadors, was judged by a panel of graduate research mentors.  
---
Faculty fast talk: 180s Research Challenge
Dr. Jeff McLaughlin, Faculty of Arts, took first place at the annual 180-second Faculty Research Challenge for his presentation, "Holocaust stories and the ability to mourn."
Dr. Bala Nikku, Faculty of Education and Social Work, came in second for his presentation, "Dealing with disasters: Blame (hu)man choices, not Mother Nature," and people's choice awarded to Dr. Jim Hu, from the Faculty of Education and Social Work, for his presentation, "Simultaneous oral-written feedback approach: Students' preferences."
The event was organized by TRU's faculty research mentors, and judged by a panel of graduate student mentors.