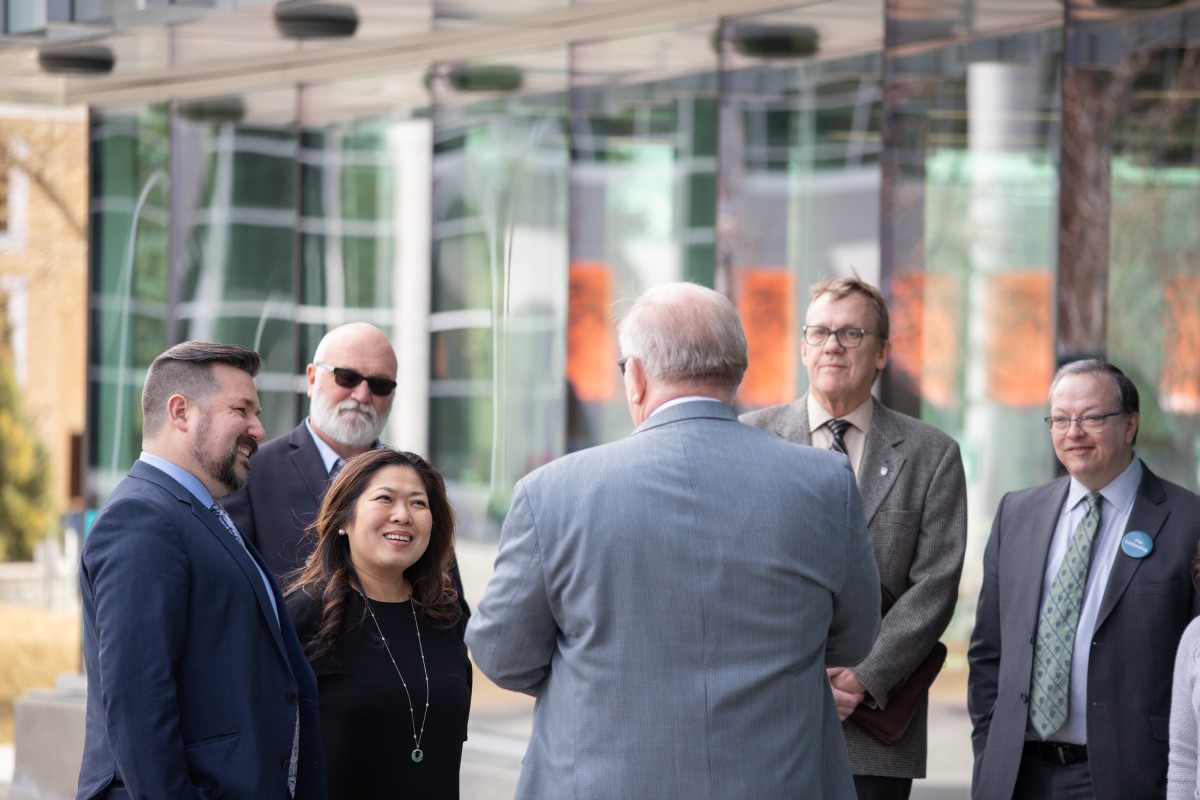 Minister of Small Business and Export Promotion Mary Ng touched down in Kamloops to tour TRU and meet with university officials on March 26, 2019.
President Brett Fairbairn, Jeff Sodowsky (Vice President of Advancement Interim), Doug Ellis (Faculty of Adventure, Culinary Arts and Tourism Dean, Interim), and Glen Hilton and Mollie Routledge (both of the International Brotherhood of Electrical Workers) greeted Ng upon her arrival.
The tour started at the Culinary Arts Training Centre with Kimberly Johnstone (Culinary Arts Chair) walking the group through the space and explaining how the program prepares students to enter the workforce as professional cooks and meat cutters.
Supporting entrepreneurship was the next topic of discussion at the TRU Generator in the Brown Family House of Learning. Lincoln Smith (Director, Research Partnerships and Enterprise Creation) and Michael Henry (School of Business and Economics Dean) shared recent success stories and explained how students use this valuable resource.
"As the Minister of Small Business, Ng understands the value of innovation, of entrepreneurship, and how one small idea grows, and can grow not only into a business and into jobs, but can change how we live, work and improve our standard of living," Fairbairn said, pleased by the opportunity to showcase TRU to a federal minister.
"At TRU, we know people are different and the path to gaining education, gaining new skills is different. We are proud to offer a variety of ways for people to be successful, whether through traditional academic programs such as degrees in science or arts, or through our hands-on programs such as refrigeration and air conditioning mechanic, or professional cook."
The International Building was the last stop on the tour. Ng made a brief announcement highlighting parts of the 2019 federal budget that benefit post-secondary education and students.
Ng is one of three ministers responsible for overseeing the department of Innovation, Science and Economic Development in Canada.