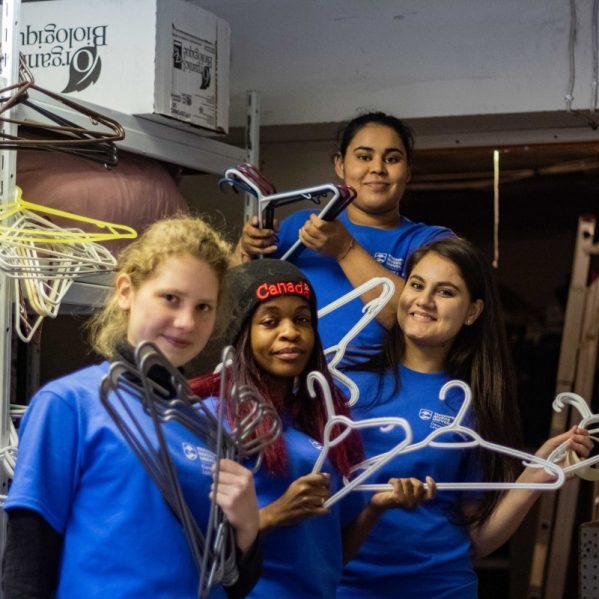 Through Career & Experiential Learning (CEL), TRU offers a wide variety of opportunities to learn through experience in classrooms, on-campus and in the community. Beyond resume building, experiential learning fosters academic, professional and personal growth.
On a particularly frosty February afternoon, twenty students from TRU's Leadership through Volunteerism Program headed downtown Kamloops to volunteer at Thrift City and The Mustard Seed New Life Community.  From educational initiatives, life skills training, employment opportunities, and advocacy efforts, the Mustard Seed, a local non-for profit organization, provides many programs and services. Offering a holistic approach to meet the spiritual, physical, emotional, and social needs of all those who enter the space, the Outreach Centre includes residential programs, dental and health care, and a hair salon.  Through businesses like Simply Catering and Thrift City, Mustard Seed provides training and experience for those re-entering the workforce after completing the Mustard Seed's rehabilitation program.
According to Brad Harasymchuk, Experiential Learning Coordinator, the program's mission is to develop student skill sets through acts of service. "Volunteerism promotes leadership, teamwork, and communication, but it can also positively impact an individual's emotional intelligence and community-mindedness."
Student leader Stephanie Tate noted, "The program originated as a means to create a community-centered experience for students. By the end of the afternoon, it was clear that students were deeply impacted and also learned a lot."
Outreach Worker Jeff Arlitt, a recovered addict, experienced homelessness and hardship himself before finding salvation on his professional pathway. "This work means everything to me. All we can do is try to offer hope, opportunity, and the dignity of a hot meal and a place to sleep."
Arlitt notes that many Mustard Seed regulars are caught in a labyrinth of socio-economic obstacles and are faced with insurmountable bureaucratic, financial and social impediments every step of the way. "We strive to knock down barriers, connect to the community and ultimately, humanize the individuals that need this space. Everyone here has a name, a dream, a family…everyone has a story."
With the student-volunteers milling about the facility, Arlitt marvels at their energy. "We love having the volunteers' onsite. It means a lot. There has been some challenging interactions today. The students are really getting an education."
With the help of Volunteer Kamloops, the student-volunteers succeeded in creating an experience that made a significant impact on their lives. Before the day of service, each student set an intention, and by day's end, collectively agreed that they got so much more from the experience than they had expected. Ogunlana Yetunde shared, "I decided to volunteer because I wanted to learn more about humanity. I was able to connect and feel the need to help people. Every action counts, no matter how small."
Arunima Sangwan said, "Volunteering is therapeutic; it's a change of pace from everyday life."
Following the afternoon of service, which included organizing, dusting, scrubbing, and mopping, there was time for reflection over dinner. The students reviewed the experience and strategized how to move forward in a meaningful way.
Tate said, "The students want more volunteer experience; some even suggested making it a monthly thing. A few of them were surprised at how good they felt after working in that environment. Most of them hadn't worked with marginalized individuals in our community."
Harasymchuk said, "Hearing the students discuss ways to implement volunteerism as a regular part of their lives was affirming. The enthusiasm for community service goes beyond burgeoning skill sets; it's about being part of something bigger than yourself."
Experience more community, humility, empathy, patience, self-confidence, and leadership through volunteerism.