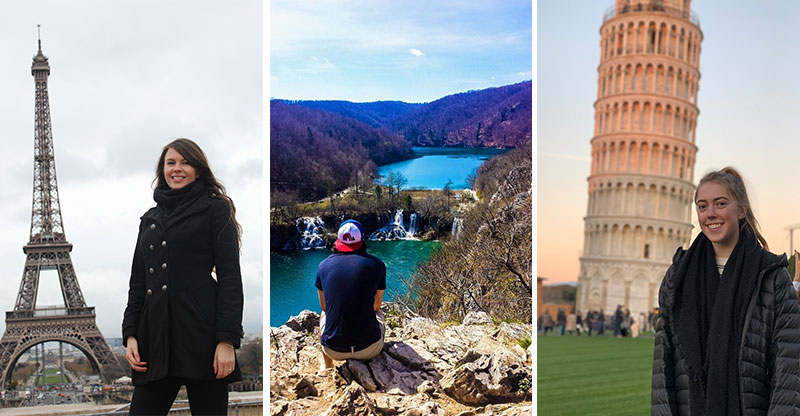 Despite the world being more accessible than ever before with TRU's Study Abroad program, many students are missing out on potential life- and career-altering opportunities.
"It's an education that can separate a student from the others later in life and can be more memorable than just hanging out at campus," said Karie Russell, international mobility officer.
TRU only sees a miniscule three percent of its student body participate in Study Abroad programs. It's a microscopic number compared to European institutions, which according to Donna McGrath, associate director, have up to 70 percent of their students participating in different exchanges.
"A lot of people think there are big challenges with studying abroad, but we have worked hard to eliminate the perceived challenged," said McGrath.
By sending students on exchanges, the Study Abroad program allows them to contribute to their academic goals while experiencing new cultures in a different part of the world.
Although a semester or year abroad are still very popular options, there are also many other shorter-term mobility opportunities through courses, field schools and conferences.
"If people are nervous about doing a full semester, I would tell them to give one of the shorter trips a try," said Rajeev Kapoor, a business student who travelled to South Korea last summer and spent four weeks studying at Kyung Hee University.
There are even options to travel with fellow students accompanied by a professor, to make the journey feel less burdensome.
"Some people might be afraid of travelling. This way, they can dip their toe in and get a sense of it before committing to a full semester," said Heather Wisla, international mobility officer.
Living expenses are also a major drawback for students. They can seem daunting for locals living comfortably at home while attending university.
"You still pay the same amount of tuition regardless of where you go. The cost of living depends on which country you're in, but it's fairly similar to the rental market in Kamloops," said McGrath. "Each student going abroad is also provided with a $1,000 per full-semester exchange, or $500 for a field study or short-term credit program from TRU to help offset some costs."
The Study Abroad program is non-competitive and is designed to be available for all students. Unlike other Canadian institutions, with TRU, there is no application fee (some are as much as $400). The academic requirement is also lower than most universities: students must carry full-time status (three courses, nine credit academic course load) with at least a 2.5 grade point average for one semester before travelling.
"Living in Kamloops, I was used to having control over everything. When I travelled abroad, I had to be more flexible, adaptable and learned how to communicate in a new environment." said Natalie McNichol, who studied abroad in Poland and South Korea. "I became more aware of other cultures and travelled after my exchange was done. It provided me a great opportunity to see the world while working on my degree."
Form friendships, develop your networking skills, pick up a second language and work abroad, endless opportunities await within the program.
"It's about more than just money or credits. The memories you make and the relationships you build are invaluable. It's hard to describe, but you just feel really good about yourself afterwards," said Kapoor.
Learn about planning, safety, available scholarships, registration and deadlines on the Study Abroad website. Once you're ready to learn more, the first step in the process is attending information sessions held regularly in the International Building. For dates, check out the website https://www.tru.ca/studyabroad/apply/info-sessions.html.