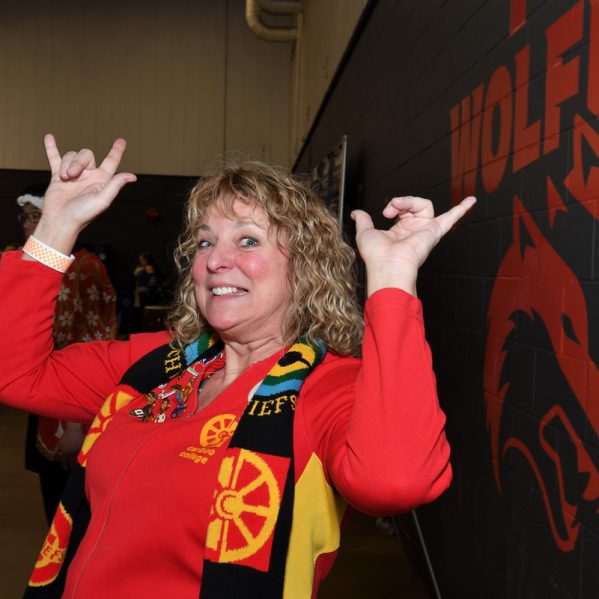 Cariboo College alumna Carolynn Boomer was back on the court with her 1984 varsity teammates at February's WolfPack Retro Night, where TRU celebrated former championship volleyball players.
The Cariboo College women's volleyball team won the BCAAC conference that year and went on to compete at the Canadian Collegiate Championship, placing fifth in the country. Boomer proudly donned her Cariboo College Gold Rush colours at Retro Night in the old TRU gym, where she also coached women's volleyball for the University College of the Cariboo in the '90s before it became Thompson Rivers University in 2005.
"It was like a reunion, seeing some of the men's volleyball team as well. It was very much an honour to be recognized. Even though it was a long time ago, it's definitely still very near and dear in my heart," Boomer said.
"What's great—and I still think about it today as TRU—it's a real community feel."
These days, Boomer is still paying it forward, mentoring young athletes at events like the Canada Winter Games; working with high-performance athletes and coaches as the executive director of PacificSport Interior based in Kamloops; and supporting varsity athletes as a TRU donor.
Boomer took the initiative this year to leave a planned gift, pledging $5,000 as a scholarship for a WolfPack women's volleyball athlete as part of her will. Planned giving is one way to leave a legacy through charitable giving. As a former varsity athlete, Boomer understands the importance of scholarships.
"I know that I got support as well and it definitely helped. It can be pretty impactful," she said.
"We've done certain donations over the years, small ones. I don't necessarily have big dollars right now to put toward that. But I encourage anybody to think further down the road. If they can, it's something I would encourage anybody to consider."
Championship programs need resources. WolfPack Athletics relies on scholarships to attract the top athletes from across the country to TRU and provide them with the tools they need to succeed in the classroom and on the court.
"This is a mantra we say at PacificSport: 'It takes a community to build a champion,'" Boomer said.
To learn more about leaving a legacy in any faculty or program at TRU, contact Sarah Sandholm, director of Planned Giving.