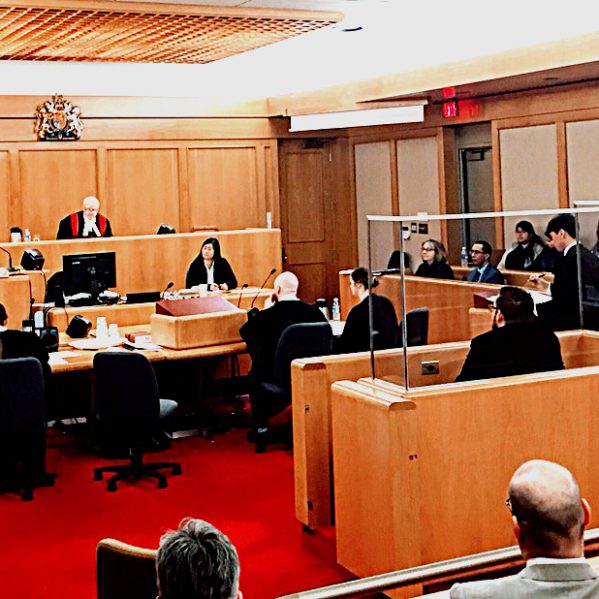 Two law students are the first team to represent TRU at the national Sopinka Cup moot competition.
Vincent Li and Betti White placed second to the winning duo from UBC in the MacIntyre Cup Moot Trial Advocacy Competition, hosted at TRU Feb. 14 to 16. The top two teams at the MacIntyre event qualify for the national Sopinka Cup being held in Ottawa March 15 and 16.
The MacIntyre moot called on participating teams from seven Western Canadian law schools to interview witnesses, prepare exhibits and conduct a full three-and-a-half-hour trial involving an accused in the armed robbery of a convenience store.
Four actors from TRU's Theatre Arts program stepped up to play the roles of witnesses while law students acted as jurors. The event was held at the Kamloops Law Courts with Provincial Court Judge Stephen Harrison presiding.
Li and White were one of two TRU teams in the MacIntyre competition. They and the other team, consisting of Raymond Gallelli and Nicole Urban, were coached by Kamloops trial lawyers Don Mann and Frank Caputo. Mann noted the TRU teams worked together to prepare before competing against each other at the moot.
Li described the need for maintaining a sharp focus in front of the judge and jury: "The competition forced us to think on our feet, quickly. It was about asking the exact questions to extract the information we needed. It was also about our delivery—the way we asked questions, the way we stood at the podium, the way we engaged the jury."
Looking back, White credited many supporters with the second-place finish that she and Li won.
"I'd say it was a TRU communal win. Everyone from our coaches, our other TRU entry, last year's team (Cassandra Tam and Jayde Niefer) down to the many TRU Law students who donated their time to our practice mooting, allowed us to be successful and supported us," she said.
"We are incredibly grateful for the experience and to be able to represent the school who chose us and saw greatness in us."