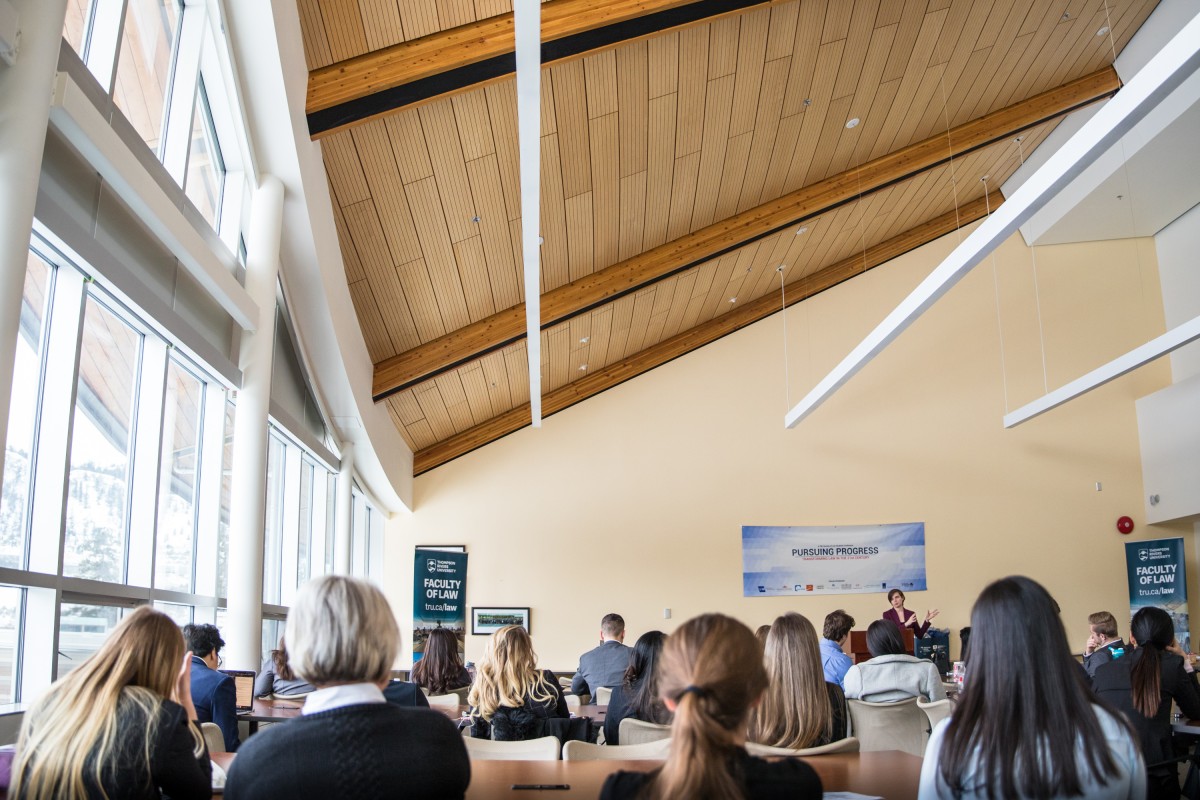 TRU's Society of Law Students Conference Committee wrapped up a successful two-day event on February 8—Pursuing Progress: Transforming Law in the 21st Century—bringing law students, lawyers and the community at large together on campus to explore the future of legal practice in Canada.
Organizers strove to get students reflecting on the current and future legal landscape while also creating networking opportunities for students with speakers and local lawyers. Presentations covered a range of topics exploring the challenges and opportunities of practicing law alongside increasing web-based technology, recognizing the intersectionality in the practice of law and discussing contemporary trends in legal education.
Organized by TRU Law students Sierra Hardy, Anisha Jagpal and Stephanie Sihota—whose future aspirations range from practicing criminal to corporate, and insurance to tax law—the annual conference gave the second-year co-chairs a chance to build on what they've learned in the classroom.
"This conference taught us to be organized, patient and persistent. These are all skills that we can bring forth with us into our professional careers. As it was our job to recruit some of the top legal minds from across Canada, it was vital that we stayed professional and organized. There were days when we had emails coming in constantly, and we had to ensure everything was replied to in an orderly and proper fashion. Honestly, staying on top of the emails was a whole other job in and of itself," confides Hardy.
Organizers were pleased with the audience turnout at the conference, which was open to the public but consisted mainly of TRU Law students.
"I think the demographics of our attendees speaks to the fact that most of the law students at TRU view the conference as a valuable and educational endeavor," says Jagpal.
Speakers covered a broad spectrum of topics with the hope that every attendee could find at least one presentation to get really excited about, explains Sihota. Kyla Lee's presentation on the impact of legalization of cannabis on impaired driving laws and Donya Vahidi's talk on how social media influencers affect intellectual property law were among the crowd favourites.
Dennis Edney's impressive resumé of keynote speeches he has given to major bodies like the United Nations made for a justifiably packed room as well.
"For most of our students, the highlight of the conference was Dennis Edney's speech on Terrorism and the Rule of Law in the 21st Century at our keynote dinner. As law students, many of us had been following his work representing Mr. Omar Khadr in the news for years, so getting to hear his firsthand account and legal input was fascinating," says Sihota. "It's also not every day that a Supreme Court of Canada (SCC) judge comes to Kamloops, so students were also very excited to see Justice Marshall Rothstein's keynote address reflecting on his time in the SCC and how he sees the law developing in the future."
Student presentations are an important element of this annual conference, with students submitting applications back in November. They were required to send in 200-word abstracts summarizing academic papers they had written previously that fit the broad theme of the conference.
It came down to the co-chairs to choose presenters and allocate speech times, but they were so impressed with applications that they opted not to cut anyone, and instead procured a second room to run student speeches concurrently.
"The student presenters put an immense amount of time and effort into their presentations," says Hardy. "It was truly astonishing to see the wide array of knowledge on their topics. After watching these presentations, it became apparent to me that TRU Law students are particularly skilled in public speaking and research."
Hardy's advice to other students considering organizing an event is to have fun, be proud of your successes, stay organized and don't be afraid to delegate to your team.
"I learned that I could step out of my shell and I am a lot more capable than I think I am. I remember sitting in a volunteer meeting with the 2018 conference committee last year and being astonished by co-chair Nikita Lafleur. She was so eloquent and organized, I was genuinely impressed and never thought I would have the talent to be in her position. Now I'm a co-chair, just as she was, and I am truly grateful I had the opportunity to learn in this position."