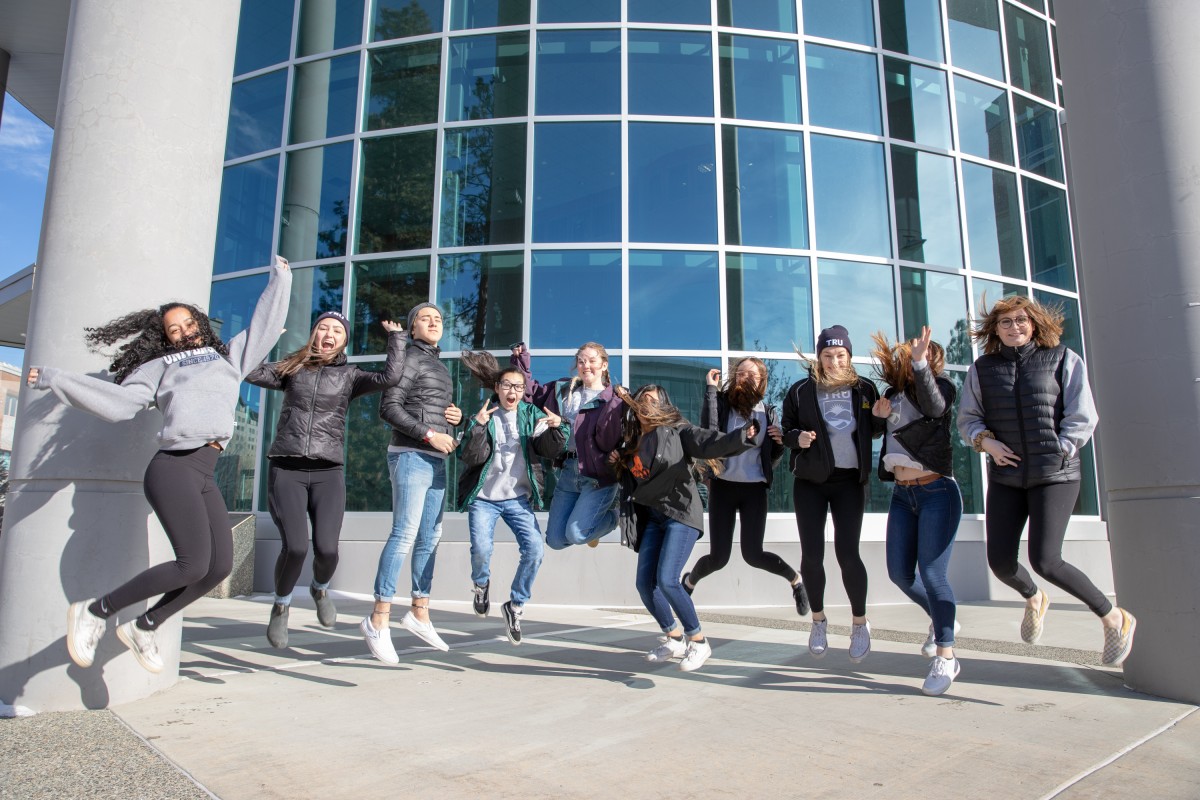 Selfies with Wolfie and stunning panoramas had #myTRU burning up across Instagram this week despite sub-arctic temperatures, as prospective students from the British Columbian Interior shared what TRU offers as a post-secondary option. 
In partnership with Glacier Communications Inc., TRU brought 10 social media influencers in Grades 11 and 12 from nearby towns to campus to enjoy the life of a university student for two days.
"I grew up here, but I've never been on campus before," said Raisa Dewan, a Grade 11 student attending Sa-Hali Secondary School. "There is a lot more here than I imagined."
Activities got underway Friday night when students from Kamloops, Salmon Arm and Vernon made their way to the TRU Gymnasium for Retro Night, as the TRU WolfPack volleyball teams played their final home games of the regular season against the University of Saskatchewan Huskies.
Both men's and women's WolfPack squads picked up wins in front of a rocking home crowd Friday night and impressed a few future students.
"It was a great atmosphere in there. It was great to see the support of the community and not just parents and students coming out to games. You don't get that at our high school games," said Kaela Spencer, a Grade 11 student who plays basketball and volleyball for the Salmon Arm Secondary Sullivan Jewels. "I would love to play university sports one day, but right now it seems a little intimidating. I also like the fact that there are plenty of intramural options available." 
The following morning, the 10 students gathered in Old Main for their campus tour.
Led by the talented tour guides Cynthia Gusta and Mwansa Kaundra, the students braved the harsh cold as they explored campus.
"I'm not going to lie, it was freezing out there," said Ian Sarmiento, a Mexican student who transferred to W.L. Seaton Secondary two years ago. "But I was surprised by the campus. It's really big—much bigger than any high school—but at the same time everything is walking distance which is great, especially on days like this."
With the 10 students' interests ranging from law to film; psychology to sports medicine and everything in between, they got a glance into each building and learned something about each program.
"It was really nice to look inside the rooms of all the different buildings. I had no idea how many different programs are available at TRU," said Spencer. "I highly recommend this tour for anyone that is thinking about going to university."
Upon reflecting afterwards, the prospective students grasped the spirit of TRU and what makes it a special place.
"I've visited UBC and the University of Oxford in the past, but I like how TRU feels like home. That's important to me," said Dewan.
Whether TRU is the right institution for these students will come down to what they are looking to get out of their university experience. But at the end of the day, what mattered most is that the students picked up valuable information that will go a long way in determining their post-secondary school of choice. That, and a few more follows on Instagram to boot.