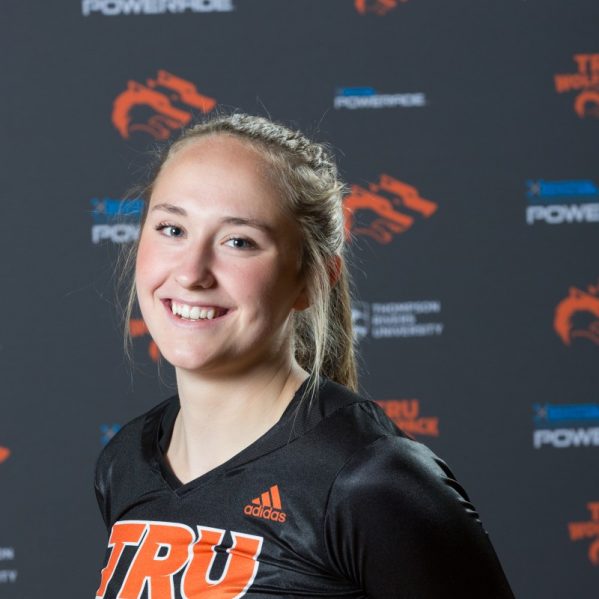 Student-athlete Avery Pottle majors in biology and minors in psychology. She hopes to attend medical school after completing her undergrad to pursue a career in obstetrics. In her third year with the TRU Wolfpack Women's Volleyball team, Avery believes that what you do when no one else is watching is indicative of character and is also the key to success.
The following is a typical day in the life of a varsity volleyball player.
6:15 a.m.: Wake up and get ready for the day. I don't have a ton of time in the mornings as I must be out the door by 6:40 am, so I have my practice uniform laid out the night before and do food prep in advance.
Depending on the length of my work day, I generally pack rice, veggies and either salmon or chicken, and then a bunch of fruits, vegetables and other snacks to get me through.
I write my schedule for the next day on a dry erase board, as it helps me to remember appointments, quizzes or individual practices. Having everything organized also helps me to have a better sleep at night because I know I'm prepared for the day ahead and not forgetting anything.
6:40 a.m.: Meet the rest of my team who lives nearby to walk over to the gym. Having roommates and neighbors close by that play on the team makes the early mornings so much easier.
7:00 a.m.: Warming up consists of either biking, running around the track, or fast movements such as high knees or jumping jacks. We then do dynamic stretches. Trainer Greg Kozoris oversees all our strength and conditioning programming; our team has a ton of fun during workouts, and everyone supports and pushes one another.
8:30 a.m.: Make my way over to the Science building for class, botany is always up first for today.
9:45 a.m.: After my first class finishes up, I go over notes from previous classes or answer emails during my break. For courses that are very content heavy, I try to review my notes after every class and often make flashcards or draw diagrams to understand concepts more thoroughly. There are often 45-minute breaks in between classes and utilizing those little moments can make a big difference.
We have a great area for athletes called the Wolf Den within the Tournament Capital Centre that is my go-to study spot. It's quiet, has access to a paper-stocked printer, and if you're lucky, and there may be some yummy snacks awaiting you!
10:30 a.m.: My genetics class starts at 10:30 am so I head back to the Science building for the lecture.
11:30 a.m.: When classes are done for the morning, I'll head back to the TCC for a pre-practice lunch. The Wolf Den also has a microwave, so it makes it easy to heat up my lunch. I'll either study while I eat, or I'll grab a quick snack before fitting a spin workout in before practice.
12:10 p.m.: We have to be at practice twenty minutes early to set up the nets and start pre-habalitation (pre-hab) and dynamic warm-up. Pre-hab is basically a series of stretches we do as a team which, help to prevent injuries or loosen sore muscles before playing. They often include tight bands that stretch our shoulders and a foam roller to loosen the larger muscle groups. This is usually social time to chat with teammates as well.
12:30 p.m.: Our two-hour practices usually consist of ball-control to warm up, along with defense and technical work. We spend the last half on game play. We often have a video session before or after which troubleshoots our performance and establishes a strategy against the team that we will play against that weekend.
2:30 p.m.: I usually leave practice a little bit early to get to my genetics seminar. I run over to the lab in order to be there on time. I'm sure my classmates just know me as the sweaty, out-of-breath girl.
3:30 p.m.: I end the academic portion of the day with a three-hour genetics lab, in which we put to use what we are learning in lecture. Labs are one of my favourite parts of a science degree as the hands-on component makes the material come to life.
6:30 p.m.: I head back to my apartment to make dinner. I am part of the PACE (Pack Academic Edge) program, so some nights I stay at school to tutor or run the support group for student athletes.  On Thursdays we travel, so I'm commonly on a plane flying across Canada to head to our next game. If we stay close to home for a weekend, I do rehab on my knees or any other problematic areas and focus on school work.  On nights where I don't have a ton of work, I'll review my notes from that day and then spend time with teammates or friends. This kind of social time is a rarity though, so it's something I've come to cherish when I do have time for it.
10:30 p.m.: I rarely stay up late because I like to wake up early. Before I go to bed, I always prepare my clothes, books and meals for the next day. I love to read, so I'll try to read a chapter or two of whatever book I have at the time, right now my book of choice is The Hate U Give by Angie Thomas.
Then it's lights out and before I know it, it's time to do the same thing tomorrow!