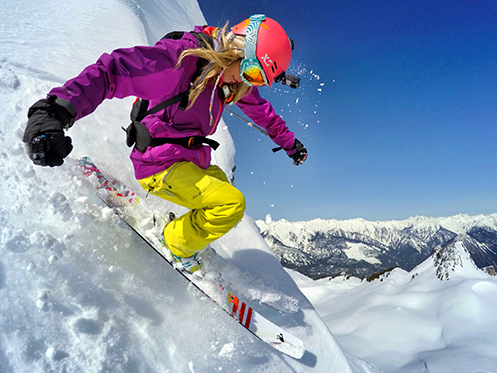 Passion, tenacity, fitness and technical skills can go a long way in having a successful career in adventure sports. However, as a woman in this often male-dominated industry, there can be many barriers to overcome.
Jill Weenink is a first-year Adventure Studies student who wanted to connect her classmates with a female mentor. For her, it was important to hear the real story, to hear from someone who has overcome challenges and has been successful in the outdoor industry. Candid conversations like those are priceless, especially for a student trying to plan their career. So, Weenink reached out to Lynsey Dyer, a professional skier; women's empowerment advocate and pioneer for girls and women in the outdoor industry to visit TRU and speak to her experiences.
Industry challenges
Confidence and calculated risk-taking are ingrained in Dyer's DNA and have contributed to her being considered one of the best big mountain skiers in the world. She grew up ski racing, winning every ski competition she entered. Soon she was travelling around the world filming with some of the biggest production companies such as Teton Gravity Research and Warren Miller. Along the way, one thing became clear: women were severely underrepresented in movies. It was a fight to have a role in films, Dyer was often told that no one wants to watch girls ski because it was boring. One of the men she hired to help her produce her first film mentioned that the only way anyone would watch was if women in the movie were naked.
Fueled by passion and determination, Dyer created a not-for-profit organization, Shejumps which aims to develop and increase the participation of women and girls in the outdoors while offering support to those undergoing sexist experiences. She also founded a production company, Unicorn Picnic which provided a platform to tell the story of women's inequalities. Dyer charged ahead with directing the first all-female cast, feature length ski movie, Pretty Faces: Story of a Skier Girl. The premise was to tell the story of the skier behind the pretty face, the realities of how the industry uses women's imagery over talent. Dyer knew that this story needed to be shared in the hopes that changes will be made in the industry. She challenges women to stand up and speak out when facing sexist situations in life. To advocate for their skills and talents. To not let the pressure of looking or behaving a certain way overshadow success.
Dyer will bring her experience, passion and candor to TRU's outdoor enthusiasts and students this week for two, free public events:
Date: Tuesday, Feb. 5, 7 p.m.
What: Screening of the first and only all-female produced, cast and directed ski film, Pretty Faces: Story of a Skier Girl
Where: Ken Lepin Science building, room S337
Date: Wednesday, Feb. 6, 7-10 p.m.
What: Lynsey Dyer: Being a Woman in the Outdoors, an open dialogue Q and A, Dyer shares her experiences navigating gender boundaries and misconceptions of women in the outdoors
Where: Ken Lepin Science building, room S203
Dyer will round off her tour of speaking engagements with an open discussion with the Adventure Sport Management students.
Weenink hopes that Dyer's encouragement and real-talk experiences will encourage women in the Adventure Studies program to know that it is possible to create a path for yourself despite gender disparities and perceptions of women in the outdoors.
"I want women to feel comfortable enough to ask the real questions. And for them to know that there are pioneers in the industry they can look to for support and inspiration," said Weenink.